By Toni Rahn
Chloe Hudson, 28, a resident of Huntersville, North Carolina, was awarded a mikeroweWORKS Foundation Scholarship in 2017. The scholarship came when she needed it most, while pursuing her degree in welding, a trade she was introduced to while still in high school.
"I started welding when I was 17," she said. "I had a 1998 Jeep Cherokee and I wanted to put new bumpers on, and while the other guys in my class at Seneca High School could work on the engine and other areas, no one knew how to weld well enough."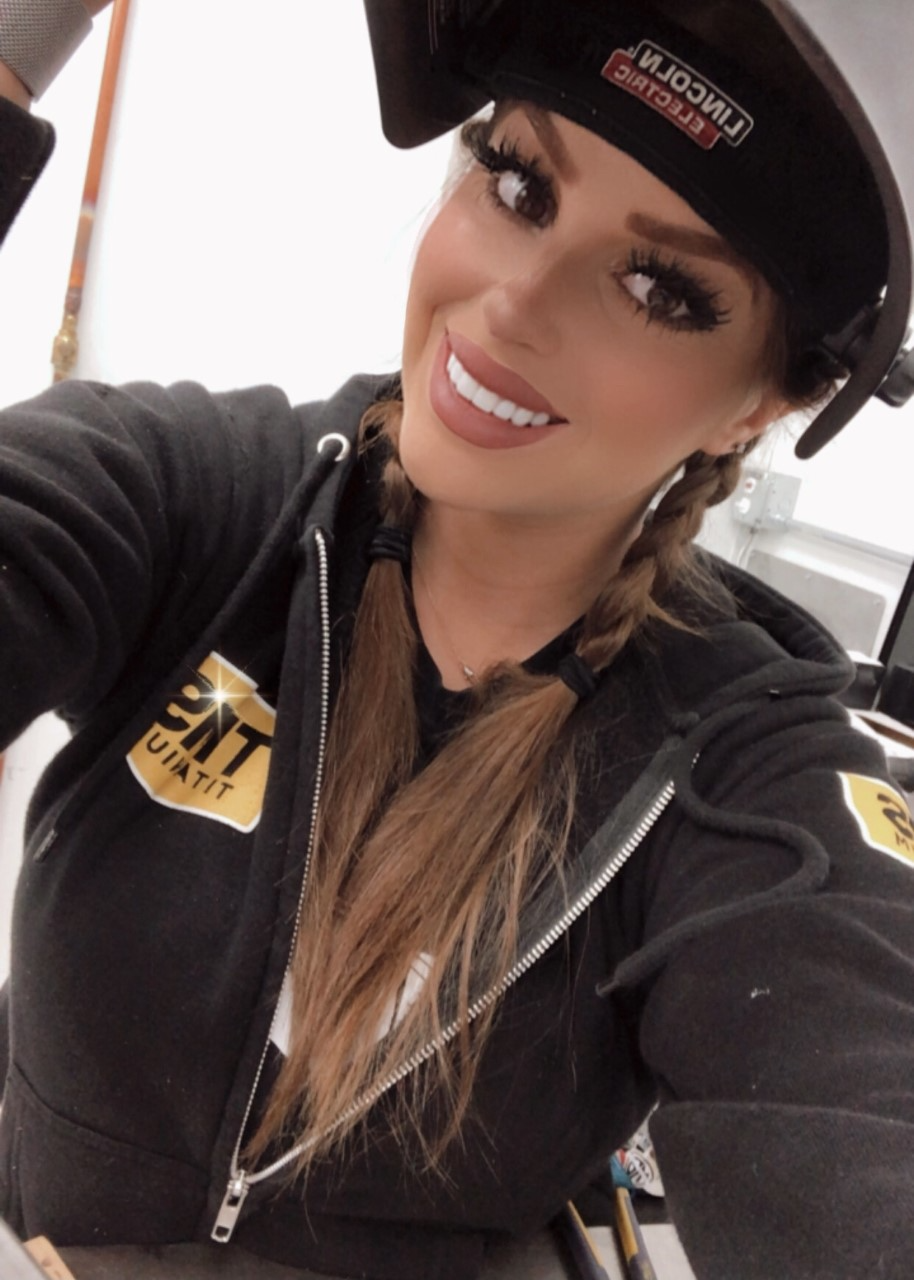 So, necessity inspired Hudson to learn the ropes of welding. With the guidance of her teacher Scott Hightower, she took a course in welding at the Hamilton Career and Technology Center, located near her hometown of Seneca, South Carolina. Not only did she find true enjoyment in welding work, but she picked it up relatively quickly and was good at it.
One reason she was able to take the time and had the freedom to take the welding course was because by the time she reached her senior year she had taken all of the science courses that were available to her, to feed her early aspirations of becoming a plastic surgeon. The health sciences path was one she followed straight out of high school, moving to Lexington, Kentucky to begin taking classes in a nursing program and relatively quickly she discovered "It just wasn't for me."
After returning home from Kentucky, she started taking classes in welding at her local vocational college, but after less than a year she started receiving calls about jobs in the field of maintenance work in the nuclear industry. After working in maintenance for about five years, she decided to return to school to earn her degree in welding. "I decided I wanted to make craft money – so I went back to school."

The Work Ethics Scholarship
It was while she was studying welding at Tri-County Technical College that her dad, Larry, saw information about the mikeroweWORKS Foundation Scholarship.
"I was trying to work two to three jobs while going to school to pay my way through college, and my dad told me about the scholarship," she explained. "Everyone in my family has always been big fans of Mike Rowe and what he stands for. The scholarship came at a time when I really needed it the most. It paid for a semester of school."
The application process involved various aspects, including a long-form questionnaire, essays, obtaining recommendations from previous employers and supervisors, and it was worth every single moment and ounce of effort, according to Hudson.
"The S.W.E.A.T. pledge really resonated with me," she said, citing Pledge 7 as one that resonates the most. The pledge states: I believe the best way to distinguish myself at work is to show up early, stay late, and cheerfully volunteer for every crappy task there is.
Another aspect of the pledges that resonated with Hudson is the idea that people are all created equal and making choices and working hard to achieve goals is what makes the difference.
"I have two brothers and we've always been very competitive. I was always treated the same as my brothers and we were always taught that we don't half-ass anything. You don't do anything subpar. You do your best – strive to be the best and this scholarship and the pledge resonated with me in that way."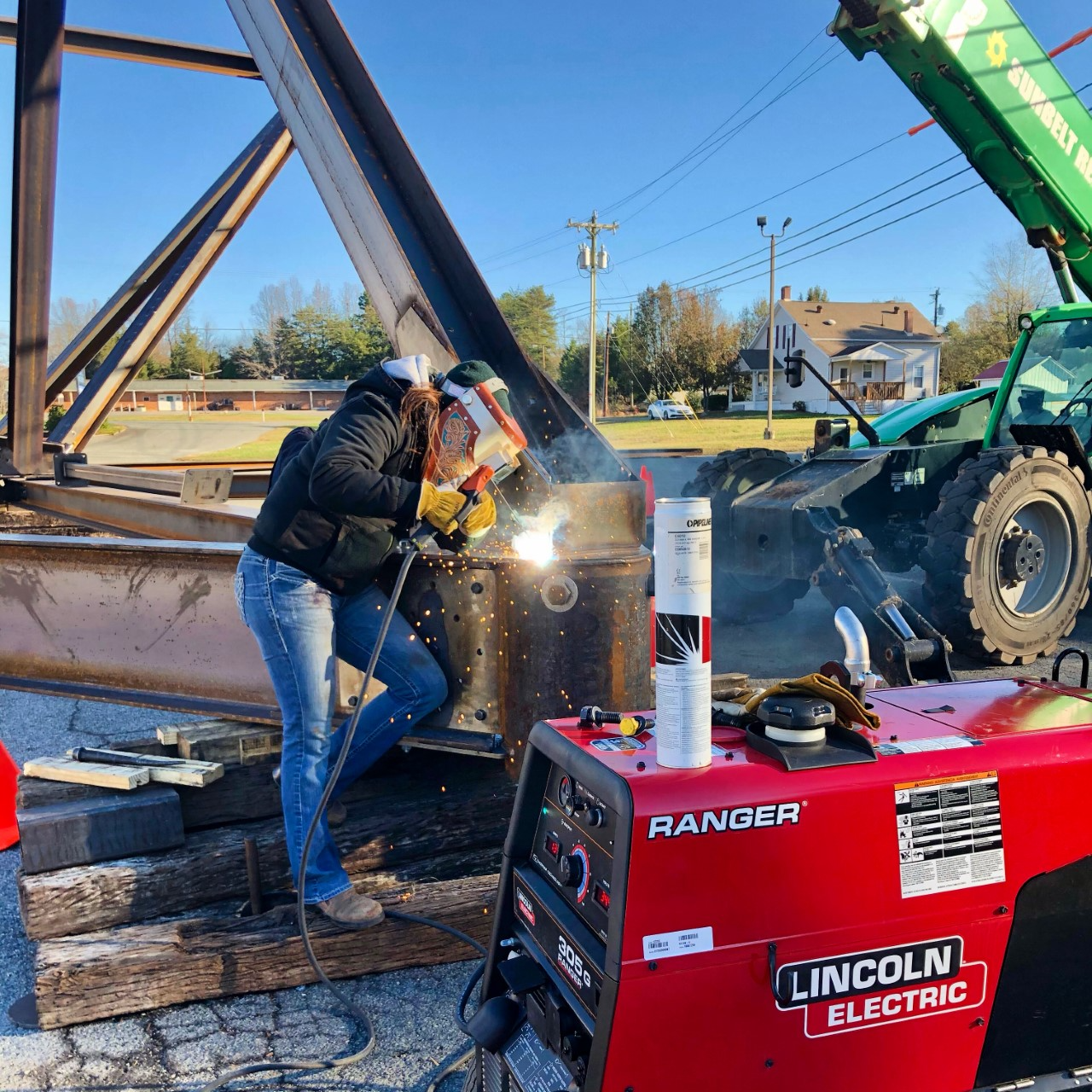 A Drive to Do Her Best
Made Her a Success
Striving to do her best and be the best has always been part of her journey, be it as a welder, a student, or a human being. While attending college, she won the SkillsUSA Competition in the Skilled and Technical Sciences – Welding category and represented her school. She went on to compete at the state level, becoming the first woman from her school to represent in the welding category at that level.
"I think during that time was probably the first time I think my dad really knew I could do this as a career," she added.
Do the career she can and does. For the past two years she's spent her days using her precision welding skills to work on parts and projects for Joe Gibbs Aerospace, Joe Gibbs Racing, and Airbone Industries, Inc.. Coming from the nuclear industry, and becoming one of Joe Gibbs Aerospace's first hires, she's worked on private contract projects, experimental aircrafts (another field she loves), military contracts, and Joe Gibbs' NASCAR Cup Series cars including Denny Hamlin's car #11, Kyle Busch's car #18, and Martin Truex Jr.'s car #19, among others.
"We take on a varied conglomeration of jobs. It's the Taj Mahal of welding jobs," she said. "Clean parts, immaculate facility, top of the line equipment. It's 100% a dream job."
And while she may have made history by being the first woman to achieve certain things in the industry, shedding light on her gender doesn't help her any in the field, she explained. Her work needs to stand on its own merit. "Period," she said. "I want for my work to be recognized as great work, not just good for a woman. I don't ever want to be the token female welder."
With that being said, she's also not willing to compromise who she is, her femininity, to do the job either. As she explains, it's about bringing the goods, doing the job right and well, and backing it all up. It's possible, as she demonstrates every day, to be who you are, have your dream job in the trades, and continually strive to achieve more goals.
What's Next
When it comes to goals, this self-proclaimed "forever student" is seriously considering becoming a certified welding inspector and/or certified welding educator. Her vision isn't to change her career path and leave hands-on welding work behind, but to add the inspection and educator elements to what she does every day. This path, not unlike others has its own challenges, in that there tends to be a stigma that those who can't weld, teach, she said. It's another place where Hudson will lean in, strive to do the best job possible, and be grateful for every moment.
Being grateful isn't always easy, but it's a choice and it's part of Hudson's daily focus. It's a day that begins at 4:30 a.m., so she can be welding by 6 a.m. She welds all day, which is "amazing – every welder's dream," she added. It's also not unusual to find her welding on off hours as well. One of her favorite things to do is build furniture. She's built a desk for herself, end tables, side tables, and recently, she even built a bar for her boyfriend. While she's had people ask if she's selling her creations, she isn't leaning that way because "I kind of don't want to take the fun out of it."
When asked if there is anything she'd wish she'd known earlier or done differently, she's quick to say, "I can't complain – I'm incredibly blessed. I found a way to make this work and there has always been someone in my corner every step of the way."
She's also seeing more signs of the stigma associated with the trade being broken down. She cited Netflix' "Metal Shop Masters" competition series where metal artists use their skills to develop creations from hardened steel, as one example of how the world of welding is becoming part of the mainstream dialogue.
"It shows people welding is more than just being in a hole somewhere welding a piece of pipe. It's creative. It's fun," she added.
While it's encouraging to see these examples of her beloved trade gaining attention, her hope is more people will realize that trades are part of every day.
"It touches everybody's lives. Every time you cross a bridge, drive a car, or walk into a building, the trades are a big part of that. People tend to forget trades are integral to society."
This welder and her fellow mikeroweWORKS Scholarship recipients are great examples of not only how trades are integral, but also inspiring. RB