By Milwaukee Tool
Construction is tough work, but scientists with major tool companies all over the world have been devoting time and resources to making sure "back-breaking" isn't a literal description. Many tools are labeled "ergonomic" to suggest higher efficiency or superior working comfort, but what does that mean? And how can you find tools that are truly beneficial to your workers, and not just a lot of marketing speak? 
Milwaukee Tool gave us a peek into their tool ergonomics research and development and broke down the benefits, so you know what to look for when you invest in tools that work for you instead of against you.
What Is Ergonomics?
With construction tools in mind, ergonomics is the science of designing solutions around the strengths of the user. This means designing tools to fit the hands and applications workers are facing instead of the other way around. Ergonomic innovation, known as electromyography or EMG, measures the electrical activity produced by a person's skeletal muscles to record muscle effort during a tool's use. With the ability to measure up to 108 unique muscle groups throughout the body, the use of EMG technology to produce tools that reduce peak muscle efforts and fatigue helps workers age and retire with greater strength and health.
Milwaukee Tool's investment in EMG allows the business to collect objective ergonomic data that can be used to positively influence product design. As part of the investment in this technology, we created a dedicated team of experienced, industry leading professionals, including a certified ergonomist, and other subject matter experts to focus on tool ergonomics. The goal of this program is simple; to maximize occupational safety & health, maximize ease of use, and increase productivity.
What Problems Do Good Ergonomics Solve?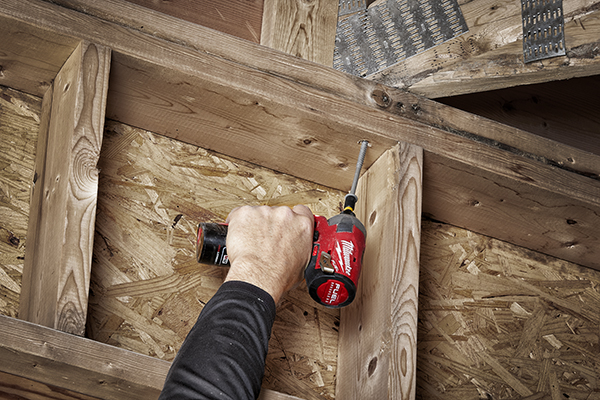 When designing ergonomic tools, manufacturers take balance, center of gravity, weight, noise, vibration, required force, and repetition into consideration. While exposure to these factors aren't necessarily dangerous, in and of itself, exposure to high thresholds of these categories can put contractors at risk for eardrum damage, vibration-induced white fingers, and other musculoskeletal disorders.
Musculoskeletal injuries and disorders due to non-ergonomically designed tools are common and costly types of injuries, creating possible lifelong problems for the sufferer and affecting safety records for employers. Research is starting to suggest a correlation exists between tool usage and the most common types of MSD cases such as carpal tunnel syndrome, trigger finger tendonitis, rotator cuff tendonitis, lower back injuries, knee bursitis, and elbow epicondylitis. The overall longevity of contractors can be positively impacted when manufacturers make proper objective, ergonomic measurement part of their overall tool development process.
To create an ergonomic tool design, Milwaukee Tool utilizes testing procedures to ensure that not only noise, vibration and force are limited, but also the amount of muscle effort needed to operate a tool.
How Do You Choose Quality Ergonomic Tools?
For any companies that focus primarily on price point, opting for less expensive tools may solve a short-term need, but a safety-focused company's primary goal should be buying tools that keep workers safe and healthy. Now more than ever, workers are demanding attention to their ergonomic health and want objective data to back up the claims of ergonomic tool manufacturers. Forward-thinking manufacturers have made improving ergonomics a priority and a part of their company DNA. Through a complete in-house process that works together with their product design teams, these manufacturers are making the job site safer for employees.
When looking to equip a crew with ergonomic tools, we recommended finding tools that allow your crew to use their tools with the following approaches in mind:
•Keep your wrist straight or neutral to combat carpal tunnel syndrome.
•Use low-force trigger engagements so as not to trigger finer tendonitis.
•Use only the amount of force necessary for the task to prevent tendonitis.
•Use power tools when available and select the correct handle orientation to prevent elbow epicondylitis.
•Work near your elbow height to protect against rotator cuff tear/bursitis.
What Are Some Examples of Ergonomic Changes You've Implemented?
Noise: At Milwaukee Tool, product sound power tests are conducted in one of the industry's largest, fully isolated, Hemi-Anechoic Sound Chambers. Once assessed, their team can work to develop tools to reduce decibel output, such as their hydraulic driver. This product reduces the dB output by 10 decibels, to 76 dB, which can operate continuously for an 8-hour day without the need for hearing protection, and without the risk for acoustic trauma.
Vibration: Measurements of vibration are conducted using accelerometers. This type of testing was also crucial during the development of our hydraulic driver. This tool reduces noise exposure by 50% and records 3x less vibration. At this level, you can use this tool continuously for a full workday without the risk for eardrum damage.
Force: One of the most accurate ways to measure force is with a high-capacity testing system. This type of equipment can measure pounds of force (lbf) upwards of 135,000 lbf. Most manual staplers require repetitive motion and excessive force for operation. Milwaukee® offers a battery-powered stapler that provides the performance and runtime that rivals cordless solutions, at a fraction of the size and weight, and much less force.
Muscle Effort: Milwaukee also tested the numerous muscle groups in the hand, forearm, upper arm, and shoulder when designing the battery-powered stapler, which ultimately requires 80% less muscle effort to use. This reduces the risk for injury and long-term health risks. The attributes that make up an 80% less muscle effort include, significant size, weight, and force reductions.