Table of Contents
Read all stories by clicking on the PDF at the bottom of this article.
8 Product feature: Cupolas
16. Big Clear Spans
Evaluating Your Options
24 Gravel Flooring for Outbuildings and Sheds
28 Garage, Shed & Carport Builder Show Preview
Expand Your Business in Knoxville in January
32 How to Work a Trade Show
Tips from Randy Chaffee
36 Supplier Profile
Capital Forest Products
38 Flashback to 1976
Building To House 1 Million Cattle a Year
44 Project of the Month
Burrow's Post-Frame Man-Caves
Click here or on the cover below to read or download this issue's PDF.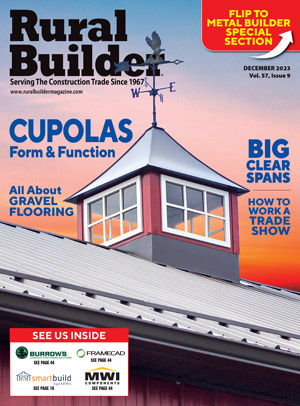 The Metal Builder portion of this magazine can be found on the Metal Builder website. Click here.
Metal Builder will NOT be included in Rural Builder after this issue. If you want to receive Metal Builder, visit its website above and sign up today.