Vinny Abbondanza was a long-term employee of OMG Roofing of Agawam, Mass. He was a true leader in the commercial roofing industry and loved by everyone who knew him. In his spare time, he also served as an Assistant Scoutmaster with Boy Scout Troop 114 of Southwick, Mass., and enjoyed the outdoor program as well as working with the youth and his friends, and of course watching his son earn the rank of Eagle Scout.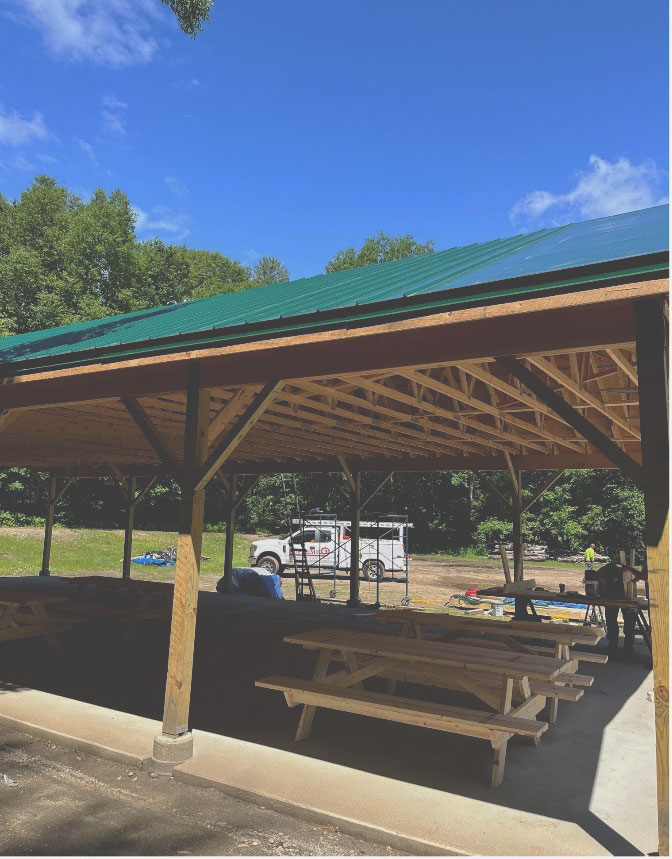 Vinny passed away unexpectedly from Covid in 2020. In Vinny's memory, the roofing industry, led by CentiMark, raised funds to build a wonderful 30′ x 60′ pavilion at the local Scout Camp that Vinny loved ­— the Horace A. Moses Scout Reservation in Russell, Massachusetts.
The pavilion is in the field by the Aquatics Lodge, which is the most used facility in the Camp, to best serve youth at all levels in the program. The Western Mass Council currently serves nearly 1,500 boys and girls, ages 5 to 17, from across the region. The pavilion will be used most of the year for a variety of scouting activities. Mostly, however, this is a great tribute to Vinny.
The project has been widely supported through financial and/or product donations by some of the commercial roofing industry's companies, including OMG, Inc., CentiMark, the Roofing Alliance (which is part of the National Roofing Contractors Association), Carlisle SynTec, GAF, Johns Manville, Sika Sarnafil, Rockwool/Roxul as well as many individuals who knew or worked with Vinny.
Footings for the structure were poured last fall, with construction beginning in earnest this spring. The project has been managed and constructed by a group of volunteers including some of Vinny's former colleagues from OMG, Inc., and his Scout Troop.
During construction of the structure, many FastenMaster products (a division of OMG) were used including their new TrussBRACE, as well as their HeadLOK, ThruLOK, FlatLOK, and MVP Fasteners. The PVC membrane roofing system is a Sika Sarnafil Décor System that mimics the look of the other green metal roofs throughout the camp.
location:
Russell, Massachusetts
size:
30′ x 60′
roofing system:
PVC membrane system: Sika Sarnafil Décor System
building system:
FastenMaster: TrussBRACE
Fasteners:
FastenMaster: HeadLOK, ThruLOK, FlatLOK, and MVP Fasteners