If you purchased a boat or RV recently, you aren't alone. Both boating and RV industries have reported significant growth in 2021 with a strong start to 2022. At the same time, these units are somewhat rare – while they can be profitable, they are not as profitable as traditional household storage units, and the major corporate brands of self-storage do not build them.
As a result, there's high demand for larger storage units; in most areas, there is a shortage of these units. This creates a great opportunity in the right situation. Storage facilities that specialize in boat and RV storage need large (10 to 15 acres), inexpensive parcels of land. Ideally the location will be just outside of town on a well-traveled road and situation in an area with high interest in boating and/or camping. Areas where neighborhood covenants prohibit outdoor vehicle storage are more likely to need high levels of these units.
What Size Units Are Popular?
Most "travel trailer" style campers (traditional hitch mount) and Sprinter van style RVs will fit under a 12' door. This covers about 70% of the market. For customers with fifth wheel or "diesel pusher" (think of Willie Nelson's tour bus) you'll need a 14' tall door. Unit widths typically range from 12 to 15 feet wide, and 30 to 50 feet long.
For your customers with boats, take a good look at the dimensions of popular boats and trailers in your area. In the Midwest inland lakes, you'll find that common fish and ski boats fit in a 12×25 or 12×30 foot unit. If you are near the ocean or Great Lakes, your clients may have larger, taller boats which require larger units.
How Wide Should the Driveways Be?
Wide driveway requirements are one of the reasons that these large units are costly to develop. The largest campers and RV may require 60 to 80' wide drives. A rule of thumb is to look at the length of the entire rig and then multiply by 1.5. So, for a 20' long pickup towing a 30' long camper, the total rig is 50' long and would require a 75' wide driveway for comfortable entry to the unit.
If your layout will include angled parking, that can allow your drives to be narrower. Open parking and open canopy projects are commonly designed with angled parking. Enclosed buildings are more commonly designed with straight access or 60 degree angled spaces.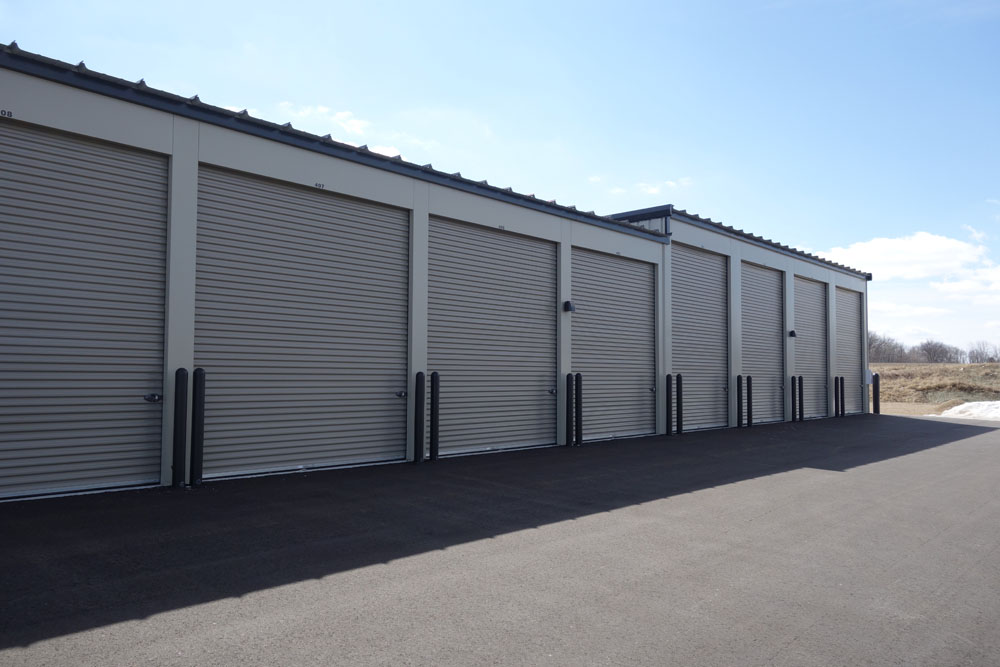 What Features Should be Included on the Site?
A major "must have" for a boat and RV site is bollards at all corners and on the side of each unit door. They should be sturdy – six or eight inch well pipe, set 3' to 4' deep in concrete, filled with concrete. If your site will truly cater to boat/RV clients, consider adding a 20 amp outlet to each unit, on separate breakers. Renters will pay extra for a unit with power for their trickle chargers. Additionally, water and dump stations are handy for camper customers. Lighting controlled by a motion sensor or timer is another thoughtful upgrade.
While paved driveways are an expectation on modern self-storage sites, it may be reasonable to use gravel for large boat/RV customers. Customers will be most concerned with the size of the unit and accessibility to get their vehicle into it – not whether it's paved. However, gravel does require more maintenance and can be problematic for snow removal.
What type of Doors are Required?
Typical self-storage doors can be used on some smaller boat/RV units, but as the door size reaches 11' wide x 12' tall, you'll need a heavier duty door designed for large openings. Roll up doors at this size and larger should be equipped with a chain hoist, such as Trac-Rite's model 977 door. Motor operators are attractive to customers, but a costly addition. Sectional doors are the top performers for the largest units, but are also more costly, and with a drawback that they do not come equipped with a traditional self-storage latch to accommodate a padlock and overlock mechanism.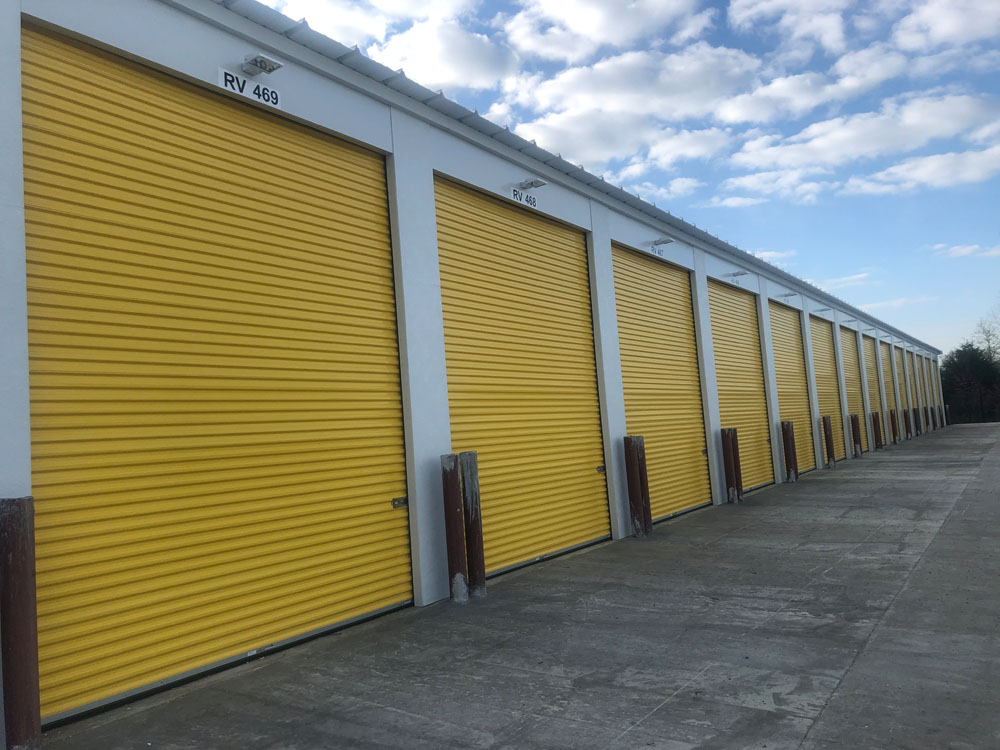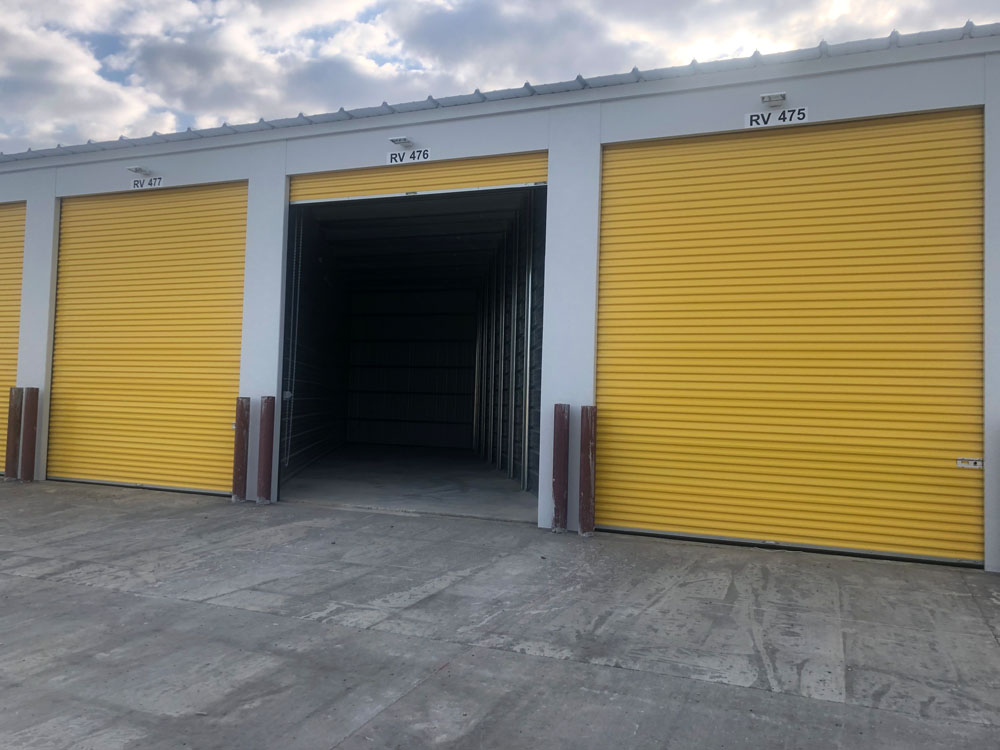 Building Details
The steel building packages used for large units will be like regular self-storage structures – just bigger. Purpose built self-storage building packages will generally have a "post and purlin" construction method, with columns along the lateral walls 5' apart. The outer walls without doors will be conventional steel building framing with corrugated panels. The roof should have a minimal amount of insulation to prevent condensation from dropping on the contents.
The roof design is typically a galvalume standing seam panel with a ¼:12 pitch. Using a lean-to design to shed all water to the rear is preferred when possible. Unless required by your stormwater planning, it's a good idea to build without gutters for lower maintenance.
On the side wall lined with doors, you'll find either conventionally framed and trimmed door openings, or with more premium level buildings such as Trachte's you'll find specially formed 18-gauge jambs and headers.
One of the questions that often comes up with large units is whether to include a small swing door in addition to the large garage door. Again, the renters for these units are generally most concerned with the garage door opening size, and depth of the unit. Adding width to the unit to accommodate a swing door reduces the number of rentable units in the building without a significant rental income increase.
In the right location and with proper planning, boat and RV storage can be a lucrative business with long term, reliable tenants. MB