By Linda Schmid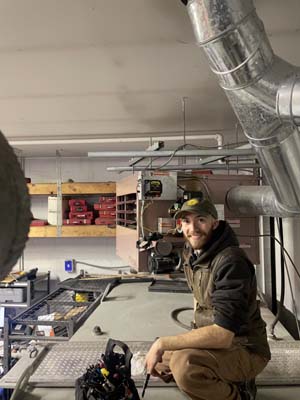 Zachary White knew early that school really wasn't his thing. He grew up in Westover, Pennsylvania, outside of a small town where there were no neighbors, just lots of space to play and ride ATVs. It wasn't that he didn't do well in school; he simply didn't enjoy most of it, so he knew he didn't want to go to college. He just didn't know what he did want to do.
His first job was lawn care and landscaping, but he knew it wasn't right for him. It just didn't spark much interest in him. His older brother worked on his grandparents' farm, "built stuff" and went on to become a carpenter, but Zachary didn't really feel a pull toward that. There was a technical program at his high school, Votech, that taught electrical work, but he knew he did not really want to be an electrician, either.
When he graduated, people advised him to check out Triangle Tech in Greensburg, Pennsylvania. A 16-month course in RHVAC (refrigeration, heating, ventillation, and air conditioning) would earn him an associates degree. While prepping, he ran across an ad for the mikeroweWORKS Work Ethic Scholarship and he applied. Winning the scholarship made him realize that his labor was actually in demand and that if he applied himself he could reap the rewards. "It's pretty neat that people are willing to give you a scholarship for those kinds of training," he said. "It's really needed."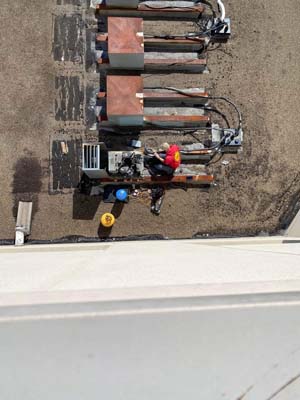 Once he got into the hands-on tech classes, he knew it was right for him. Zachary found that he actually liked book studying when it was about something he would be doing hands-on. Standing in front of a unit he'd been reading about, "suddenly it would click!" He loved that moment when the pieces came together for him and it all made sense. This is what they were talking about in the book he'd realize; this is how it works.
The program had a refrigeration section, with different classes where he learned about various equipment, for example walk-ins, supermarket cases, and chillers for industrial equipment. There was the same kind of division in the heating section, for example roof top units, furnaces, and hydronic systems. The air conditioning section included heat pumps and mini-splits too.
When he completed this program, Zachary received several offers of employment. He went with Schultz Co. in Altoona. Schultz does it all: refrigeration, heating, air conditioning, and commercial kitchen equipment. While he never learned about kitchen equipment in school, he knows about furnaces and that gives him the background he needs to figure out how to fix an oven.
Zachary has been with Schultz for three years and he says, "I was lucky to get such a good job right out of school. They really take care of you; they have high wages and incentives, bonuses, PTO, a company van, and all your tool setup. The bosses are great; they're always there to help and everybody works well together.
"I love my job! I never know what I am going to be doing; there is so much variety and I often work outside in summer and winter," Zach continued. "I've been doing this for three years and I still have those 'click' moments, when everything comes together."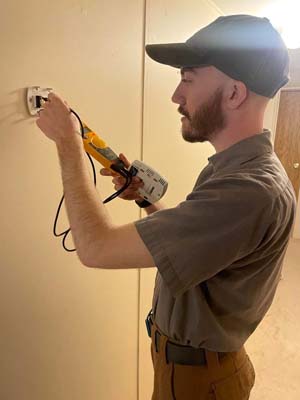 Zachary has advice for people who are considering whether this might be the path for them. He says that you have to be willing to read some pretty dry reading material to supplement your hands-on learning. Also, you have to be able to admit when you've made a mistake and fix it. Whether it's going to the wrong address or ordering the wrong part. "It will get easier," he says. "You learn to double check stuff. For example, a big part of the job is providing safety checks, like checking the furnace before winter begins. Before you enter the workspace, take a second to remember what you are there for and get your head on straight. If you smell gas, have in mind what you should do."
Zachary tries to encourage young people to enter the RHVAC field by sharing information and trying to explain the variety in the job; the different opportunities they may have like fixing furnaces, fixing kitchen equipment, troubleshooting big equipment systems that cool magnets for MRI machines and so much more. Sometimes they may work on top of buildings, enjoy beautiful views, and meet cool people along the way; many of the things he enjoys in his work.
He advises people to try job shadowing. He shadowed an electrician when he was searching for the right path, but he did not have the opportunity to shadow an RHVAC technician.
The future looks bright for Zachary. He married recently and he and his wife are having fun fixing up their home, picking colors and decorating. He also enjoys motorcycling and just hanging out at home. All of this is possible thanks to finding his passion and a good job in the trades, and…he does it with no school debt hanging over his head. RB
---
As a result of a collaboration with mikeroweWORKS Foundation (www.mikeroweworks.org), Rural Builder is featuring profiles of Work Ethic Scholarship recipients in each of its issues. Over a thousand scholarships have been awarded to trade-school students who value hard work and taking personal responsibility. Rural Builder applauds these students and wants to acknowledge their choice to apply their talents to skilled trades. Thank you, mikeroweWORKS Foundation, for your continuing efforts to close the skills gap and "reconnect the average American with the value of a skilled workforce."