BHMA issues revisions to product standards
The Builders Hardware Manufacturers Association (BHMA®) recently announced the publication of revisions to nine product standards. All of the revisions have been approved by the American National Standards Institute (ANSI).
"BHMA reviews ANSI/BHMA product standards at least once every five years to ensure alignment with modern quality requirements in the builders hardware industry," said BHMA Standards Director Michael Tierney. "This work ensures that our product standards continue to meet the ever-changing needs of both the public and our industry."
The nine updated standards include:
• ANSI/BHMA A156.3: Exit Devices
• ANSI/BHMA A156.9: Cabinet Hardware
• ANSI/BHMA A156.18: Materials and Finishes
• ANSI/BHMA A156.36: Auxiliary Locks
• ANSI/BHMA A156.39: Residential Locksets and Latches
• ANSI/BHMA A156.40: Residential Deadbolts
• ANSI/BHMA A156.8: Door Controls – Overhead Stops and Holders
• ANSI/BHMA A156.15: Release Devices – Closer Holder, Electromagnetic and Electromechanical
• ANSI/BHMA A156.1: Butts and Hinges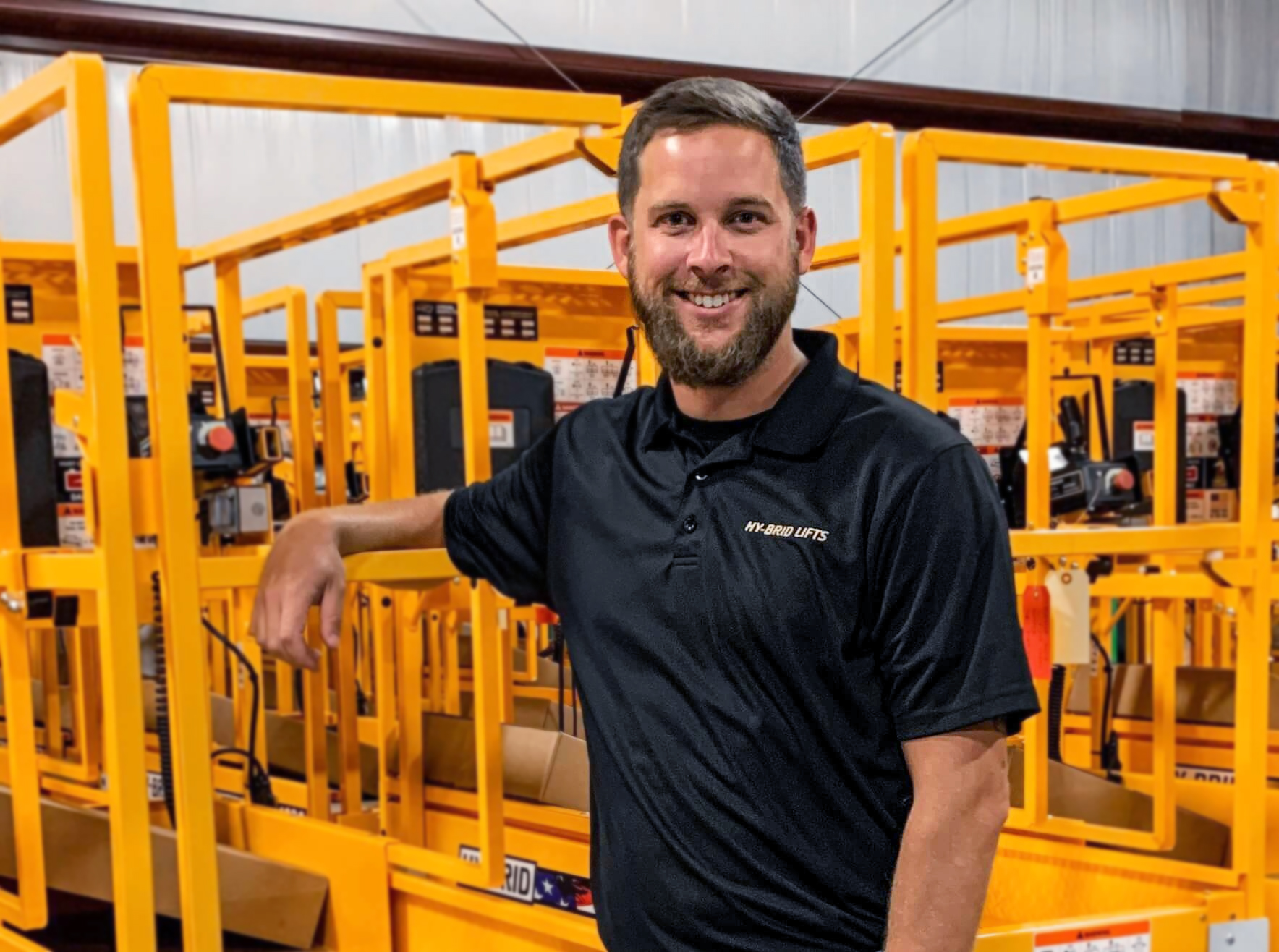 A complete list of the updates made to each standard can be found on the BHMA Standard Updates page [buildershardware.com/ANSI-BHMA-Standards/Standards-Updates], and full standards are also available for purchase from the BHMA website [buildershardware.com].
Hy-Brid Lifts Welcomes Jay Sugar as New President and CEO
Hy-Brid Lifts by Custom Equipment, LLC has appointed Jay Sugar as its new President and CEO. Sugar brings over 20 years of industrial manufacturing experience to the organization and will lead the overall direction and strategy of the company.
"We are extremely pleased to welcome Jay Sugar back to Custom Equipment, now in the role of President and CEO," said Steve Ellis, Custom Equipment Chairman of the Board. "Jay is an accomplished leader and with his background in both engineering and operations, Jay brings a wide skill set to drive Custom Equipment forward in value creation and performance."
Sugar possesses a knack for strategic guidance that allows him to sell into dealer networks, infiltrate new vertical markets and realize company goals. Not only does his analytical approach optimize resources and business systems, but his expertise helps companies pivot to meet future growth opportunities.
He is an industry veteran with more than 20 years of general management and executive experience in the industrial equipment sector. Sugar's background includes a multitude of business areas—such as engineering, supply chain, finance, and sales—that give him a unique perspective on operations and management.
His dedication to manufacturing was clear from the start. Sugar earned an MBA in accounting and business management from Carnegie Mellon University, in addition to a bachelor's degree in mechanical engineering from Rensselaer Polytechnic Institute. Sugar's career began on the shop floor where he went on to develop several start-ups into multi-million-dollar enterprises, holding positions such as General Manager, VP of Operations, VP of Industrial Sales and Executive VP along the way. He eventually joined the Custom Equipment team for a brief stint in 2019 to implement a new plant layout at the company's headquarters in Richfield, Wis.
"I'm looking forward to working with the strong leadership team at Custom Equipment again to help position the company for future growth," Sugar said. "Strategically expanding our product offerings and introducing new products will reinforce our commitment to implementing customer feedback and increase market share."
US LBM Acquires Three New Businesses
US LBM (www.uslbm.com), a distributor of specialty building materials in the United States, acquired three businesses during the summer of 2021: North Georgia Building Supply and Junior's Building Materials in Georgia, and Massey Builders Supply in Virginia.
In Georgia, North Georgia Building Supply and Junior's Building Materials provide professional builders, remodelers and contractors with lumber and a broad mix of specialty materials. From its location in Buford, North Georgia supplies customers in the communities northeast of Atlanta with lumber, windows, doors, roofing, decking and drywall. Additionally, Junior's Building Materials serves customers in Chattanooga, Tenn. and northern Georgia from two locations in Rossville and Ringgold, Ga. Besides lumber and engineered wood products, Junior's product mix includes windows, doors, roofing, siding and millwork. Operating out of two locations in central
Virginia is Massey Builders Supply. Founded in 1921, Massey supplies lumber and a wide range of specialty building products, including roofing, siding, doors, windows, decking, rail and millwork to professional builders and remodelers in the greater Richmond region.
"North Georgia, Junior's and Massey all have exemplary reputations in their home markets, and we're pleased to welcome their teams to US LBM," said President and CEO L.T. Gibson. "All three of our new acquisitions have strong customer relationships and are market leading, full-line suppliers offering a robust mix of specialty building products, and their addition to our portfolio expands and strengthens our reach in multiple rapidly growing housing markets in the Mid-Atlantic and Southeast."
ASC Building Products Launches Free Product and Color Visualizer
ASC Building Products offers a free, online visualizer tool to aid in design and specification of metal roofing and siding products. This new addition to our online resources allows users to mix and match products and colors, visualizing them before they buy. New features include:
• AI feature
• 3D modeling
• 3D color and product rotation
• Comprehensive roof measurements
• Design Services feature to help with designing your next project
Users can upload their own photo or use one of the stock images available to start visualizing metal roofing and siding design ideas. The addition of Design Services allows for quick and easy 3D modeling of projects, while the comprehensive roofing report gives users vital measurements and specification information. All information is personalized to the individual's project.
BluSky Announces Merger with Menold Construction
BluSky Restoration Contractors, LLC, a leading national property restoration company in the U.S., announced a merger with Morton, Illinois-based Menold Construction and Restoration, Inc.
"Menold and its owners have an outstanding reputation in the restoration community," said Drew Bisping, BluSky president. "Their company culture and ours align closely and we're excited about what we'll be able to accomplish together in Illinois as one team."
The merged companies will continue as BluSky Restoration Contractors, with 40 offices in 18 states. In addition to restoration services currently provided by Menold, BluSky plans to add commercial roofing and healthcare restoration business lines to Illinois markets.
Founded in 1977, Menold is a full-service restoration firm serving commercial and residential clients in central Illinois with offices in Peoria, Bloomington-Normal, and Champaign-Urbana. Menold chief executive officer Jeff Neihouser will step away from day-to-day operations of the merged company and join the BluSky executive leadership team as senior vice president of operational review. Kent Stemper will continue as CEO of the merged firm.
"With over 40 years of success as Menold Construction and Restoration, we are excited to be able to provide stability and opportunity for years to come. Merging with BluSky presents significant opportunities for our clients and our team members," said Neihouser. "We are exceptionally proud of our history of excellence, and equally excited about the future possibilities."
New Orlando Training Center to open doors for careers in construction
The Home Builders Institute (HBI) has announced the official opening of its new Orlando-based facility for training people for jobs in construction. The BuildStrong Academy of Orlando will train and place area students who want to pursue careers in the skilled trades for the building industry. Funded by The Home Depot Foundation, along with other private, public, and nonprofit sector partners, the program will be free to trainees.
Officials expect the training center to serve approximately 500 new trainees by year-end 2022. The BuildStrong Academy of Orlando's training program guides participants through a step-by-step process designed to take them from beginners, with little-to-no trade skills, to tradespeople who are sought after by employers. Instructors will use HBI's industry-recognized curriculum, which is one of only three pre-apprenticeship programs recognized by the U.S. Department of Labor.
For more than 50 years, HBI has conducted programs across the U.S. training approximately 10,000 students each year through a variety of specialized programs. Officials of the Washington, DC-based nonprofit organization said they are taking a new approach in Orlando by managing a facility that instructs students in several construction trades under one roof.
"As openings in construction jobs increase and people are rethinking their careers, the times demand that we take an inventive approach to creating the skilled workers so badly needed in the building industry," said Ed Brady, HBI president and CEO, at a grand opening ceremony here. "Students at the BuildStrong Academy of Orlando will be exposed to the full spectrum of their opportunities in the construction trades."
The effort comes at a critical time. Every month of the past year, the construction industry has been short approximately 300,000 to 400,000 skilled workers, based on National Association of Home Builders (NAHB) analysis of U.S. Bureau of Labor Statistics data. Yet only a small percentage of young adults are pursuing careers in construction, Brady said.
"This is the opportunity for new recruits to the industry to get in on the entry level, and receive hands-on training and placement into well-paid jobs," he said.
"We're excited to launch this academy program in Orlando and bring career opportunities to the area, in partnership with HBI," said Shannon Gerber, executive director of The Home Depot Foundation. "This program helps further our goal of supporting the next generation of tradespeople while diversifying the industry."
In addition to The Home Depot Foundation, the BuildStrong Academy of
Orlando is funded by the Charles Koch Institute; West Fraser, a diversified wood products company based in Vancover, Canada, and CareerSource Central Florida, the State of Florida's workforce development agency.
"The Academy will provide incredible training opportunities to develop skills, build careers, and create value in the construction industry," said Benjamin Colas, program officer at the Charles Koch Institute. "We're thrilled to support this proven model and excited for all to come."
"Many of those in this pandemic-driven economy workplace have been displaced or are reassessing what they will do for a living," said Ross Commerford, director of marketing and product development at West Fraser. "The Academy is for someone who might want a career as a skilled tradesperson in construction."
In advance of the grand opening, the center trained its first class of students who have since graduated. In June, they began a two-week, orientation session called the "residential introductory series." Once completed, they were able to progress to four weeks of skills training that resulted in an industry-recognized certification as a pre-apprentice. If they choose, the students could then enter a six-week-long program to be trained in carpentry skills.
www.OrlandoAcademy.hbi.org
Simpson Strong-Tie Updates Design guide
Simpson Strong-Tie, a leader in engineered structural connectors and building solutions, published a new edition of its Strong-Rod Design Guide [www.strongtie.com/srs]. The reference helps engineers, architects, and builders achieve continuous load paths for multistory and mid-rise light-frame wood buildings.
Seismic and wind events are serious threats to the structural integrity of all wood-framed buildings. Straps, hurricane ties, and hold-downs are often sufficient for resisting shearwall overturn and roof-uplift forces for one- and two-story structures. Taller multistory structures frequently have more complicated designs, including larger window and door openings, which create the need for continuous rod tiedown systems.
"With the increase in mid-rise and multistory construction, there has been a corresponding need for expert advice on how to incorporate continuous rod systems to account for lateral and uplift loads," says Sam Hensen, vice president of Connectors and Lateral Systems for Simpson Strong-Tie. "This new Strong-Rod Design Guide provides engineers and builders with an up-to-date and easy-to-understand resource for installing these systems efficiently and effectively."
Calhoun Super Structure expands plant
Calhoun Super Structure (www.calhounsuperstructure.com) is expanding its production plant in Goderich, Canada. The manufacturing company specializes in fabric building engineering, production and project management across North America. The family-owned company has advanced expertise in crafting agriculture structures, warehousing facilities, fertilizer storage, and salt sheds, among other structure types. The new 10,000-square-foot addition will allow for the complete manufacturing of steel frames. The company is poised to celebrate its 30th anniversary in January of 2022.
LP Building Solutions announces first LP® SmartSide environmental product declaration
In honor of Sustainability Day, LP Building Solutions (LP) released LP® SmartSide® Trim & Siding's first-ever Environmental Product Declaration (EPD). The results showed that SmartSide stores more carbon than is released from the production and distribution of the product, making it one of the only carbon-negative siding products on the market.
The International EPD® System defines an EPD as "an independently verified and registered document that communicates transparent and comparable information about the life cycle environmental impact of products in a credible way." LP conducted a Life Cycle Assessment (LCA) and used the findings to create LP SmartSide's first EPD, which highlights the climate-friendly attributes of LP's engineered wood siding and backs it up using third-party verified data.
The LCA found that LP SmartSide is classified as a carbon-negative exterior cladding product, which means more carbon is stored in the product than is released during raw material sourcing, manufacturing, and customer distribution. Unlike LP SmartSide, all the non-wood-based siding products analyzed had a higher net global warming potential (GWP). In fact, LP SmartSide stores 10 times more carbon than fiber cement-based products and emits 59% less greenhouse gas emissions during production.
"LP SmartSide products store carbon for generations, making them a smart choice as a sustainable building material," said LP Director of Sustainability and Public Policy Donna Kopecky. "When customers choose sustainable wood building products over more energy-intensive building alternatives, such as concrete or steel, they are making more responsible, climate-friendly choices that can benefit the environment over the long term."
"As LP continues its nearly 50-year tradition of sustainability leadership, the LP SmartSide Environmental Product Declaration shows the product's positive environmental impact within the building industry and provides a valuable resource for the increasing number of building professionals who are making more environmentally conscious building product decisions," said Executive Vice President of Siding Neil Sherman.
LP is committed to ensuring that all LP-manufactured products are made from sustainably sourced wood material. Verified annually against independent standards from the Sustainable Forestry Initiative® (SFI®) and the Programme for the Endorsement of Forest Certification (PEFC®), the company's forest certification program highlights LP's commitment to environmental sustainability. LP believes its work to build a better world is inextricably linked to protecting the environment, minimizing waste, supporting its communities, developing its employees, diversifying its workplace, and building economic prosperity for future generations.
lpcorp.com/sustainability.
Bradbury Hosts 300+ Students to celebrate Manufacturing day
The Bradbury Company invited students from 13 local schools for factory tours to celebrate Manufacturing Day in mid-October.
"We opened our doors for student tours to share opportunities for rewarding careers in manufacturing and highlight the advanced technology we utilize every day," says Matt Werner, Senior Manager Sales & Marketing at The Bradbury Company. "Students received a full facilities tour, along with a chance to compete in hands-on skills challenges and explore our career center booths.
"This was our biggest year yet. We had over 300 students tour from 13 local schools. We were also happy to invite our technical school partners, Hutchinson Community College and Flint Hills Technical College."
Bradbury employees led tours and explained the manufacturing progression from concept to engineering design, fabrication, assembly and testing. Students viewed the fabrication shop, which houses approximately 60 CNC machines, where Bradbury fabricates the major components required for the construction of Bradbury equipment.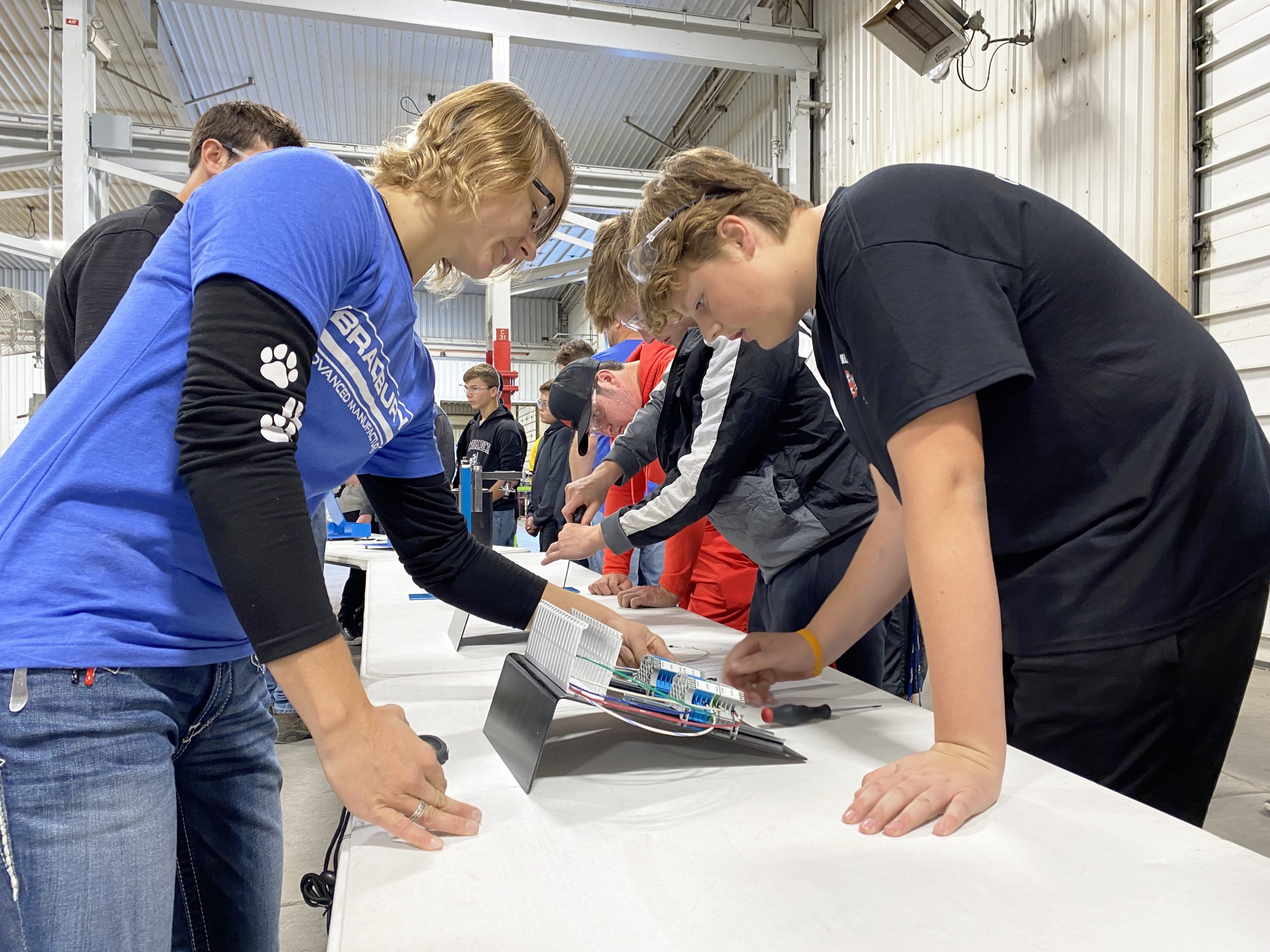 Highlights of the tour included the Doosan lathe, which machines parts from 200 inches long to 30 inches in diameter, the induction heat treat center, the robotic welding cell and the high-definition plasma torch. Tour groups walked through the assembly area to observe the assembly of Bradbury custom-made machines and watched several roll forming lines running formed products.