Metal Rollforming Systems (MRS) is excited and honored to receive our sixth Gold Key of Excellence award. MRS has been producing roll formers since 1993 and strives to create the best roll former for our customers. Metal Rollforming Systems aims to be your one-stop shop for all your roll forming needs, allowing you to save time and money when purchasing a roll former. Along with our complete roll former panel lines, we specialize in custom trim profiles along with all the needed accessories to complete your metal panel needs.
Our most recent roll former design is our Patriot Rollforming Line. With an integrated shear and modular die set, any number of profiles can be run on a single machine. This offers our customers flexibility for their production while costing less than our standard lines. The Patriot Line can also be reconstructed into a slit and recoil line, which is ideal for trim and snap-loc panel manufacturing.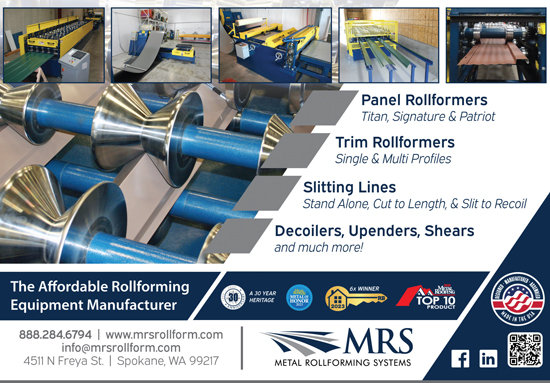 We pride ourselves on our technical support for our customers. Our customers' success is our success. Our business is based largely on repeat customers and referrals, and we are honored that our customers speak so highly of us. We live under the philosophy that, "Service is the lifeblood of our organization. Everything flows from it and is nourished by it. Customer service is not a department; it's an attitude."
We strive to make the best experience for our customers and to make them confident they've purchased the right roll former from the right company.
Metal Rollforming Systems has grown from a single man building roll formers to an 100-person crew. Our complete in-house design and production allows our team to keep precision control over each aspect of the manufacturing process. This assures us that each roll former is done right and will be reliable for our customers for many years to come. RB