Curt A. Gooch
Gooch began his career in the rural building industry in 1986 when he designed and participated in the construction of a dairy heifer barn to house transition and pre- and post-bred heifers and dry cows for Rolling Acres (dairy) Farm in New Windsor, Maryland. At that time, he was an undergraduate in Agricultural Engineering at the University of Maryland, College Park (UMCP) and spent weekends, semester breaks, and summers working on a family farm. 
Project Engineer at the Maryland Agricultural Experiment Station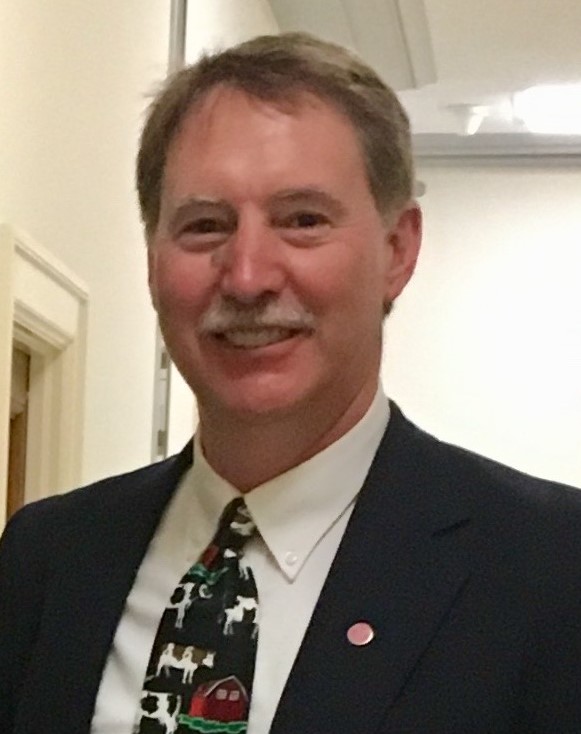 After he graduated, Gooch worked on the farm for another year, and then took a job at the Maryland Agricultural Experiment Station as a Project Engineer. In that role, Gooch was responsible for every facet of capital construction projects from conception to completion, including project planning; scope, cost and schedule determination; budget adherence; engineering design according to applicable codes and client/user needs; permitting; development of bid packages; conduct pre-bid meetings and evaluate bid results; conduct work initiation conferences; perform engineering design reviews; oversee and inspect construction; authorize payments; and evaluation of results. Gooch thanks the late Jon Kasner, PE, and Robert Bassler for their support, mentoring, and kindness extended during his time as a young Project Engineer with MAES. Most of these projects, which were aimed at specialized agricultural research, research support, and general farmstead facilities, utilized post-frame construction. One niche developed was the ability to ensure project success by working with builders to utilize standardized designs yet accommodate unique/novel building performance needs.
Gooch said two memorable projects he was involved with include the Wye Angus facilities upgrade located at the University of Maryland, Wye Research and Education Center in Queenstown, Maryland, with fond memories of working with the farm crew (Eddie Draper, Kevin Morgan, and Lisa Yoash) and the replacement and the University of Maryland dairy farm.
Master of Science Degree in Biological Resources Engineering
While working full-time for the MAES, Gooch earned a Master's of Science degree in Biological Resources Engineering from UMCP and became a Registered Professional Engineer.
Gooch was called to Upstate New York in 1998 to develop the Dairy Environmental Systems program at Cornell University under the PRO-DAIRY umbrella. The program initially focused on maximizing cow comfort by ensuring barn components (stalls, floors, feeding, ventilation, cooling, and restraint systems) were properly selected/designed/construed/managed. Noted dairy cattle facilities impacts included pioneering tunnel ventilation and time-integrated ventilation control for dairy barns, integrating cow sand bedding and sand-laden manure handling systems, and developing a novel neutral ventilation system that provides uniform air through group and individual pre-weaned calf pens.
He was the Conference Planning Committee Member and Chairman for multiple Natural Resources Engineering Service (NRAES) conferences that focused on post-frame construction, farmstead faculties, and construction materials and practices. He has authored more than 300 publications and developed and delivered more than 350 oral presentations focused on various aspects of the ag industry including dairy facilities and manure/nutrient management. Gooch has pioneered work that quantified the environmental benefits of manure-based anaerobic digestion including greenhouse gas reductions. "Thanks go to PRO-DAIRY Directors David Galton and Tom Overton for their support and confidence in the Dairy Environmental Systems program," he said.
Developing Innovative solutions and Information
By far, the highest satisfaction comes from working with dairy farmers to develop innovative solutions and developing bottom-line information for use in making informed business solutions, he shared.
Gooch thanked his wife of 28 years for all her support while he served the farmers and those who also support agriculture.
Randy Ridenour 
Ridenour has added another accolade to his list of accomplishments. Ridenour joins the Rural Builder Hall of Fame in its 2020 class.
Ridenour attended Ohio State University-Columbus from 1970-1974, and earned a Bachelor of Science degree in Business Administration, with a major in Business Logistics & Transportation. He served the National Frame Building Association as a Board Member and Supplier Council chair for 15 years, and earned the NFBA's Bernon G. Perkins Award for exemplary service to the post-frame industry in 2014. Ridenour was awarded the Larry A. Swaney Award from the Metal Construction Association in 2014, for enhancing the betterment of metal in construction, and was inducted into the Metal Roofing Magazine Hall of Fame in 2017.
He retired from Atlas Bolt & Screw at the end of 2016, after 32 years and leading the company as president from 2009 through 2016.
The National Frame Building Association
Ridenour said when he joined the NFBA, it was the National Frame Builders' Association. "It was a builders' association, not a building association," he said. When he assumed the seat as the supplier council chair, the Supplier Council supported the NFBA, but didn't really have voting rights, he explained.
They eventually changed the name of the association to the "National Frame Building Association," and that brought the supplier side more into the Association.
With the additional participation in association affairs from the suppliers also came increased dues from the supplier segment. "When the suppliers came in, we got a lot more participation and a little more muscle behind the Association."
The broader membership base increased the income for the Association, and that turned into larger opportunities for the Association to promote post-frame construction from a much broader perspective, he said. Rather than just pole barns, it also increased commercial buildings made with post-frame construction. "It really moved the needle in terms of contractors not only building farm buildings, but also building real commercial buildings," Ridenour said.
It moved the entire post-frame industry forward. "More builders are now doing commercial work than ever before. It's a more profitable business, expanding the use of post-frame construction in the total construction market."
Ridenour said two things contributed to the National Frame Building Association growth and expansion. The first was raising NFBA dues so they could provide better benefits for Association members. The second was greater leadership from large companies sitting on the board. He said the board leadership worked very hard to make sure they didn't lose sight of the builders, the Association's greatest asset. "The builders had a passion, and suppliers were able to support that passion," he said.
"I'd like to reiterate what a really great association we have. And that's because of all the hard work and great board members that came and served for the betterment of the Association and post-frame construction."
"I am very lucky to have been able to be a part of the NFBA," he said. "A big thanks should go to Atlas Bolt and Screw Co. and our parent company, a Marmon/Berkshire Hathaway Company, for supporting our participation in the association that represents the industry that utilizes our products. The time and effort that Atlas spent paid dividends many times over for our company, our employees who participated in Technical, Marketing and Safety committees, and me, personally."
Building Passion Through Participation
"As we look to the future our greatest challenge will be to inspire passion for our industry," Ridenour said. "We are in an environment driven by short-term profits, short-term employment loyalty, and an automated world that minimizes face-to-face communication. The greatest tool we, as leaders of our companies, have is to maximize not only our individual participation but our employees' participation in the Association. It will build loyalty to our individual companies, foster personal friendships within the industry, and inspire future 'PASSIONATE' leaders of our industry and Association." 
Michael J. Dunipace
Owner of the design-build firm of Dunipace Buildings, Bowling Green, Ohio, joins this year's Rural Builder Hall of Fame inductees. His father, James, founded the company in 1961 as a dealer for Doane buildings. About 1965 or so they broke off on their own and became independent in designing and building their own structures.
Dunipace Buildings has grown to building commercial and agricultural structures, including office buildings, livestock structures, equipment and storage facilities, warehouses, horse barns, and supply/distribution buildings. Like many of their contemporaries, Dunipace Buildings also provides residential construction services including garages, utility and hobby buildings, painted steel and shingle roofing, and value-added structures such as all-season porches.
A licensed and practicing engineer who received his engineering degree from the University of Detroit, Dunipace joined his father's company in 1974 as sales manager and chief engineer. In 1994 he became the sole owner and operator. He served several terms on the National Frame Building Association Board of Directors, and has worked to support the organization financially and through his actions.
Then…And Now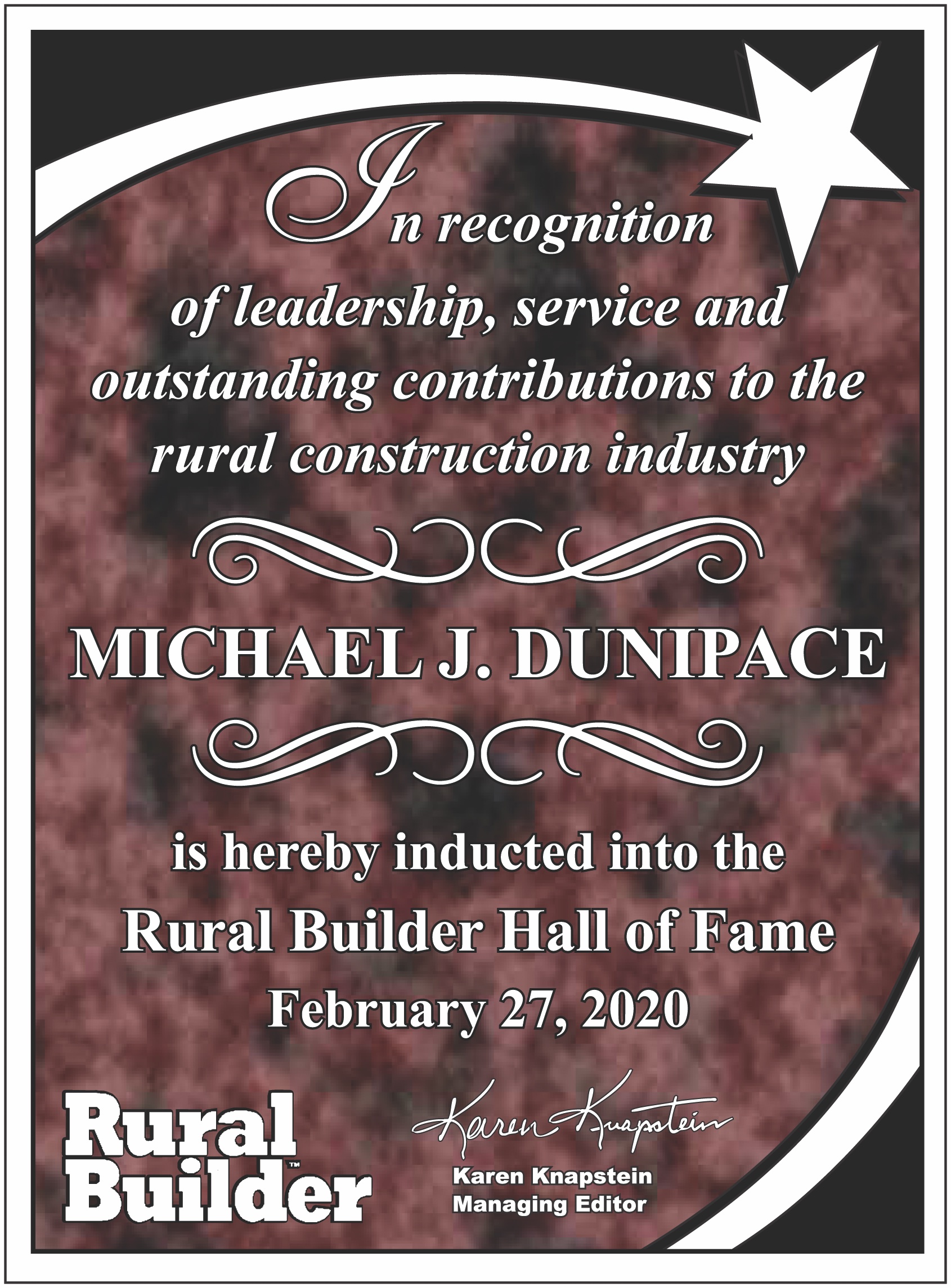 When considering some of the important changes and improvements that have helped the post-frame industry, he said the treatment of the wood posts has helped a lot. Treating or creating a barrier between wood and the ground has greatly extended the life of post-frame buildings and helped spread the popularity of post-frame construction.
Another significant improvement has been in the paints and paint systems used on the sheet metal used on roofing, sidings, and trim. Back in the 1970s, brown paint turned pink in about three years. Back then, paint didn't last anywhere near what it lasts now as far as color, coating, and protecting the metal, he said. Today, a 40-year warranty against fade and chalk are pretty standard. All of the paint companies have done a good job developing coatings that hold up.
Comparing then to now, Dunipace said a lot more attention is given to safe work practices. "Our company really emphasizes safety, especially fall protection and all around safety awareness." That was not the case when he started.
Whatever the future holds, Dunipace hopes the NFBA is a significant part of it. "The professionalism in our industry is outstanding with an amazing blend of builders, engineers and architects, academia and trade association staff." RB