Goodbye, IT! Hello, Timber Frame!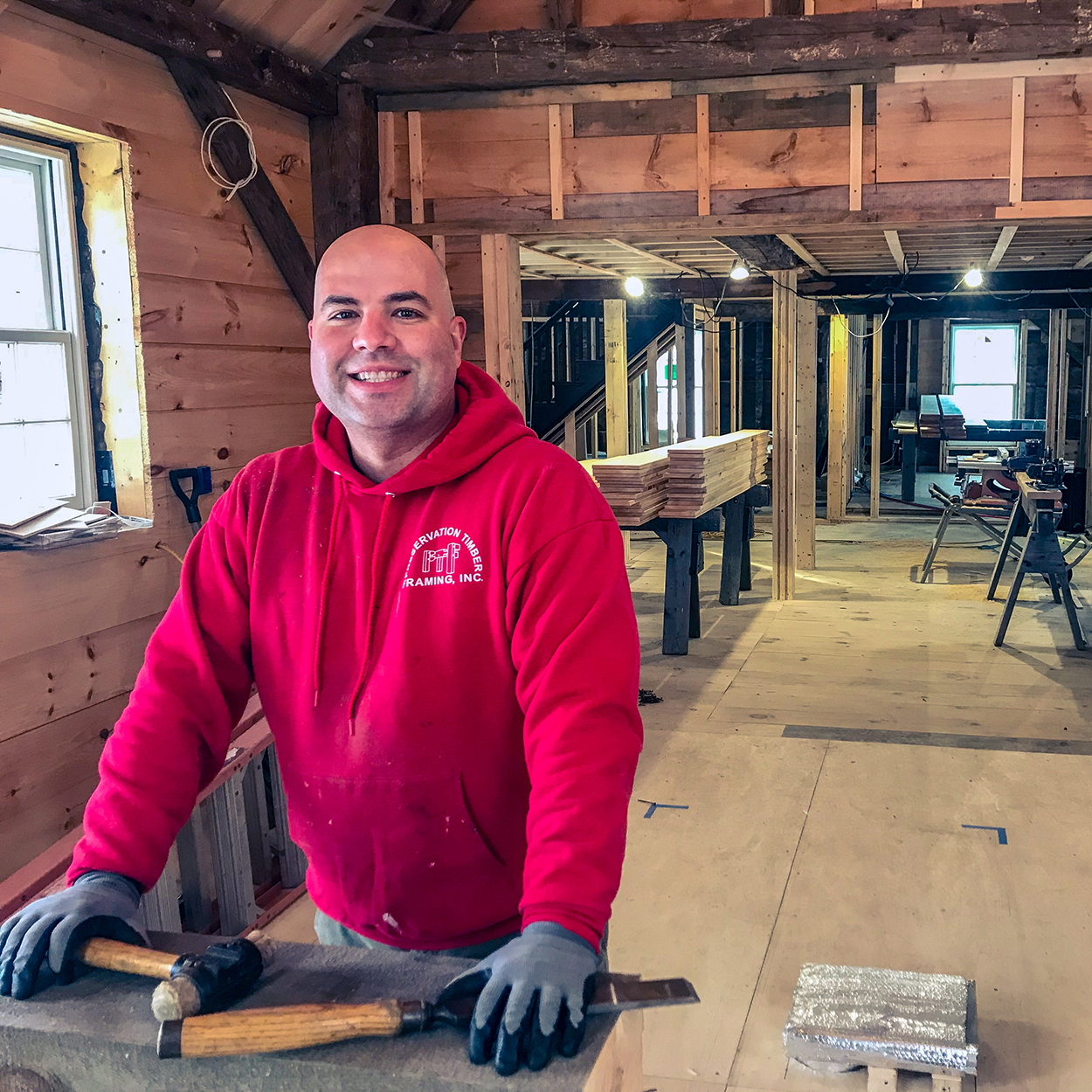 Tom Wilhelm: mikeroweWORKS Work Ethic Scholarship Recipient
By Jenn Milner
In 2018, Tom Wilhelm made the last payment on his student loans after working 60 hours a week at two jobs. He had been working in IT since he graduated college. "I liked that it paid well, but it wasn't anything I was aiming for," says Wilhelm. "I just fell into it because I was good with computers."
But with his debt paid, Wilhelm felt the urge to change gears from something he fell into, to something he chose: carpentry. After taking woodworking in high school, he knew it was an interest of his, but he didn't get into it professionally. When he was looking for a change, it felt like the timing was right for the opportunity. "I said to myself, 'If you're going to be a carpenter, you better do it sooner than later,'" says Wilhelm. So he applied to the North Bennet Street School in Boston, was accepted, and was awarded a scholarship from the mikeroweWORKS Foundation. "It was hard to find scholarships for people going into the trades, and then I found Mike's site," says Wilhelm.
Now he is working in timber frame preservation carpentry with a company he interned with during school. "I was really fortunate to be hired full time at a job," he says. "It seems like opportunity knocked and I just kept showing up." The company restores run-down barns, church steeples, and homes on the east coast. "Some of the buildings we are working on pre-date the country, which is crazy to think about," says Wilhelm. "They were built so well back then to last for 250 years, and what we are doing will allow them to stand for another 300."
Now working with chisels instead of cords and computers, he still thinks about the S.W.E.A.T. Pledge he signed. "I remember reading it and thinking 'a lot of those things I have built into my personality,'" says Wilhelm. "I don't want to say I'm passionate about [my job], but I do really good work. My advice is to just do a darn good job at whatever you're doing." RB