For nearly 40 years, ABC Supply has been providing the best products and services to contractors throughout the United States. The company is the largest wholesale distributor of roofing in the United States and one of the nation's largest wholesale distributors of select exterior and interior building products. In addition to carrying low- and steep-slope roofing materials from industry-leading manufacturers, ABC Supply carries a wide variety of siding, windows, doors, gutters, rainware, and decking and railing products.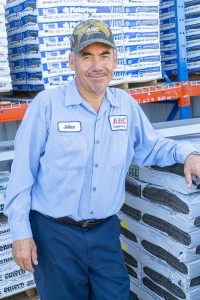 ABC Supply's team of more than 15,000 associates at over 800 locations is highly trained and dedicated to helping contractors tackle their jobs. The company's associates handle building material selection, order placement and delivery for contractors—providing accurate, professional service from start to finish. In fact, the company was recently honored with the 15th Gallup Great Workplace Award, which recognizes organizations around the world with the most enthusiastic and committed workforces.
ABC Supply knows its customers need to save time and money at every turn, so it has created unique tools that help them do just that—quickly and easily.
Its automated Manufacturer Rewards Support system makes it easy for customers to capitalize on manufacturers' published rewards programs.
The company offers ABC Connect, an online program that integrates leading industry software with ABC Supply's products and pricing. It allows contractors to build material lists, create estimates and submit orders in real time, whether they're working from an office, at home or on the job site.
ABC Supply also created myABCsupply, an online order management tool that helps contractors do more on the go. It allows contractors to purchase materials, review their order details, schedule and track deliveries, pay invoices and more. Contractors can sign up for myABCsupply at myabcsupply.com or by downloading the ABC Supply app from the App Store or Google Play. The tool is available in English, Spanish and Polish.
The company's Freedom Programs help contractors boost their company's marketing with targeted mail programs, a custom company website, job site marketing, personalized company apparel and more.
ABC Supply's Customer Financial Services department offers the lines of credit and terms contractors need to be competitive in their markets.
With its vast inventory, knowledgeable associates and online tools, ABC Supply delivers the services contractors need to be successful and grow their businesses. For more information about ABC Supply or to find a branch near you, visit our website.
www.abcsupply.com/locations | 608-362-7777