website: www.permacolumn.com • phone: 800-622-7190 • 11 Gold Keys Won
Build on a permanent foundation — build your business
Join the movement. Across the country, builders large and small, new and experienced, are increasingly building their post-frame and pole-barn structures on permanent foundations. These progressive, thriving builders are abandoning the outdated practice of embedding wood in the ground and offering permanent solutions that consumers demand and appreciate.
Consumers want their investment in a post-frame building to last generations. Builders want to expand their business and protect their industry reputation. Both groups have found the answer in the Perma-Column® permanent foundation system: precast concrete columns, and Sturdi-Wall® and Sturdi-Wall® Plus heavy-duty anchor brackets that connect post-frame structures to concrete foundations. Using existing building methods, these products move wood from in the ground to atop concrete foundations, eliminating the potential for rot, decay, structural instability, and — eventually — costly repairs or foundation failure.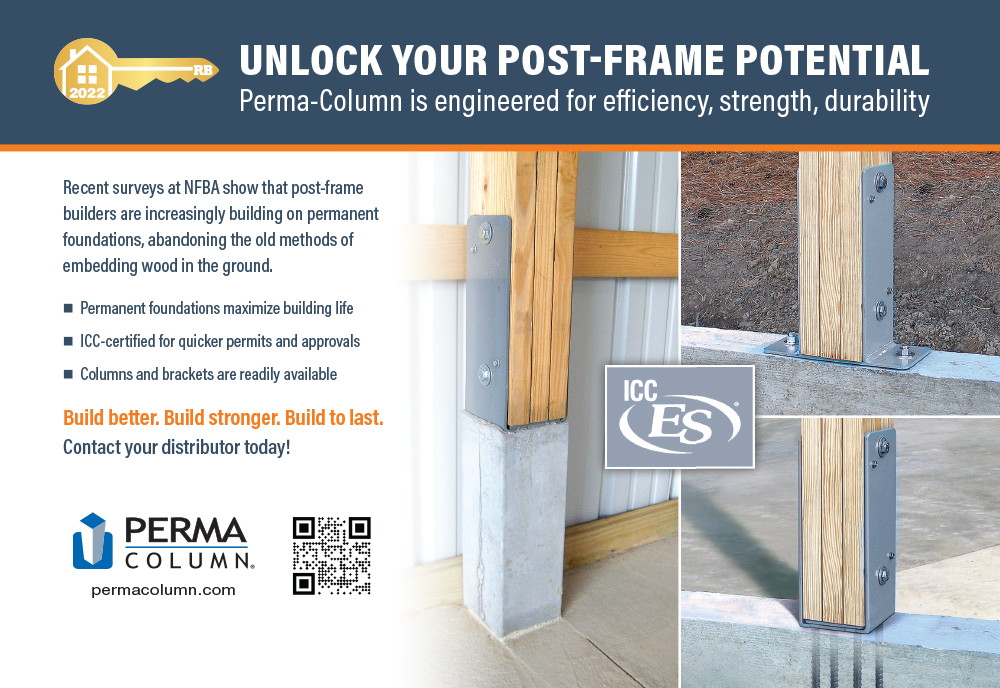 Support for permanent solutions has been building for years but skyrocketed in a recent National Frame Building Association survey. The NFBA survey of builders found that use of wood in the ground was expected to fall 31% in a five-year period while use of precast concrete columns like Perma-Column was poised to grow a remarkable 43%.
Builders and consumers alike can trust Perma-Column. The patented, engineered Perma-Column family of products is certified by the International Code Council Evaluation Service (ICC-ES) to meet the International Building Code® (IBC) and the International Residential Code® (IRC). That means quicker permits and approvals — and therefore accelerated project timelines.
Build better. Build stronger. Build to last. Build with Perma-Column. RB