McElroy Metal in Bossier City, LA
Taking advantage of local and federal incentives to help pay for the project, McElroy Metal added solar panels to its manufacturing plant in Sunnyvale, Texas.
McElroy Metal, based in Bossier City, Louisiana, has now added solar panels to four of its manufacturing sites. In addition to the most recent Sunnyvale project, McElroy has completed successful solar panel installations in Peachtree, Georgia, Adelanto, California, and Clinton, Illinois.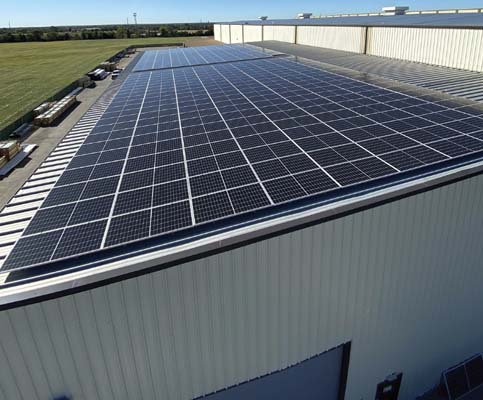 Solar Panel Installation on a Standing Seam Roof
"Installing solar panels on a standing seam roof like the one produced by McElroy Metal is the most cost-effective way to complete a solar installation," says Mark Rangel, Executive Vice President of Commercial Business Development and Preconstruction at Spier Commercial & Industrial of New Braunfels, Texas. "We do flat roof installations, ground installations, carport installations, every kind of installation imaginable and installing on a standing seam roof is always the most cost-effective."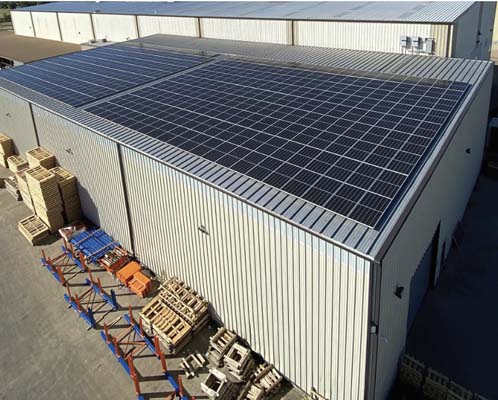 Spier installed a 165kW grid-tied photovoltaic (PV) distributed generation (DG) rooftop system at McElroy Metal's Sunnyvale plant. The Seraphim Energy panels were installed on a recent addition to the facility, which was topped with McElroy Metal's 238T symmetrical standing seam panels. The panels were fastened to the standing seam roof with products from S-5!. The project contained 352 470-watt solar panels, which will produce approximately 261,574 kWh each year. The system is estimated to reduce the facility's grid energy usage by 46 percent.
"We're very excited about the addition of solar panels to a fourth manufacturing facility," says Ken Gieseke, Vice President – Marketing at McElroy Metal. "Once we did the math, calculated the return on the investment, it simply made sense to install the solar panels. McElroy Metal remains dedicated to being an advocate for solar energy."
Solar Energy Incentives
Rangel says local and federal incentives paid for approximately 80 percent of the solar installation and that the return on investment will be about five years – for a system that is expected to last 25 years.
Partners in Raising the Bar
"McElroy Metal has been a respected and premier metal roof and component manufacturer for three generations," says Rob Haddock, founder and CEO of S-5!. "Just like S-5!, they got there by setting the highest standards of quality and integrity for themselves and for their vendors. They are a valued S-5! customer and distribution partner, but also industry advocates and activists. This is their fourth S-5! solarized project. I am sure we both look forward to the next one."
McElroy's 238T symmetrical standing seam system does not have male and female seams, but is comprised of panels with matching left and right seams. The panels are joined with a mechanically seamed cap. The panels are non-directional and can be installed left to right, right to left or even center to right or left. In addition to installation benefits, symmetrical panels offer easy individual panel removal and replacement for easy plenum access. Panels can even be re-installed, requiring only the purchase and installation of a new cap.
Since 1963, McElroy Metal has served the construction industry with quality products and excellent customer service. The family-owned components manufacturer is headquartered in Bossier City, Louisiana., and has 13 manufacturing facilities across the United States. Quality, service and performance have been the cornerstone of McElroy Metal's business philosophy and have contributed to the success of the company through the years. As a preferred service provider, these values will continue to be at the forefront of McElroy Metal's model along with a strong focus on the customer. More information can be found at https://www.mcelroymetal.com.
"Once we did the math, calculated the return on the investment, it
simply made sense to install the solar panels. McElroy Metal remains dedicated to being an advocate for solar energy."
-Ken Gieseke, Vice President
Marketing at McElroy Metal
Ocean Reef Club at Key Largo
Located on the northernmost tip of Key Largo in the Florida Keys, Ocean Reef Club is one of the country's most comprehensive private club communities, offering 1,700 waterfront estates, private homes, condominiums and an oceanfront inn.
The club is equipped with a fully staffed medical center; a full-service spa and salon; gourmet grocery store; cooking school; nature center; cultural center; veterinary care center; dining and shopping options; an independent pre-K-8th grade school; as well as its own private airport. Ocean Reef offers a vast array of leisure amenities, including a 175-slip mega-yacht marina for boating, fishing and diving; two 18-hole championship golf courses; world-class tennis and lawn sports; jogging and cycling paths; and unlimited children's activities and programming.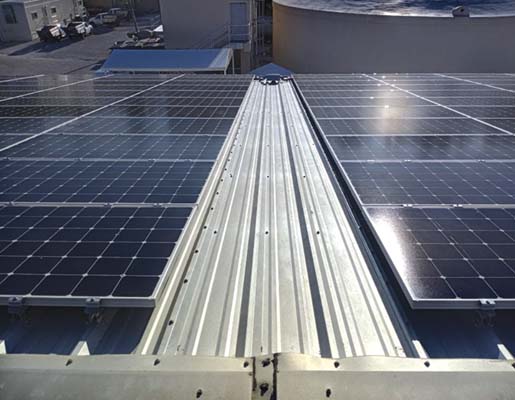 On the grounds of the resort is a 6,400-square-foot reverse osmosis water plant featuring 58 kWp of solar PV secured to its Dean Steel Building Rib-12 roof using the S-5-PVKIT®2.0 and the RibBracket™ III. The solar installation is predicted to save the resort on average $1,000 per month on its electric bills.

The Challenge
The club is located on a private peninsula beside America's only living reef, bound on three sides by water and on the fourth side by federal and state lands. The area is subject to 180 mph, Category 5 hurricane winds, making installation of a low-profile, roof-mounted system essential.
EPC Contractor, SALT Energy was challenged with installing the solar adjacent to the local airport's runway (just 150 feet away) so a glint and glare analysis was required. The findings and resulting action items from this assessment would ensure the reflection produced by the solar PV would not visually impact pilots or air-traffic controllers.
Additionally, the logistics of delivering materials in this part of the country is challenging because of its remote location. And, since it is a private, gated community, the owners wished to limit the number of delivery trucks coming and going through the gates.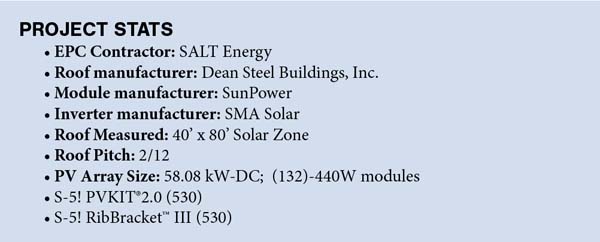 The Solution
Utilizing the only south-facing roof available, SALT Energy installed the latest technology, high-efficiency SunPower A-Series 440W modules to maximize the solar output in the space allotted. The modules were secured to the Dean Steel Building Rib-12 roof using the PVKIT solar mounting solution along with S-5!'s RibBracket III.
Together, the S-5! products provided a low-profile design solution with minimal equipment on the roof to achieve a design strong enough to withstand the area's high wind loads. With a fully engineered design, three to five module clamps per side depending on wind zone of the roof (six to 10 points of attachment per module), 15% of the dead load of rail-mounting, and more uniform wind load distribution to the roof structure, this array welcomes any Category 5 Hurricane challenge.
The logistics challenge was also overcome because the entire solar mounting solution of 240 pounds fit into the trunk of a passenger car, whereas a truck and flatbed trailer would have been required for a traditional railed system.