When choosing a metal roofing supplier, it's essential to consider all the details and a manufacturer that values them, from the quality of the metal to the packaging of products.
Start with the Everlast II® OMNI panel, a perfect option for roofing and siding. With superior thickness (.017) and AZM™ technology, the OMNI panel provides excellent resistance against corrosion. Coated with their proprietary paint system tested in some of the world's harshest regions, Synergy™ gives resistance against weather and UV exposure. Roll formed using the state-of-the-art Evercure® process, the heat-forming virtually eliminates crazing and micro-fracturing, which is a leading cause of premature rust. In addition, the tooling incorporating the deep antisiphon groove promotes better water drainage protecting against leaks, while the application of CECI™ quietly protects the cut edge, effectively decreasing the corrosion rate.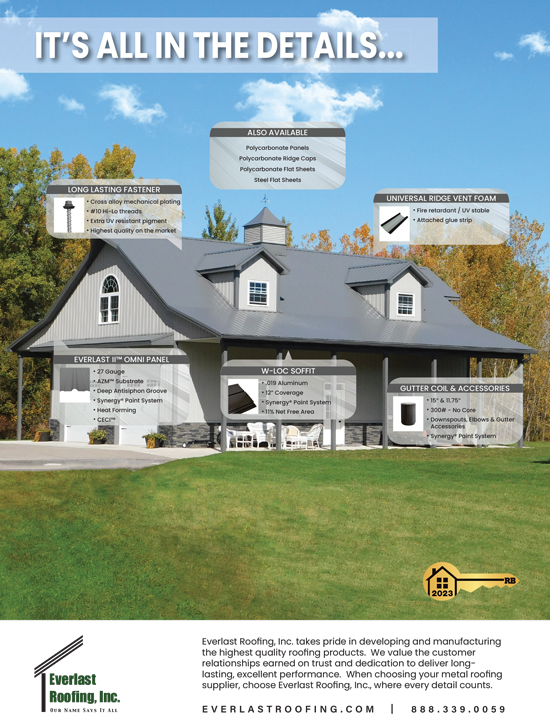 W-LOC, a double 6″ V-groove soffit, will enhance any builder's appearance and add value while offering freedom from maintenance and painting. Providing 12″ coverage and 11% net-free area, this soffit in a .019 aluminum is available in all Synergy™ colors to match your panel.
Are you having difficulty finding a fastener that will perform at the same quality level as an Everlast Roofing product? Developed to offer a long-life solution over standard fasteners, Everlast Roofing provides the TA® "The Answer" RDP woodscrew. It is manufactured with #10 Hi-Lo threads and a long-life cross alloy with additional layers of a ceramic anti-corrosion coating, reducing drill time. Combining this with an extra UV-resistant pigment makes the fastener the highest quality on the market.
Continuing to eliminate the many challenges of finding quality building products, Everlast Roofing produces a Universal Ridge Vent Foam, an easy-to-install, UV-stable, reliable fire-retardant product.
Need gutter coil or accessories to match your project? Everlast Roofing will soon offer 15″ and 11.75″ gutter coils in aluminum and steel substrates with a full line of accessories.
Dedicated to ensuring the highest quality metal roofing products and accessories, Everlast Roofing performs a range of tests to evaluate the quality and performance of its products. Conducting these rigorous tests ensures the products will deliver long-lasting, excellent performance.
Developing customer relationships based on trust and dedication, Everlast Roofing knows that quality packaging is as crucial for your project as the products inside. Your high-quality roofing products will deliver with the highest packaging standards.
When the Everlast Roofing truck delivers, you can rest assured that no detail has been overlooked. RB