By Linda Schmid
Nolee Anderson never dreamt she'd grow up to be a carpenter. " I really had the best of both worlds," she said. "I grew up right outside Billings, Montana on a wheat farm, and I went to the big city school where there were so MANY opportunities: dance, ceramics, hockey, tennis, crafts, and more. Art was a big thing there, but no one ever encouraged me to take any trade classes like carpentry."
Anderson took classes in ceramics and painting, and when she graduated from high school in 2013 she considered going to art school or college, but she felt overwhelmed. She decided to take a gap year and moved to Nashville with friends. One gap year turned into three, while Anderson tried out service roles, lead family workshops at Cheekwood Gardens, and even designed jewelry in a studio.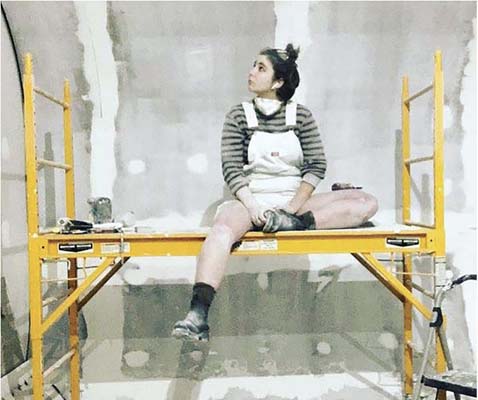 Nashville was fun, but eventually Anderson decided it was time to go home and get on a career path. Back in Billings she enrolled at the University of Montana, but then she began looking at itineraries filled with classes she didn't want to take. Then she ran across the Department of Industrial Technology at Missoula College where she saw more hands-on classes, like diesel mechanic, welding, and carpentry. The college brought her in for a tour. "It was very cool. That tour altered my life entirely," she said.
Anderson signed up for a two-year degree in Sustainable Carpentry. "School was amazing!" Anderson stated, "I helped build a house, did concrete work, welding, basic carpentry, finish carpentry, and more." Since she was earning a sustainable carpentry degree, she learned about using alternate or unique materials, "which ended up being helpful when materials became scarce."
It wasn't just the skills she was learning that made Anderson love it. "I made friends and I had mentors that were preparing me for the working world and got me excited about going out to begin working. I think that a lot of people in other educational degrees aren't excited about finding a job because they don't really feel prepared. I was; my classes had me doing the things I would do on the job." Anderson also liked the pricetag that went with her education since she had seen the costs associated with attending the 4-year university. Still, tuition, rent, tools and materials all have to be paid for.
Anderson didn't know about the mikeroweWORKS Foundation. Her dad saw an ad about it on the Discovery channel and suggested she apply; maybe she could get some help. "It was one of the easiest scholarships to apply for and definitely the 'funnest'," she said. "You had to write a short essay, supply a few references, and create a video that showcased your personality."
Being awarded the scholarship felt like winning the lottery, Anderson said. She called her dad and they went to lunch to celebrate.
Part of the agreement between the mikeroweWORKS Foundation and scholarship winners is that they must sign the S.W.E.A.T. pledge. Anderson felt good about the pledge; it mirrored things she had been taught growing up. "It was an easy pledge to take because I believe that hard workers have more luck."
The scholarship itself was different than many others; Anderson could decide for herself how best to use it. She paid tuition and bought tools for her second year of school.
"Great relationships and opportunities came from my involvement with the mikeroweWORKS Foundation; I can't say enough good things about it."
When Anderson graduated, debt-free, she got a job with a contractor who remodeled old Southern mansions in Nashville. Now Anderson is self-employed, working in trim carpentry, mainly on small residential projects.
"I am passionate about my work, and I am passionate about getting others passionate about it, too," she said.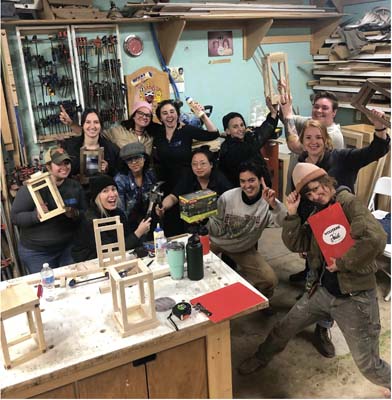 Few young people seem to be passionate about working construction, as most employers know. Anderson thinks that the trades are having problems getting young people to join because there is a stigma around the trades. It's subtle, she says, but she was given the impression that the trades were for people who couldn't make it in college.
"So many kids never have the chance to find out how fulfilling it can be. They may have an uncle who works in the trades and he comes home tired and dirty. But they don't realize that he may be his own boss who sets his own hours, makes a good living, and never has to go to the gym because he's active on the job."
Anderson has participated in career days to encourage young people, especially women, to go into the trades. She believes that the more variety of people you have in the workplace, the more ideas, perspectives and different styles of problem solving you incorporate into the workplace. Women on the jobsite have elevated the work experience in her opinion.
Anderson's excitement about getting women involved in the industry is real; she has lead Joist Workshops, sponsored by the Wolverine Boot brand through the mikeroweWORKS Foundation. One workshop group built community picnic tables and the other made smaller, personal items. "It's great when you can get women comfortable in the workshop. They can do small things like hang their own curtains and fun things like making floating shelves." For Anderson, carpentry is very much a creative outlet, so in her spare time, if she isn't painting a picture, (yes, she still paints), she's probably helping a friend figure out how to make something they saw online. "The more ladies I get to try out carpentry, the more ladies I get to hang out with."
Although she isn't sure what the future will bring, she knows that tradeswork will always be a part of her life. And that she wants to teach more women trades skills, instilling confidence in them and in their own abilities to do things.
"Don't be afraid to try and fail," she advises. Persistence gets you success; sooner or later you find that you can build anything, and it's cool, and it's really, really fun!"
To find out about future Joist Workshops, follow @joistskills on Instagram or email Anderson at [email protected].