By Linda Schmid
Early on, roofs were predominantly created of wood, slate shingles, and clay tiles. In the mid-1800s low-slope roofs became popular and they were topped with metal and bituminous roofing. Then, rolled asphalt roofing was developed, which led to asphalt shingles. Throughout the 20th century, asphalt shingles were the predominant roofing material, although other materials were available, and they are still the most common residential roofing material.
Today all of these roofing forms, and more, are available, but they are not necessarily the same as yesterday's shingles.
Metal Shingles
Metal shingles are stamped on presses in modular panels of various sizes and designs. According to Todd Miller of Isaiah Industries, they have many benefits for building owners as well as roofers.
Known for durability, some metal shingles installed on buildings in the Victorian era are still going strong, a testament to the enduring nature of metal roof shingles. Early on metal shingles were installed unpainted, and the paint was added later. In the 40s and 50s, they began pre-painting with durable coatings for an even stronger roofing shingle.
Metal shingles also offer high wind resistance due to their interlocking nature, and of course, they are fire resistant. They are water-tight, usually requiring a pitch of 3:12 similar to asphalt shingles.
In addition to their durable nature, building owners tend to like the aesthetics of metal shingles. They can get almost any look: wood, shake, asphalt, slate, or tile with the long-lasting benefits of metal. Many like the metal shingles with stone or aggregate coatings. It features the same stone that is applied to asphalt shingles.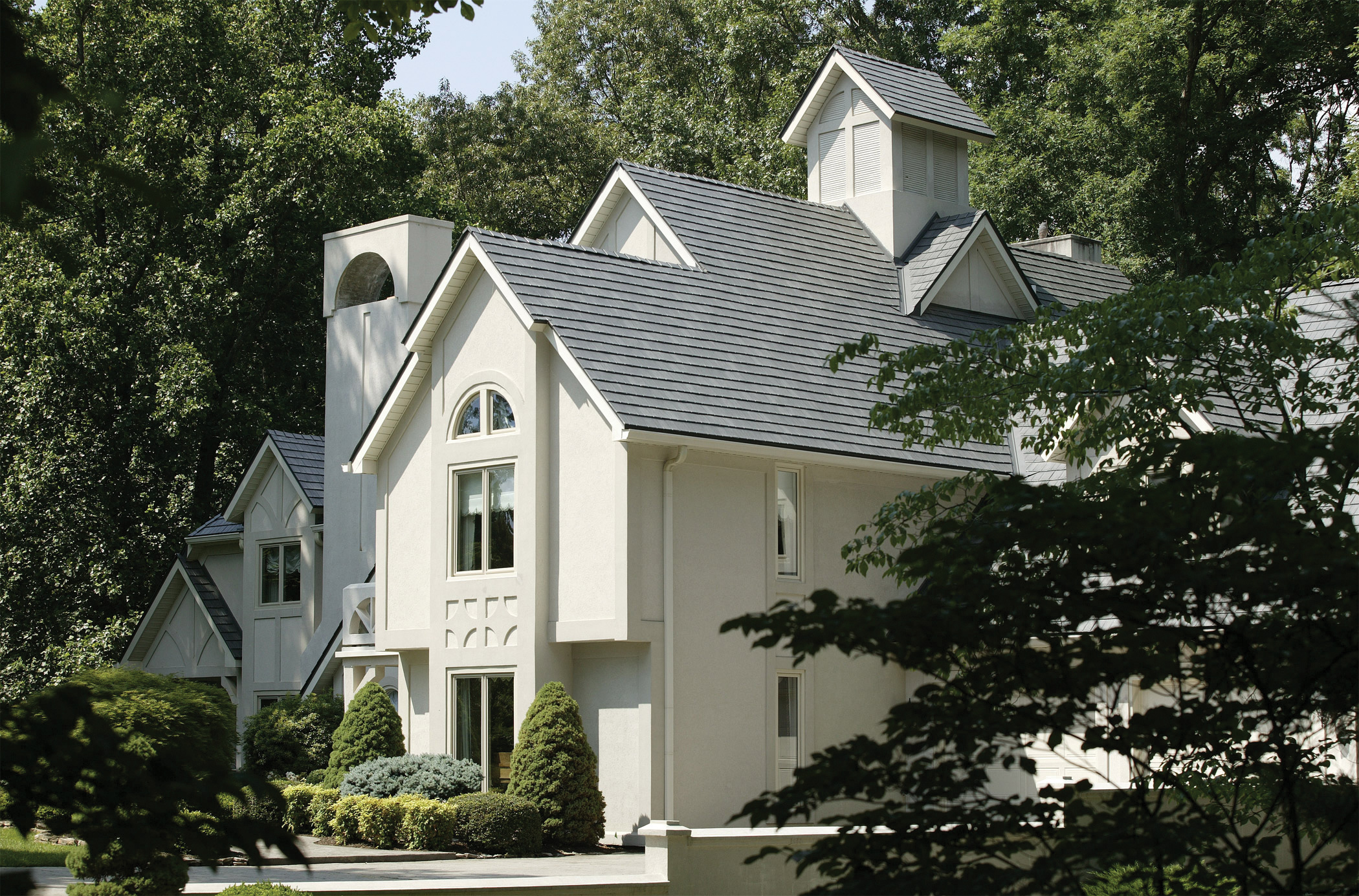 "This makes sense to people as their roof will blend in with their neighbors' roofing," Miller said.
Many people like metal roofing because of the high recycled content; being eco-conscious is important to a lot of homeowners. Sometimes metal shingles can be installed right over old shingles which can save the customer money, too.
Builders on the other hand like metal shingles for another reason. While they certainly like the durability a well-laid metal roof delivers to their customers, they are likely to offer metal shingles because they are more unusual and it's profitable to offer a niche product.
"Often there is only one experienced installer in the area, so if a homeowner is excited about a metal shingle roof, that roofer will get the work," said Miller. "Contractors may offer a variety of shingle types, but some focus on metals and others focus on metal shingles to differentiate themselves and build value."
Installation of metal shingles requires a different skill set from other roofing materials. "It's like a cross between asphalt and standing seam installation," Miller continued. "The hallmark of metal shingles is that flashing and trim is premade like an asphalt roof. With standing seam, roofers have to make a lot of their own trims and pieces."
Traditional asphalt shingle roofers "may find that metal shingles are easier to install than standing seam," Miller said. "You have a starter strip at the bottom edge and each horizontal course covers the previous course. The shingles are usually fastened with concealed nails or screws as well as with valley pans and other pre-formed accessories that the shingles fit into or attach to."
All the same, Miller warns that there are some challenges involved with metal shingles. "There is a higher investment," he said, "it's about 2½ to 3 times the cost of asphalt. So you have to learn how to market and sell metal shingles. Computer-based programs can help figure out what is best for the customer."
"Homeowner associations sometimes have covenants against metal roofing. Often after they see the metal shingles they like the aesthetic, but it can be a challenge sometimes to gain acceptance. Many manufacturers are happy to assist with that process."
Clay Tiles
According to Robin Anderson at Westlake Royal Roofing Solutions, clay tiles have a history that dates back to the Bronze Age. "Clay tile adorns everything from the roofs of palaces, temples, and rooftops in Italy, to the historic California missions. Though one of the oldest roofing materials, clay tiles are still widely selected today for their beauty and ability to complement specific architectural styles. For example, Westlake Royal Roofing Solutions' El Camino Mission Barrel Clay Tile was recently selected to roof a hotel built in historic downtown San Juan Capistrano. In doing so, AO, the architects, were able to create a roof that not only complemented the hotel's architecture, but that aligned aesthetically with the roof and architecture of the famous San Juan Capistrano Mission just across the street."
The clay tiles of today feature a simple overlapping design and pre-punched fastener holes, which makes them easy to install. "The only real 'challenge' is the cutting at the roof details. Making sure that the individual tile is cut in line with the next course takes some skill to do accurately," Anderson said.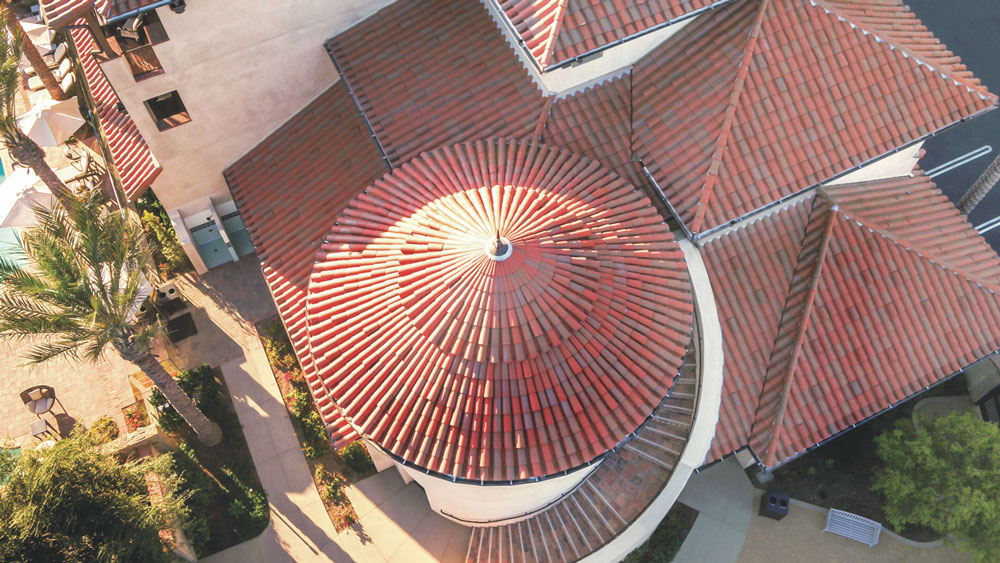 Clay is a natural choice when you consider the desires of homeowners, offering durability, sustainability, energy efficiency and the savings that go hand-in-hand with that. They are manufactured from locally sourced geologic material and they boast Cool Roof and Cradle-to-Cradle certification. If there is damage to the roof, they can easily be replaced and when the roof is at the end of its life, all of the tile can be recycled.
"The thermal mass and above deck airflow provided by clay tile systems make these products some of the most energy efficient available on the market today," Anderson said. "Homeowners choosing tile over asphalt shingles can reduce their home energy bills by as much as 22% by installing a tile roof, as indicated by the 2005 industry study, "Steep-slope Assembly Testing of Clay and Concrete Tile with and without Cool Pigmented Colors," conducted by independent Oakridge Laboratories. Results vary based on profile of tile installed, location, weather, and other factors,"
Non-combustible clay tiles help with fire safety, protecting buildings from flying embers that could ignite a fire. Many clay roof tile products have received Class A fire rating, the highest fire resistance rating for roofing, a rating that the ICC Evaluation Service indicates can withstand a higher level of fire exposure originating from sources outside the structure. Of course, the tile rating should be checked on the specific tile chosen.
Hail, another threat to roofing integrity, is another place where clay tiles can shine. The rating assigned to the specific tile chosen can range from 2-4. Class 4 hail rating means that the tile can withstand two-inch ice ball impacts shot from a cannon at 70 mph.
Concrete Tiles
"Concrete roof tile is beautiful and enduring," said Anderson at Westlake Royal Roofing Solutions, "and it increases the value of a home. It is specifically known for durability and a lengthy lifespan which far outlasts competing alternatives such as asphalt shingles. The tile is also low maintenance and portions of the roof may be easily replaced if damage ever occurs."
Concrete tiles are available in an expansive range of colors and profiles to complement a wide range of home architectural styles," Anderson continued. "Consumers may select concrete tile that mimics traditional slate, cedar, shake and more."
Beyond aesthetics, clay and concrete tiles are very similar in their benefits. Concrete tiles are Class A fire rated, the highest fire rating. They are also Cool Roof rated, resistant to damage from high winds and hail, and they are low maintenance, allowing for replacement of portions of the roof or even a single shingle should that be necessary.
It is important for roofers to know the conditions a concrete roof is likely to encounter in the location it is installed, such as hail, wind, and fire. This will dictate the proper fastening and grading of the tiles.
Composite Tiles
Composite shingles are generally made to replicate natural products, but with more built-in benefits than Mother Nature has to offer. For example, composite roofing can be made to resist termites, insects, fungus, and algae growth … which roofing such as cedar shakes are subject to. They resist impact and will not crack or break, which natural slate can do.
Some man-made composites are created of resins, UV and thermal stabilizers, melted down and then poured into individual molds. They can be made to mimic other materials so closely, that they are accepted in projects requiring historical accuracy.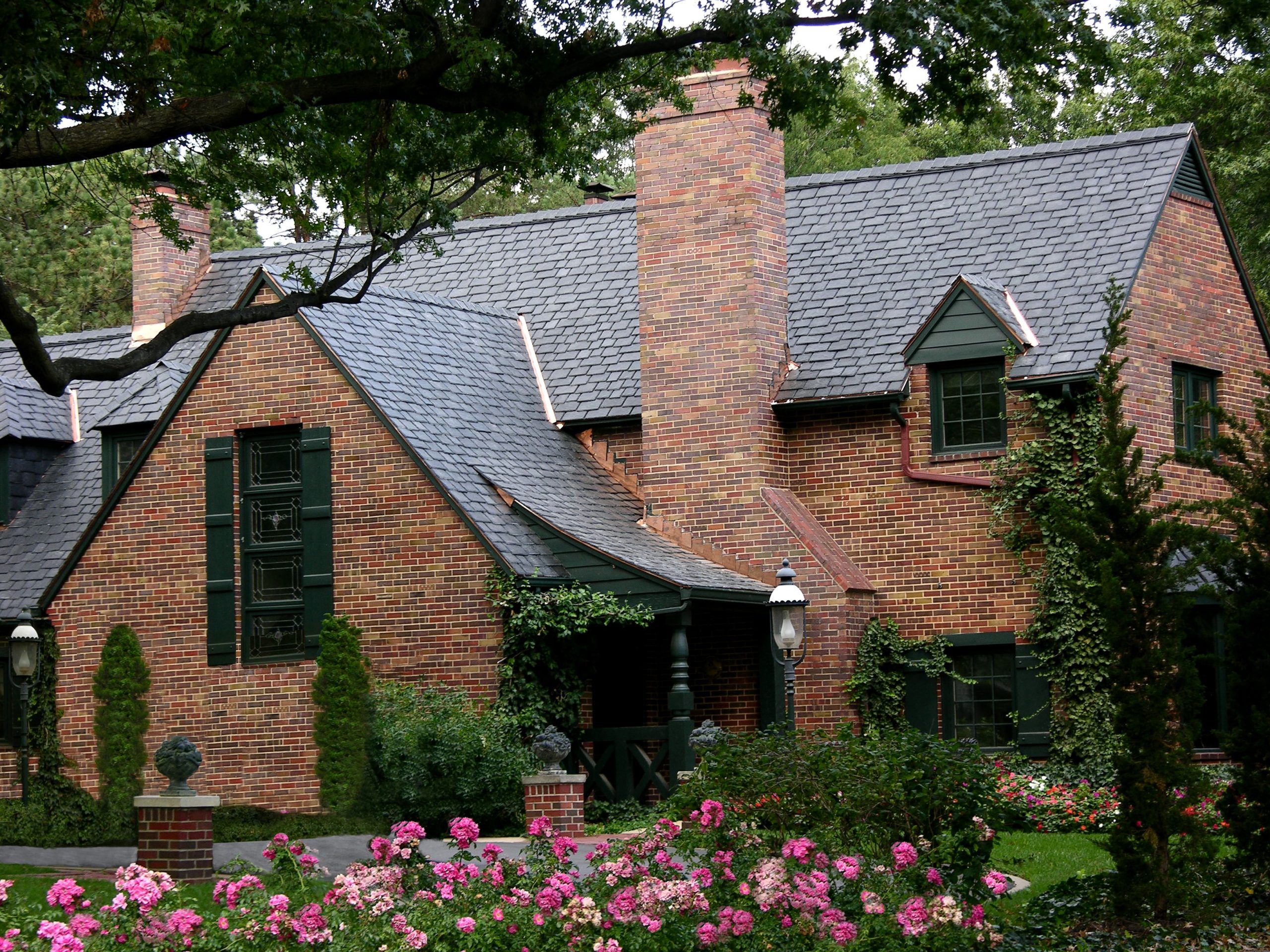 Roofers have reported that lightweight composite shingles are easy to install. Some companies, like DaVinci Roofscapes, make it easier on the jobsite by sorting the shingles in bundles by color so the roofer can simply install them immediately on the roof. Of course, as with any product, there is a learning curve.
Besides aesthetics, there are many benefits to composite shingles: low maintenance, great fire ratings (some are Class A) and impact ratings (some at Class 4). Homeowners may even find that they can get discounts on their homeowner's insurance due to the safety of some of these roofing materials; that's a great selling point for roofers.
As to water tightness, it should be remembered that no one type of roofing tile is more or less watertight than another. It's all about the roofing system that is put into place. It's about the layers of materials that are installed on the roof to create a watertight surface, and it's all about the skill of the roofing installation crew.
As previously mentioned, working with any new medium can have a learning curve. However, the good news is that some composite roofing can be installed at lower temperatures than many other roofing materials, so it extends the installation season for roofers. Besides allowing a roofer to get more projects completed, this means you don't have to roll the dice on next season's prices.
Asphalt Shingles
Asphalt shingles have been the leading form of roofing products for over a century and are still going strong in today's market said Matt Boyle, New Product Development Manager of business products manufacturer, CertainTeed. However, new and exciting changes are happening in the industry –advancements in cool roof technology, impact resistance, and sustainable manufacturing processes that use less raw materials.
"The carbon footprint of asphalt shingles is lower than people think compared to other products like metal or composite since asphalt is a by-product of petroleum that would otherwise be thrown away," O'Boyle said.
Many roofers prefer asphalt shingles as they find it easier to work with than other roofing materials, according to O'Boyle. He added, "They offer easy installation, helping to accelerate project completion, and have a short learning curve making the installation process simple for seasoned professionals to teach new contractors."
Approximately 75% of homes feature asphalt roofing in the United States. O'Boyle added that many people consider asphalt to be the most aesthetically pleasing. "There are many options and designs to choose from depending on regional needs and specifications, as well as various price points to help meet any budget," he said.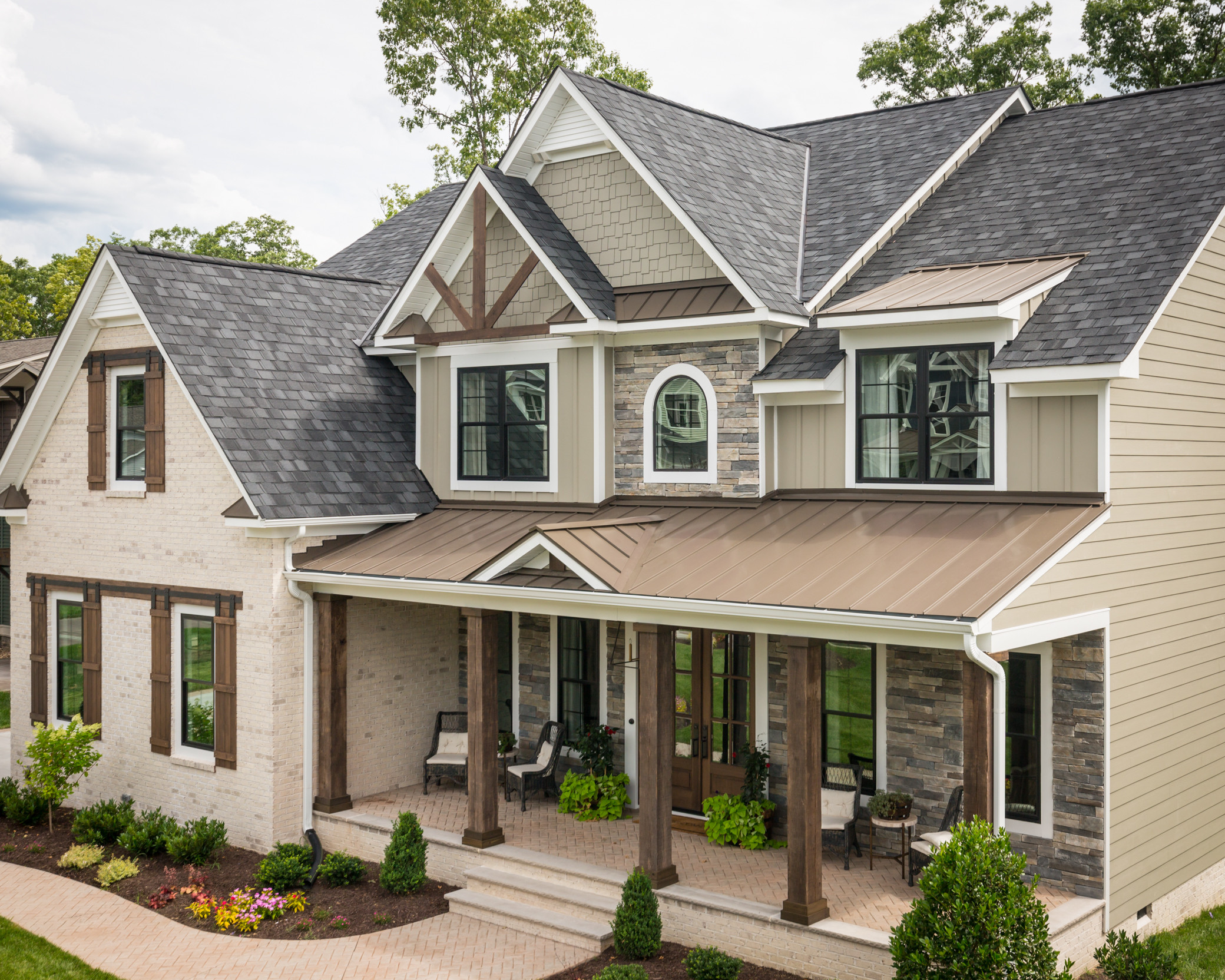 Durability of the products depend on the shingle chosen. They come in different thicknesses with different warranties, anywhere from 20 years to limited lifetime warranties. CertainTeed, for example, is well known for comprehensive warranties.
"Today's roofing professionals are looking to partner with reputable manufacturers and get credentialed to set themselves apart from competitors," said O'Boyle. "Knowing a product is backed by 110+ years of innovation and an extensive warranty puts roofers' minds at ease and offers peace of mind for their clients."
O'Boyle said the biggest challenge for a homeowner is ensuring they have hired the right contractor since installation is key to protecting the roofing structure. A roofer can improve their chances of being hired if they can show that they have been credentialed for roofing installation.
It's Up To You
In the end, all of these shingles have benefits, and it is up to you, the contractor, to be up-to-date on what is out there and match those benefits to the concerns of the customer. If customers are asking for a roof type that you are not experienced with, check with manufacturers for credentialing and education. More roofing options may mean more business. RB