website: www.reedsmetals.com • phone: 800.581.4645 • 2 Gold Keys Won
For over 24 years, Reed's Metals, has been an award winning and industry leading provider of metal roofing and panels systems, post frame, tube buildings and pre-engineered steel buildings.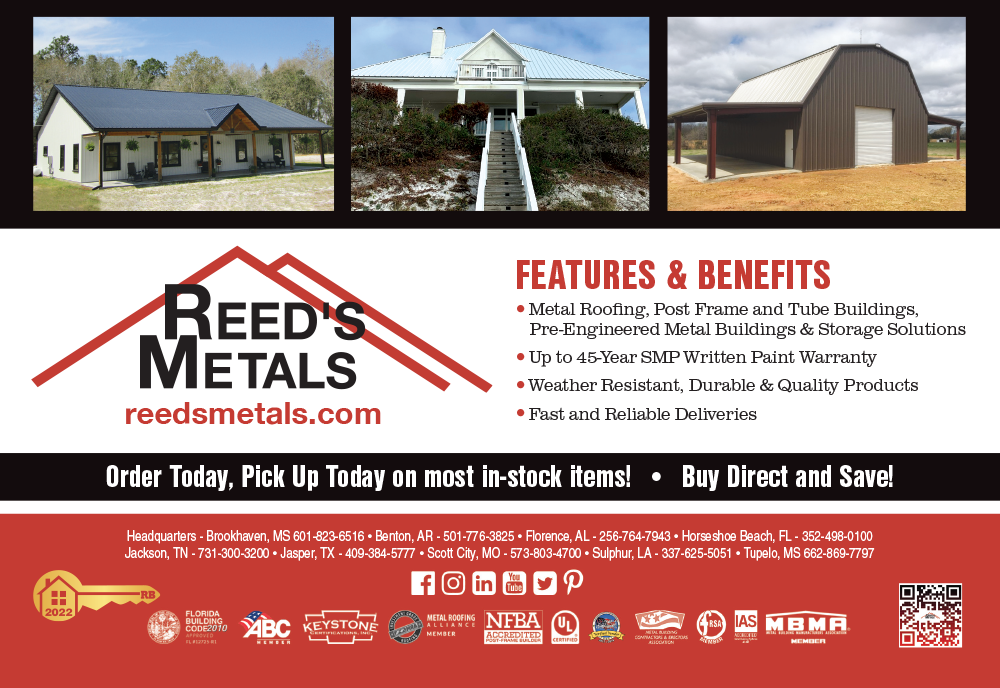 Reed's Metals is comprised of 10 locations including 8 manufacturing sites (3 with IAS Certification) and 2 store front locations utilizing state-of-the-art technology and fabrication methods to provide unprecedented quality and service, offering same-day availability on in-stock standard roofing orders and supplies, on-site roll forming for standing seam projects and job-site delivery within 72 hours on most projects. We've got what you need at Reed's Metals! Ask about our EXCLUSIVE NO COASTAL SET-BACK WARRANTY!
The continued growth and success of Reed's Metals is due to our dedicated employees and our loyal customers who have chosen and installed our residential, agricultural, commercial and industrial products all across the region. Customer service is and will remain our top priority! Reed's Metals was awarded the Metal of Honor 2022 Award and the 2022 Gold Key of Excellence. We are truly honored. RB