By Linda Schmid
Hixwood Metals, Country Metals, and Qualiform Metals, market leaders in metal fabrication and post-frame building kits, are merging. All three companies have made quality in products and service their focus, and now they will work together under the Hixwood name.
The company was begun by Harvey Zimmerman who built post-frame buildings in Pennsylvania. By 1998, he had moved to Wisconsin, and his post-frame business, located on Hixwood Road, was booming. By 2020, Hixwood operated a panel and roll-forming business, and had its own brand of post-frame packages, a shed-building business, and coil sales with distribution throughout the US.
The company has seen a lot of growth in the last few decades, particularly in the last year. Hixwood Metals increased sales by 53% in 2021. This was partly possible because of rising prices, but mainly because Hixwood's owners, Paul and Harvey Zimmerman, saw opportunities in product expansions and new business. With the merger, Hixwood is planning additional growth in the future. As Hixwood's General Manager Paul Zimmerman said, "Hixwood is ready to expand, but we've lacked the capital and resources in recent years to do so as aggressively as we'd like."
They were enabled to pursue these opportunities by Ambassador Supply, their parent company. Ambassador Supply, an investment, management, and holding company, acquired Hixwood in 2020.
Ambassador Supply deals in both agricultural and urban/suburban buildings. In 2021 they earned revenue of $250 million, split between the markets; in 2022 they expect to reach $350 million. By 2024 they project $500 million in revenue.
Ambassador Supply is an affiliate of Ambassador Enterprises, a philanthropic equity firm that focuses on "legacy businesses." Brad Crawford, president and CEO of Ambassador Supply, stated that a legacy company is a small company that has built up their business and equity in their business name. They are known as being down-to-earth and an important part of the community.
As a philanthropic equity firm, Ambassador Enterprises operates two divisions, one for profit and one for non-profit.
A portion of the earnings supports missionary work, including education in Liberia and other mission work throughout Africa. They also created a non-profit mall in Fort Wayne, Indiana where shops can operate without huge rent payments.
The mindset that Ambassador works with is three-fold:
1. Financial. Like every business, they need to be profitable.
2. Cultural. This means the way you treat your employees and your customers is important. If an employee is worked so hard that they have no time to give back to the community, for example as a coach, getting involved with 4H, or whatever way the person cares to participate, then the company is not treating them right. And of course, they want to always deal fairly with customers, too.
3. Faith-based. This does not mean that the people Ambassador works with have to be believers; it does mean that Ambassador employees treat everyone in a way that is compatible with their faith.
Further, the company culture that Ambassador exemplifies is through the lens that everybody in every position matters. It doesn't matter what the CEO does if the truck driver doesn't do his job, and vice versa.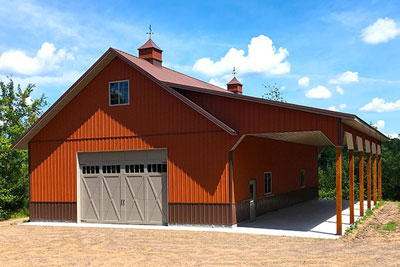 Ambassador Supply is always on the look-out for like-minded companies, and Hixwood is a perfect fit. "Harvey and Paul are salt-of-the-earth kind of guys," per Crawford, and Ambassador helps make their vision reality. Further, he states that Ambassador is generally not a "buy-and-flip" type of company; they usually hold the companies they have acquired.
The merger means that Hixwood is now serving a total of 17 states across the Midwest and the Eastern United States. Customers of Country Metals and Qualiform Metals should expect the same commitment to quality services that they have always experienced, according to Crawford.
"The marketing, website and logos on the trucks have changed," he said. "Our relationships with customers have not. If anything, this will provide more resources to ensure we meet customer needs."
This is in keeping with Crawford's statement that on the rural side of the business, their aim is to help rebuild and revitalize rural America. He sees Ambassador as being part of a larger movement that has people working to rebuild the Town Square, businesses, and farms, not necessarily to modernize but to impact people in a positive way. That is what it's all about. RB