There's only one way to achieve that kind of longevity in the building materials industry…and that is with UNSURPASSED QUALITY. In addition, Maze Nails is one of the very few remaining mills committed to manufacturing nails entirely in the United States of America. 
We pride ourselves on selling only top-quality fasteners that will not rust, bend, break or back out. Maze STORMGUARD® Nails are known for their corrosion-resistant coating that customers ask for by name. Starting in 1916, Maze has been using the Hot-Dip Galvanized process for putting a thick, uniform coating of zinc on nails for the ultimate coating to withstand the elements. Our competitors tried every galvanizing and coating method they could think of—but the Double Hot-Dipping quality wasn't duplicated. Even the clever foreigners have pulled out their hair trying to emulate the Maze method. Bottom line: The MADE IN USA Maze STORMGUARD® coating works the best for ensuring no rust in treated wood and all other parts of post frame buildings.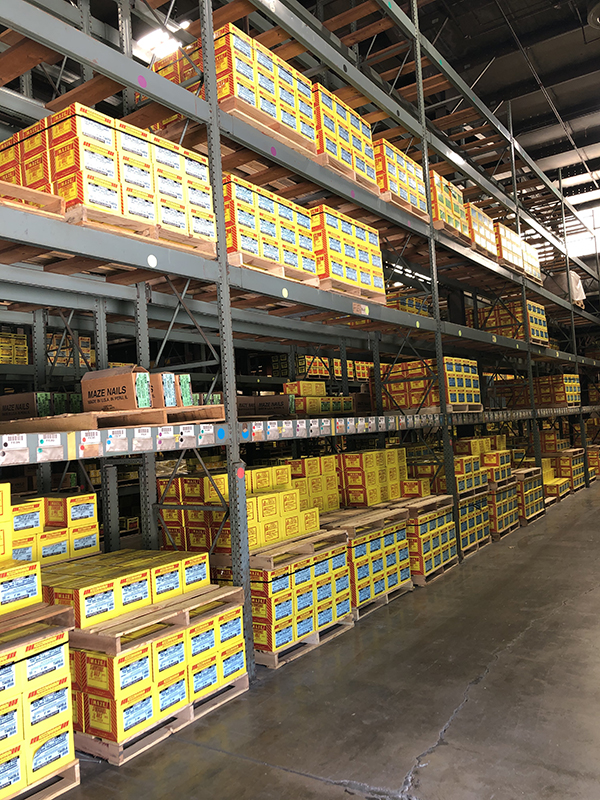 The Maze Nail plant prides itself on keeping a large inventory of Hot-Dipped Post Frame nails, Rubber and Silicone washer nails, Gutter spikes, Connector nails, Oil-Quench Hardened nails (and many other types!) IN STOCK FOR IMMEDIATE SHIPMENT. Even during the pandemic—Maze kept up with the industry demand. Top-quality building products are only truly valuable if you can get them—and get them FAST. We want nails to be the least of your worries when completing a project.
Maze is the nation's largest maker of specialty nails—producing truckloads of hot-dipped galvanized and stainless steel nails for a variety of applications. Maze manufactures quality nails for metal roofing, post frame construction, fiber cement siding, cedar and redwood siding, roofing, cedar shakes and shingles, PVC trim products, decking, fencing and log home construction…in hand-driven and in collated for pneumatic nailers. "SPECIALS ARE US"—Maze can also design nails for your unique applications. If Maze does not have exactly what you need, reach out to our experienced sales team for a recommendation or help designing your ideal fastener.
The Maze Family continues to run its operation in Peru, Illinois, and is proudly 100% Made in the USA. Because of our loyal customers, Maze hopes to be around for another 173 years!
www.mazenails.com | 800-435-5949 | Fax: 815-223-7585