The 54th Annual National Frame Building Association Conference & Expo (www.nfba.org) will be held January 18-20, 2022, at the Gaylord Opryland Resort & Convention Center in Nashville, Tennessee. Touted as the premier event for building professionals, attendees will find everything needed to build their business. With the great success of the February 2020 show in Des Moines, Iowa, and then the forced cancellation of the 2021 Conference & Expo (which marked the 50th anniversary of the event), the NFBA board, committees, and staff have been working hard to keep up the momentum putting all their efforts into planning a great show in Nashville. 
The event's keynote speaker is decorated fighter pilot, New York Times bestselling author, executive coach, and Hall of Fame Speaker retired Lt. Col Waldo Waldman (www.YourWingman.com). Waldman will deliver the keynote address, "Never Fly Solo!® – Lead with Courage, Build Trusting Partnerships, and Reach New Heights in Business," from 11 a.m.-12:30 p.m. on Tuesday, January 18 (Tennessee C Ballroom). He will share insights on how to overcome obstacles, break performance barriers, and take charge of change during adverse times. You'll discover how to re-commit yourself to excellence and collaborate with your partners, coworkers and customers with trust, courage, and mutual support.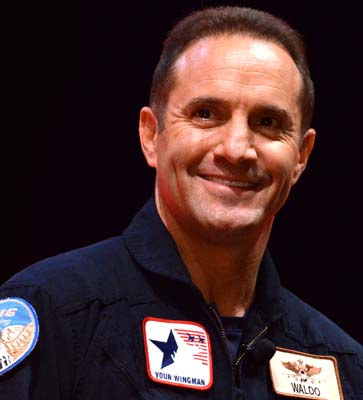 Builders and contractors can walk the Expo floor free of charge. Free Expo passes are good for any individual engaged in the business of constructing post-frame buildings. Full registration must be purchased to access educational sessions.
Keep an eye out for new educational sessions both on and off the trade show floor, as well as product demonstrations, hands-on experiences, and enhanced technology-based interaction with the Mobile Conference App.
Just a few of the Frame Building Expo 2022 educational sessions include, but are not limited to: 
"The Power of Attitude," presented by Marvin Montgomery; "Four Secrets from Industry Experts On Choosing the Right Technology for Profitability," presented by Giri Addanki; "Train the Trainer," presented by Josh Nowlin; and "The Professional Customer Approach," presented by Marvin Montgomery. If you're struggling with your online marketing, don't miss the talks, "How to Make Google Love Your Business Website," presented by Chris Nastav and "Social Media Strategies for Bottom-Line Results," by Ted Janusz. Technical & Safety sessions include, but are not limited to, "Post-Frame Design and Construction: Learn from the Mistakes of OTHERS," presented by Aaron Halberg (who will also be presenting the talk "Snow Load Collapse"), and "Cost Effective and Code Conforming Wood-Framed Fire-Rated Construction," presented by Tim Royer. (Schedule and topics subject to change.)
In addition to the keynote speaker and educational programs, attendees can also look forward to food, drinks, and contests with cash prizes. Attendees can expect to make all the connections necessary to make smarter business decisions, grow their bottom line and enhance the credibility of their business.
We hope to see you in Nashville January 18-20! RB