Pro Builders understand what it takes to rise above the status quo in post-frame construction. Committed to their craft, they insist on permanent foundation solutions that enable their structures to endure for generations. Pro Builders embrace innovation and engineering, demonstrating their drive to deliver unrivaled customer satisfaction.
Perma-Column® stands by builders who strive to elevate their business and stands with consumers who want to protect their building investment. We pride ourselves on the quality, design, and engineering of our 100% American-made post-frame foundation solutions.
Perma-Column precast concrete columns elevate wood columns out of the ground in post-frame construction, eliminating the risk of rot. Sturdi-Wall® and Sturdi-Wall® Plus heavy-duty anchor brackets connect post-frame structures to poured concrete foundations. Perma-Column removes the potential for rot, decay, structural instability, and costly repairs.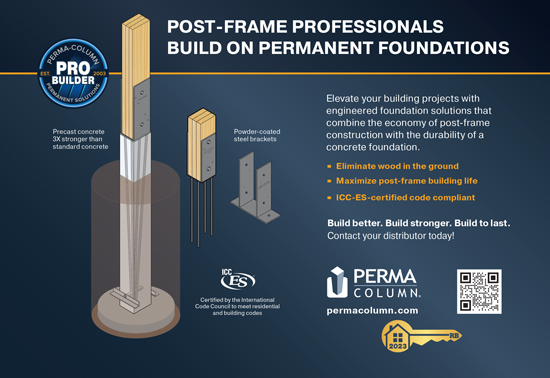 Pro Builders and Consumers Trust
Perma-Column foundation solutions. The patented Perma-Column family of products is certified by the International Code Council Evaluation Service (ICC-ES) to meet the International Building Code® (IBC) and the International Residential Code® (IRC). That means quicker permits and approvals — and therefore accelerated project timelines.
Permanent foundation solutions can provide consumers with elevated potential for financing. Whether you call it a pole barn or a post-frame building, you will invest a significant amount of money in its construction. A critical question remains. The life of the building — and the investment made in it — rests on your choice of foundation. Is your foundation permanent or temporary? Go with the choice Pro Builders make. Build better. Build stronger. Build to last. Build with Perma-Column. RB