With 60 years of thermoplastic experience, Palram is a leading manufacturer of Polycarbonate and PVC sheets. Combining our rich history, rigorous manufacturing standards and commitment to superior service, we've become a trusted partner to markets spanning construction and architecture, agriculture, safety and security, and home and outdoor living. In collaboration with our partners, we develop solutions to specific market challenges.
In addition to our highly popular daylighting solution, SUNSKY® polycarbonate panels for skylights and sidelights, Palram's new Palclad Pro PVC wall and ceiling panels are an attractive, easy-to-install, and cost-effective alternative to FRP. Panels are fiberglass-free, have a 5-year warranty, and will not fiber-bloom. These durable, low-maintenance panels are Class A fire-rated, 100% recyclable, Clean Air Gold Certified and USDA/FDA compliant.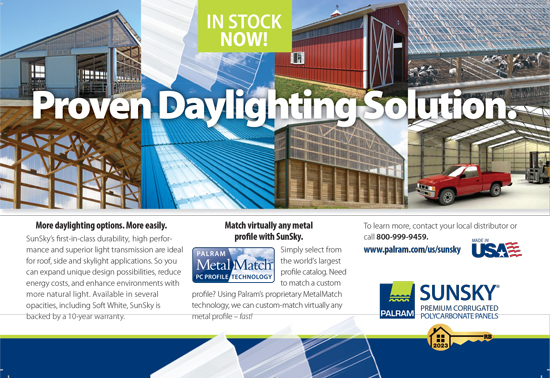 Palram also offers DURACLAD™ Multiwall Interlocking PVC panels for interior wall and ceiling cladding. DURACLAD's tongue-and-groove edges allow for rapid installation and a smooth and hygienic finish able to withstand aggressive chemicals and cleaning. Made in the USA, DURACLAD is the perfect alternative to painted drywall, plasterboard, plywood, and other materials that make sanitation cumbersome. For a highly reflective and chemical resistant liner panel, Palram's AG-TUF corrugated PVC panels are maintenance-free and ideal for agricultural interior cladding.
Palram Americas is proud to receive another Gold Key of Excellence award and pledges to continue to provide the highest standards of products and service. RB