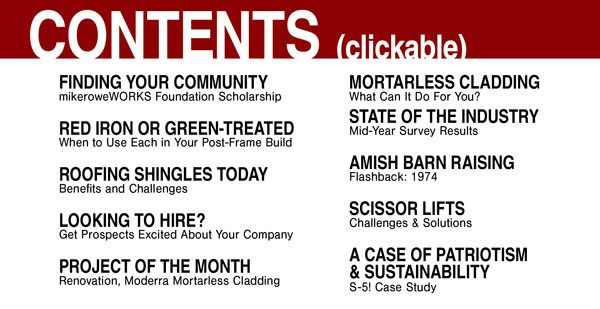 Note from the Editor: Lack of education?
One of the perks of being an editor at Shield Wall Media is that I get to talk to a lot of people and hear different viewpoints. Recently I spoke to a gentleman in New York who has had a long career in residential construction; we'll call him Hank. He says he has excellent employees and that he rarely has to hire because he pays well and treats his employees with respect. That said, he is concerned by the lack of quality workmanship that he sometimes comes across in the industry.
Hank said that he sees jobs in which people have done quick, slipshod work, moved on, and never look back. He believes it is largely due to a lack of educational opportunities in the industry and the disappearance of apprenticeships.
Many years back when Hank was starting his company, he had a few European immigrants come to work for him. They came with high quality skills that had been passed down from generation to generation. Nowadays he says, no one takes over when a man retires. "Most young people can't even hang a door," he claims.
"Even architects sometimes do not know their job any more," he bemoaned. "They enter facts into a computer program, but some of these guys don't know enough to realize when something is missed."
Further, he said, many people work hard to afford a home, but what is built for them is, sometimes, not well done. "Why should only the rich be able to get a quality-built home?" he asked.
I asked Hank what he thought should be done about this. He said that he felt that educational systems had let the industry down; the high schools were not teaching technical skills and there didn't seem to be any post-secondary schools offering this training either.
I told Hank that I have spoken to many people who have attended technical programs both in high school and at colleges. He was surprised and glad to hear it but said that in the area where he lives there are no such programs.
The conversation left me wondering whether Hank was right and if the solution to the lack of industry employees is, at least in part, due to a lack of education as well? Would more apprenticeships help? Or are there other reasons for the problems?
I would be interested to hear about your experiences and opinions on the subject. Email them to me or give me a call (920-659-6319); I'd love to talk to you, too.
Linda Schmid,
managing editor