By Jenn Milner
Jacen Schlott of Monaca, Pennsylvania, was awarded a $10,000 scholarship from the mikeroweWORKS Foundation in 2015. "For my school, that was crazy," said Schlott. "That paid for one third of it." 
At the time, he was enrolled in a 16-month program at Triangle Tech–Pittsburgh, working toward a degree in Carpentry and Construction Technology. Schlott asserts that from fairly early on he knew he wouldn't be an office worker. "When I was a kid, I thought maybe I would be a mechanic and work on cars," he said. "I knew that I couldn't sit behind a desk for the rest of my life." A formative high school job helped direct him down the right path.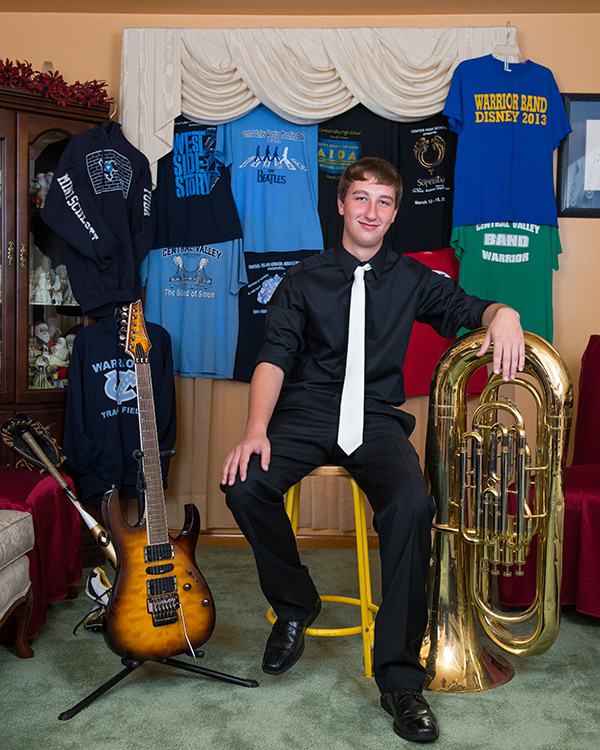 That job offer came from an unexpected direction. Schlott played sousaphone (if you've never seen one, think tuba) in the high school marching band. One of the band parent organization members, Mike Lucci, took notice of Schlott's dedication to the heavy lifting of the marching band, like setting up and tearing down before every football game. Lucci, who owned and operated a cabinet business, made Schlott's parents a proposition: "He looked at my parents and asked if I was looking for a full-time summer job. They agreed to it right away," laughed Schlott. "I worked for Mr. Lucci that summer and realized that blue-collar work was what I was meant to do. And with a background in carpentry, I followed that path."
The road to the trades wasn't an easy one. Where he grew up, students were heavily pressured to attend four-year universities. It was only the "bad kids" that were steered to the local technical school. "They told me I was 'too smart and too good of a kid' to go to a trade school," said Schlott. "But I knew that wasn't right. I know that I don't want an 'F' student building my house!"
So after a college fair, he selected Triangle Tech in Pittsburgh and hasn't looked back. It was a guidance counselor who mentioned the Work Ethic Scholarship to Schlott, and he was intrigued right away. "When I was signing the S.W.E.A.T. (Skill and Work Ethic Aren't Taboo) Pledge, I really had to examine what it was saying," said Schlott. "Will I truly live these out? I wasn't OK with signing it if I wasn't going to live by it."
Statement number seven continues to run through his head daily and work its way into every area of his life.The statement says:
7. I believe the best way to distinguish myself at work is to show up early, stay late, and cheerfully volunteer for every crappy task there is.
"For years I was a whiner and complainer," said Schlott. "I would do what was asked of me, but I would complain through it. When I saw that one, it really stuck with me. I use it at work, I've quoted it at Bible studies, I use it for everything."
When he graduated with an Associate of Specialized Technology degree, Schlott went back to working for Lucci. "We do a lot of high-end custom cabinet work," he said. And the jobs that really stick with him have much more to do with the homeowners than the projects. "At some point it's just another box," said Schlott. "But there are some homeowners that make working at their house fantastic, even if the work isn't the most fun."
His advice is to find a path that works for you and walk it, no matter what others are pressuring you to do. "Be the leader of your own band!"
UPDATE: At the end of June 2021, Jacen relocated to join PRS Guitars (Stevensville, Maryland) as a Turnaround Technician, a quality assurance position. "I get to chase after a dream I've wanted for a long time," he said. "I get to play with wood and play with music. I can't thank mikeroweWORKS enough. The support they're able to provide is amazing."