Whether you are a company with entry-level production requirements or an established manufacturer, The Bradbury Group designs and builds roll forming and coil processing equipment that will grow your business. Bradbury Group provides quality metal panel and standing seam roll formers, purlin roll formers, trim roll formers, trim folders, recoiling lines, insulated panel lines, coil processing lines, levelers, metal shingle and tile lines, automated production lines, and related equipment for numerous industries.
For companies who want to start manufacturing panels, Bradbury Group entry-level pre- and post-cut roll forming lines produce the highest quality panel in the industry. The Bradbury B.O.S.S.™ shear panel line has production speeds up to 300 FPM with an accuracy of 1/16″ and is a reliable option for established manufacturers with high volume demand.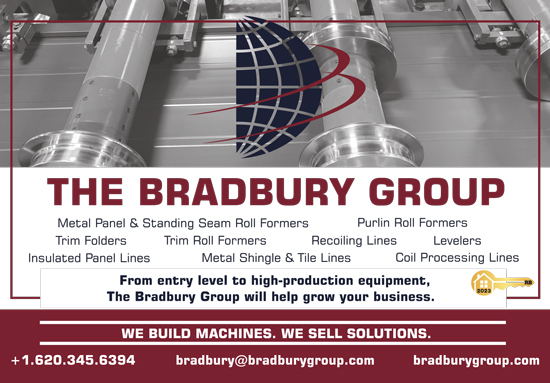 Purlin line models from The Bradbury Group include the Hayes QC300™, the Hayes FC350™, the Bradbury VTR™+plus, and the Bradbury QTR™ that range from a semi-manual changeover system to a fully automatic changeover system with 8-gauge material capacity, 24″ web width capability, auto nesting, and purlin stacking.
For over 63 years, Bradbury has been a trusted industry leader for manufacturers around the world. Contact us to talk about your manufacturing process wants and needs. RB