By Gary Reichert
Dear Readers,
Because it is such an interesting world, we are doing something a little different this year. We are issuing two Gold Key of Service Awards, one now and one in the July issue.
The immediate Gold Key of Service goes to the International Rescue Committee (IRC), Rescue.org. IRC is a 501c3 based in Albert Lea, Minnesota and formed by Albert Einstein in 1933. They provide relief in humanitarian crises and have excellent ratings with the companies who monitor charities; 87% of the funds donated go to the relief projects.
The situation on the ground is such that there is limited opportunity to get the needed relief to innocent people in Ukraine. Artillery and airstrikes destroyed many bridges and rail lines, so transporting food, water and other relief items is difficult or impossible. There are also reports from my friends in Ukraine of Russian soldiers firing on aid workers. Therefore, there may be a greater opportunity to be useful in the neighboring countries.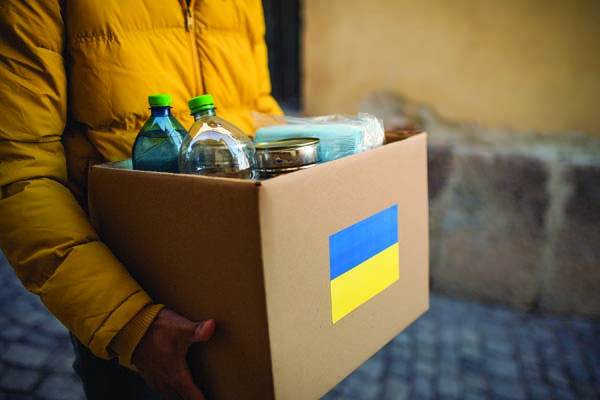 The bordering countries are not equipped to support the number of refugees. The combined populations of Poland, Hungary and Moldova are roughly 50 million. The IRC is on the ground assisting the almost 4 million refugees fleeing the Russian invasion with food and services and another approximately 6 million internally displaced who have lost their homes.
Accepting, feeding and housing an additional 8% of your total population is accepting an incredible burden. Average per capita annual income in Ukraine was approximately $2,100 in 2019 and dropped to $1,500 during the COVID pandemic. A friend, whose mother escaped, reported that apartments in Poland are running approximately $1,000 per month due to increased demand.That makes private housing unattainable for the vast majority of refugees.
Thank you, International Rescue Committee for providing food and shelter for people forced from their homes.
We are delaying announcing the name of our second Gold Key of Service Award until due diligence can be completed. A smaller 501c3, they are actually on the ground in Nikolaev, which is being bombed as I write this letter. They build and support orphanages and medical treatment facilities. The paperwork here is in order and they appear legitimate, but Ukraine is corrupt so we want to verify it. We have relationships with people on the ground in Nikolaev and Odessa that can verify the organization's efforts, however, I cannot ask them to do that until the violence ends.
These facilities receive some support from the government of Ukraine, however, war and rebuilding infrastructure are expensive. With an entire country to rebuild and millions of people displaced and homeless, resources will be limited.
We need to exercise caution and vet the company on the ground in Ukraine. Once that is completed, our plan is to coordinate donations of building material. Shield Wall Media is a small company without resources to make any dent in rebuilding a country of 40 million people, however, we have a lot of friends in the building industry. While we will still be unable to rebuild the entire country, maybe we can help a few innocent people return to a more normal life.
If you are interested in helping us help others, please contact me directly, and pray this war ends soon.
Gary Reichert
Publisher/CEO