Established in 2010, Acu-Form has provided nothing less than the highest quality roll forming machines. We use tried and true manufacturing processes that prioritize proven design and strict quality control checks that allow us to offer the Acu-Form promise.
Acu-Form Thru-Hardened D2 Steel: Machines are manufactured with high-quality materials to ensure durability and performance at costs enabling profitability.
Power Options: We offer hydraulic, mechanical, and electrical power sources depending on your needs. Including options for full automation.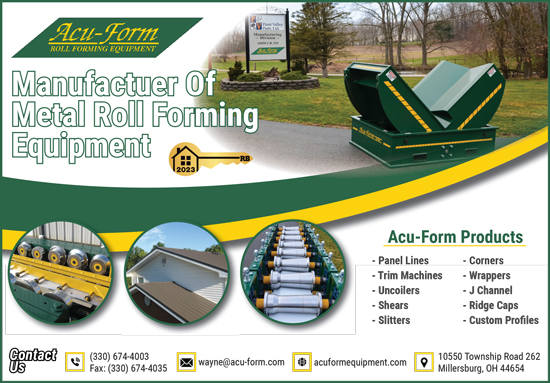 Pre-Tested Machines: All Acu-Form machines are tested using customer supplied material. This enables turnkey operation upon installation.
Versatile Growth Options: Beyond the initial investment, Acu-Form provides guidance and design of additional machinery that will provide enhancement and expansion of current product offerings.
Shipping & Installation: Upon machine completion, full service shipping and installation is available including the arrangement of technical support to connect to your power supply.
Acu-Form is here to support you beyond just delivery and installation. The purchase of any machine always includes access to technical support, as well as a full line of replacement parts that are available for immediate delivery. RB