By Simon M. Schwartz
Methods used in the erection of farm buildings have changed greatly down through the years. The style and type of farm buildings have changed also. Many farm builders today erect large buildings in a fraction of the time it used to take.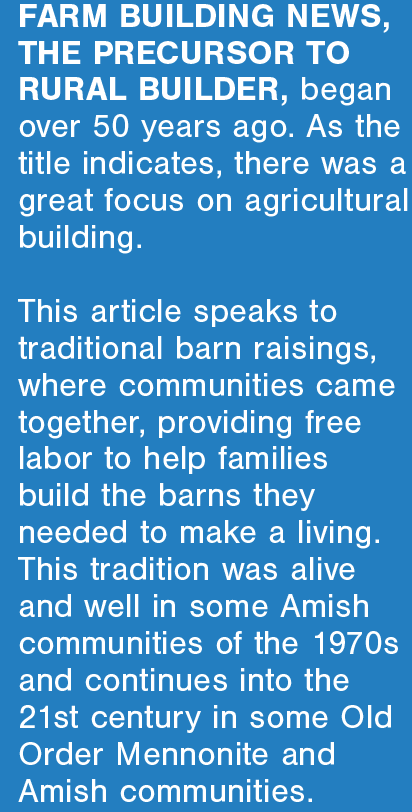 But the Old Order Amish still use their age-old method of erecting buildings, and the type of buildings they construct has changed little.
Early Sunday morning, July 25, 1974, the large barn, straw shed and implement shed on the farm of Levi Erb, Sugarcreek, Ohio were destroyed by fire.
Sawed own Lumber
A couple days after the fire, when the debris had been hauled away, a dozen or so of the neighbors combined their efforts to fell 100 trees. The lumber was cut up by a portable saw mill brought to the Erb farm. Blocks were laid for a barn raising.
On August 13, everything was in readiness for the raising of the new barn, a structure 44 x 88 ft. Along with the barn were a 40 x 58-ft. straw barn section and a large implement shed near the barn.
By 7 a.m. on August 13, 601 workers had gathered at the Erb farm to assist in the barn raising. The accompanying pictures show how the barn raising progressed. By 2:40 p.m. the same day, the work on the barn was practically completed. The next day Erb threshed oats and the straw was blown into the new straw shed.
This is a long way from twentieth century procedure but it works for the Amish people. And with all those hundreds of men and boys on the farm, not a single injury was reported! RB