website: www.directmetalsinc.com • phone: 855-800-8878 • fax: 239-599-8545. • 8 Gold Keys Won
DIRECT METALS INC. (DMI) is a supplier of fasteners, closure strips, and other building accessories for the steel-frame, post-frame, industrial and residential building industries. A core tenet of the DMI philosophy is to market products that enhance the value of any building project. Key products include the PANCLIP Pancake and Wafer head fasteners along with panel clips for standing seam metal roof systems. These fasteners pass rigid Dade County specifications for use in high corrosion areas.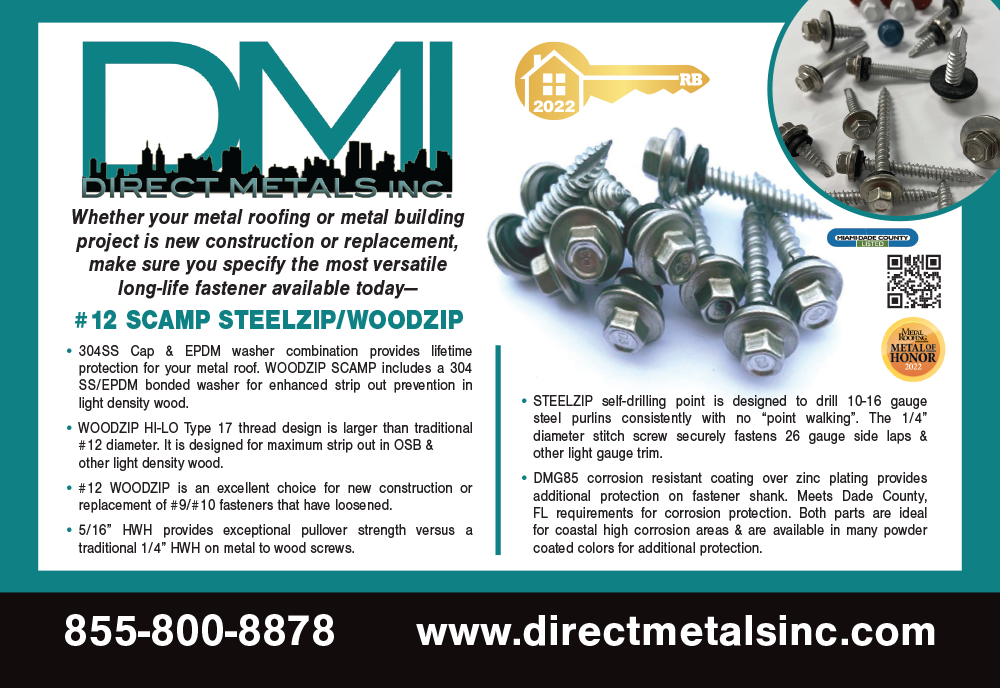 Building owners and homeowners today demand more quality in the fasteners and accessories that have become a more important part of their commercial or residential metal roof project. Corrosion resistance is a key concern. DMI Carbon steel screws are standard with a 1000 hour rated corrosion resistant coating. The DMI exclusive 304 SS cap SCAMP, as well as zinc-aluminum alloy molded head ZXL DIRECT SEAL and popular WOODZAC screws are essential to keep intact a 40-year metal panel warranty. The SCAMP is Dade County listed. Powder coated color matching is available for many standard industry panel colors.
DMI is a supplier to the nation's largest roofing supply companies. The BULLET BOOT roof vent pipe and GOOSENECK stove and dryer vent flashings carry a 35-year warranty, color match a shingle roof and are Florida Building Code approved.
Other building accessories include 304 and 316 SS rivets, BUTYL*ROLL tape mastic and tube sealants, EPDM pipe flashings, foil insulation, solid and vented closure strips and rolls and the most extensive polycarbonate panel line available for sidelight and skylight applications.
DMI would like to thank the readers of RURAL BUILDER for this GOLD KEY OF EXCELLENCE award. Bringing value to customers is at the core of everything we do. RB