From Hixwood Metal LLC's beginning 25 years ago, we have built our brand based on that all-important idea of premium quality because we know it is all-important to you.
Getting your project done right — and done on time — is important to you. It's important to us, too. See why Hixwood is the preferred partner of contractors and individual builders alike.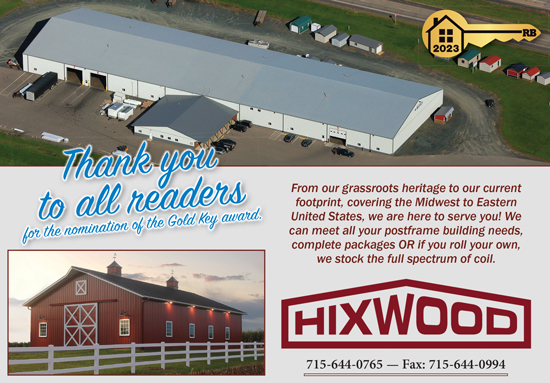 Premium Materials & service
Super Rib 100-28 ga. G-100 galvanized has been our hallmark product for decades, and our state-of-the-art machines will produce custom trims designed by our customers. We know metal, so when you call you will be talking to an expert who knows the product and can efficiently and accurately help you with your order. Often we can get your supplies to you within 2-3 days.
TESTIMONIALS
Don't ask us; ask our customers. "Hixwood Metal has continuously delivered high quality products in a very timely manner, allowing me to focus on running the business."
"I have been purchasing from Hixwood for the last 10 years. The quality is superior and you can typically place a large order and get it delivered or pick it up the next day!"
Whether it's post-frame, or an agricultural building like a pole barn, or a commercial construction, trust Hixwood to be your building supplier and partner as we've been doing the past 25 years. RB