Janus International, a leader in the self-storage, industrial, and commercial door industries, has grown significantly over the past two decades. Founder David Curtis started Janus International in 2002 with just 18 employees and his 3rd Generation steel roll-up door. He engineered this door as a maintenance-free dead axle design that eventually would set the bar for superior manufacturing.
Fast forward 21 years, Janus International is now a global company recognized for more than roll-up doors. Their products and services include facility maintenance and improvement services, relocatable storage units, door replacement and self-storage restoration services, and facility automation solutions.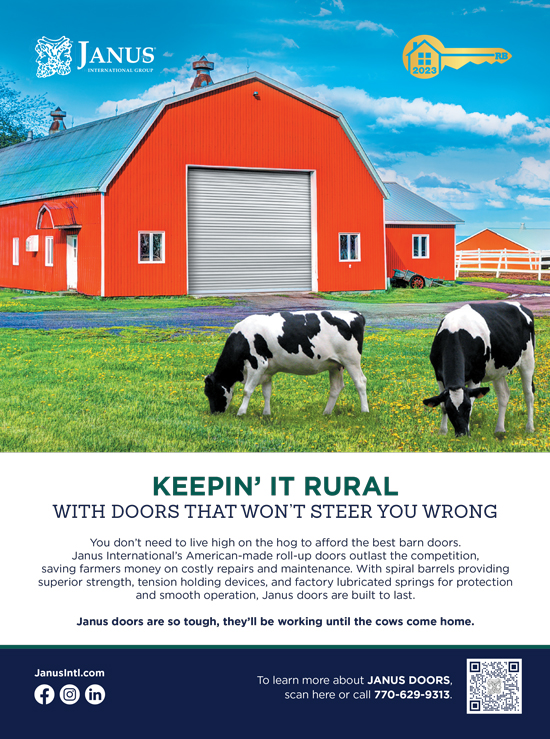 Today, Janus has 1,658 full-time employees, more than 10,000 active customers, and has a presence in the UK, France, Australia, and Singapore. Janus has been listed multiple times in Inc. 5000's annual ranking, "Fastest Growing Companies." Inside Self-Storage (ISS) has recognized Janus with the ISS Best Self-Storage Door 13 times, and as a 10-Time winner for ISS Best Retrofitting/Refurbishing. Innovation and technology fuel advancements with products like their award-winning line from Nokē Smart Entry. This year Janus introduced the addition of Nokē Contact, an on-door, contact-charged, hardwired smart lock. Nokē Contact fits directly onto the unit door with the industry's most innovative, yet simplified design.
When it comes to self-storage doors, Janus offers a full line of roll-up and swing storage unit doors in varying sizes for all types of self-storage facilities. Janus offers every model and size for commercial doors with over 30 colors options to customize your roll-up door selection.
When you partner with Janus International, you partner with a company that takes your business seriously. Roll with Janus because quality and expert customer service are what we do best.