By Kim Allen, Polyvision Corp
Public spaces like offices, transportation hubs, and hospitals are often thought of as utilitarian structures designed to serve a specific purpose. While it is true many public and commercial projects are developed to fulfill a functional requirement, strategically utilizing architectural elements can make a significant impact on those using or occupying the space. 
Americans for the Arts, a nonprofit organization that supports the need for art in public spaces, issued a paper several years ago for The Amherst Public Art Commission. The report noted that the thoughtful use of design can enhance physical environments and promote livability and quality of life while cultivating community pride. The organization also found that artistic elements enliven workplaces, which can improve employee morale and productivity.
By incorporating into commercial projects structural features that are equal parts durable, functional and aesthetically pleasing, builders and designers can elevate their project while also enriching the community.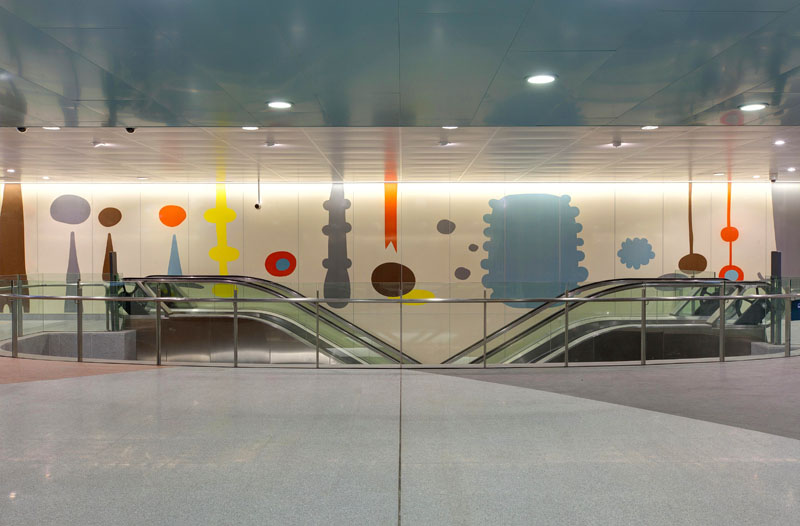 The Impact of Color
As any graphic designer knows, color theory is the science behind how color schemes impact the human mind. Builders and architects can apply the same practice when designing exterior and interior spaces.
A thesis developed for the University of Southern Mississippi cited a correlation between color in healthcare environments and feelings of positivity. Blues and greens invoked a sense of cleanliness, happiness, and rest – precisely what is needed to help patients and their families remain calm. The investment made to incorporate these colors is best made on products that can stand up to high traffic areas, withstand multiple touchpoints, potentially serve as wayfinding tools for visitors, and be easy to clean and maintain.
Scientific evidence also shows that color impacts cognition and memory functions – which is particularly important for learning spaces, workspaces or residential care spaces. As these facilities seek to build community and collaboration, a colorful, durable and safe surface is key in bringing everyone together.
Additionally, installing colorful elements in areas like transit hubs provides visual interest for travelers while commuting and may also provide a calming effect – which in turn, may offer a better travel experience and help to minimize stress, which is especially important for daily commuters.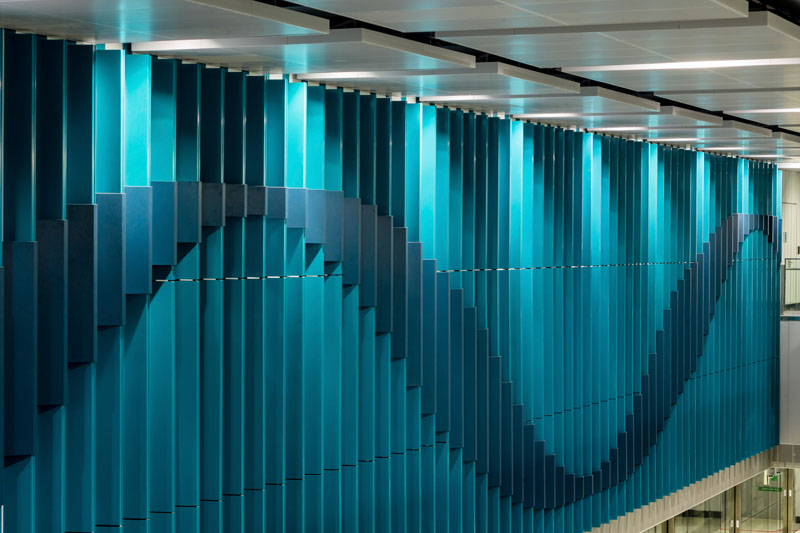 An impactful way for builders to bring colorful accents into commercial projects is through the use of ceramic steel panels. A blend of porcelain and steel, the resilient panels are suitable for a diverse range of interior and exterior applications. They are available in multiple color options, support high definition color printing, and can be produced in custom shapes – providing almost limitless design versatility.
In addition, due to its flexible nature, ceramic steel can be used on flat or curved surfaces such as columns to create continuous, uninterrupted designs and navigation elements. Because the material is field trimmable, installers are able to easily make needed modifications on the jobsite – for example, to accommodate outlets and media cutouts. The durable, low-maintenance surface is also resistant to bacteria, scratches, dents, fading from UV exposure, chemicals, and stains – important considerations in busy public spaces.
If the design scheme calls for a natural, organic look, there are many rolled metal options that beautifully mimic the look of wood. Or a graphic overlay can be applied to ceramic steel panels to create or reproduce any desired color scheme, graphic concept, or image. Some manufacturers also offer custom design solutions.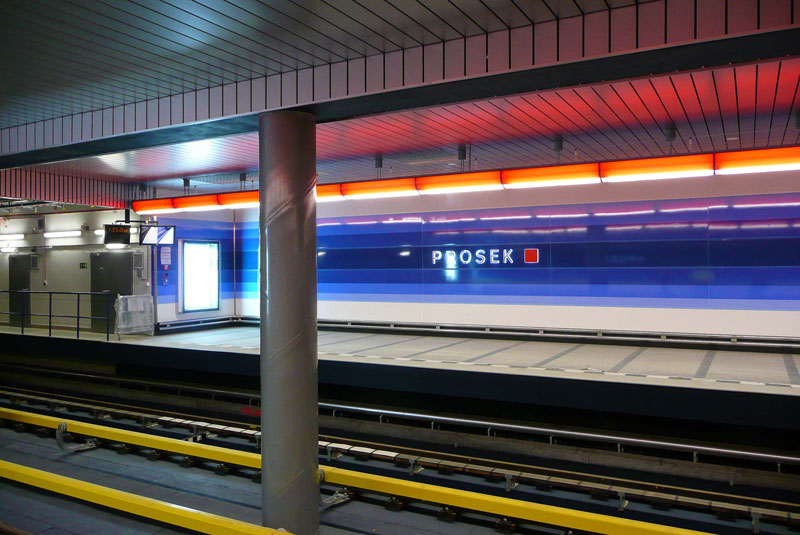 The Shape of Things
Like color, shapes impact the human psyche – meaning that certain shapes can invoke emotional responses. So, builders should consider shapes a critical factor for interior and exterior design elements.
Commercial builders and architects often specify square or rectangular buildings because that form is usually faster and more economical to build than irregular shaped structures. Additionally, popular building products like stone or concrete work well with linear geometric structures, whereas an alternative-shaped building may generate more product waste and require longer labor times.
While a square or rectangular build may not appear distinctive, builders can add interesting shapes and touches to building exteriors with products like ceramic steel or pliable metal. Metal products can be incorporated into cladding and shaped to achieve the architect's aesthetic vision. And, because these types of products are made from high-performance steel compounds, they will withstand even the most extreme weather conditions.
Ceramic steel accents can also elevate interior spaces. Builders and designers can add dimensionality through unique shapes and patterns while using the same product to display informational messaging or wayfinding. The lack of required maintenance and long-term durability are particularly important in high foot traffic areas.
Building Better Experiences
The discriminating builder demands a variety of structural and aesthetic factors when developing commercial projects. Utilizing durable, aesthetically appealing design elements to improve functionality, help to maintain wellness, and reduce maintenance costs will provide an enhanced experience for end users while protecting the design and brand elements for years to come. MB