By Louisiana Pacific
Louisiana Pacific is introducing a new adhesive for subfloor installation with the intention of making life easier for the installer – and banning the squeak! 
The new adhesive called 'LP Legacy® Premium Sub-Floor Adhesive' can be used with any structural flooring system for the installation of sub-floor sheathing. Though it's designed to be used with LP Legacy® Premium Sub Flooring and LP TopNotch®350 Sub-Flooring, it works excellently with other OSB and plywood sub-flooring panels, and forms strong bonds to treated lumber, masonry, decking, concrete, and metals as well.
Often squeaking is caused by various floor components rubbing against each other. When applied to the top of I-joists before the sub-floor panels are installed, this adhesive creates such a strong bond that squeaking floors are not an option.
EASIER INSTALLS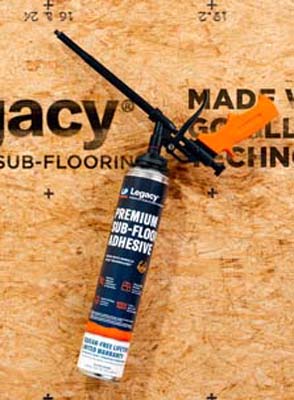 One of the biggest errors installers make with subfloor adhesion is that they don't apply enough. "It's hard to get an even bead through a caulk gun", Jeff Yelle, Director of OSB/EWP Research & Technology at LP, said, "but the LP Legacy adhesive dispenser gun helps control the
application amount.
Also, the caulk gun requires a lot of bending over. When putting together a subfloor, installers are often using the squeeze-style adhesive. Applying adhesive to an average two thousand feet floor system means a lot of squeezing. However, this adhesive is an aerosol which the installer can apply through a long-nozzled gun, allowing a more user-friendly application.
Whether lumber is wet, dry, or frozen, LP Legacy® Premium Subfloor Adhesive can be applied, which can save a lot of time, money, and hassle on the jobsite.
This isocyanate adhesive is 100% solvent free and VOC compliant. It can create less waste, which is very helpful on the jobsite. Because each canister can last up to 12 times as long as a typical 10 oz. tube, you won't have as many cans to dispose of when you complete the application.
ADHESIVE STRENGTH
Why does this adhesive form a stronger bond than most adhesives? "This adhesive bonds to the surface both chemically and physically. It penetrates into the surface, grabs the moisture therein and changes its chemical structure to bond to fibers in the wood," Yelle said.
The common way of designing floors with extra rigidity for strong, even floors that can handle the loads they bear is what is termed "glued and screwed". The adhesive is complemented by strong screws or ring shank nails. This gives the extra confidence that the structural floor system will perform at its best.
KINDS OF BUILDS
 What kinds of buildings can this adhesive be used in? This adhesive works across the board, no pun intended. It can be used in residential, agricultural, and light commercial projects if a wooden subfloor is being installed. The specific requirements are driven primarily by code. RB