By RB Staff
Roger Penske, American businessman and entrepreneur known for his accomplishments as a driver and owner in the Indy racing circuit, purchased Indianapolis Motor Speedway in early 2020. Along with it, he acquired Brickyard Crossing, an adjacent golf course.
Adjacent isn't totally accurate as four holes (holes 7-10) are located in the infield of the famed track. Among the changes and improvements Penske oversaw was the renovation of the golf cart storage facility at the golf course.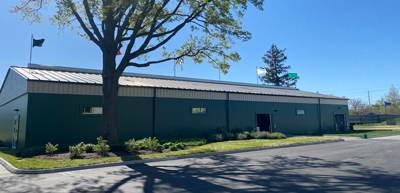 The original metal-framed barn with canvas walls was transformed into an enclosed structure by replacing the canvas with insulated metal panels (IMPs) from Metl-Span.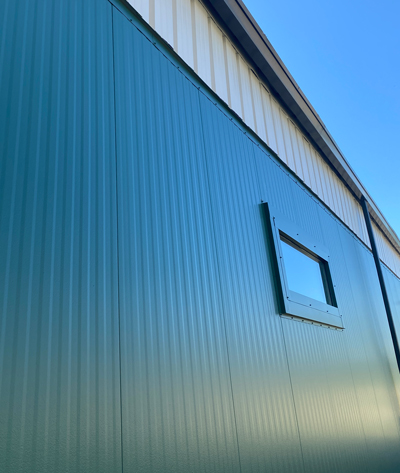 "Mr. Penske didn't like the way the existing structure looked," says Matt Kirgan, project manager with Shiel Sexton Company of Indianapolis. "I've been involved with a lot of design/build work, including some with insulated metal panels. This was really a no-brainer to use IMPs with the metal framing that was already in place."
The cart barn (7,975 square feet) is 145' long x 55' wide, with a drive-through power washing bay where golf carts are cleaned. The barn also has charging stations for the carts. Metl-Span's 42-inch-wide CF Light Mesa insulated metal panel was selected to become the walls for the cart barn, including 5,075 square feet of 2-inch-thick panels in a Leaf Green exterior finish. The cart- washing area utilized longer panels for the needed height in the standard Igloo White finish.
"Our guys really paid attention to the details on this one," Kirgan said. "It was the easiest way to enclose this building. We dropped the canvas and kept everything under cover the whole time. One of the biggest benefits to using IMPs is the quickness of erection. The exterior and interior are finished when you put them up." RB
THE DETAILS:
Building: Golf Storage Renovation
Building Size: 7,975 sq. ft.
Materials: Insulated Metal Panels, (IMPs) from Metl-Span
For more information: www.metlspan.com