Affinity Farm in Skaneateles, NY is a historic house on an Equestrian Training Facility offering professional instruction in hunters, jumpers and equitation. Founded by Kim and Bill Allan in 2006, the circa 1900 structure and horse farm is just three miles up the hill from Skaneateles Lake. 
The Village of Skaneateles, the Iroquois term for "long lake," is an area rich in history and scenic landscapes, first settled by veterans of the Revolutionary War through land grants. The village attracts tourists and history buffs as part of the Finger Lakes region. The Allans found it to be the perfect setting for their rustic horse farm. An equestrian champion herself, Kim is certified as a US Hunter Jumper Association Trainer, Centered Riding Instructor and Founder of the Affinity Farm Interscholastic Equestrian Team. Bill Allan is the Principal at Baker High School in Baldwinsville, NY, and instructor of equestrian programs at Affinity Farm.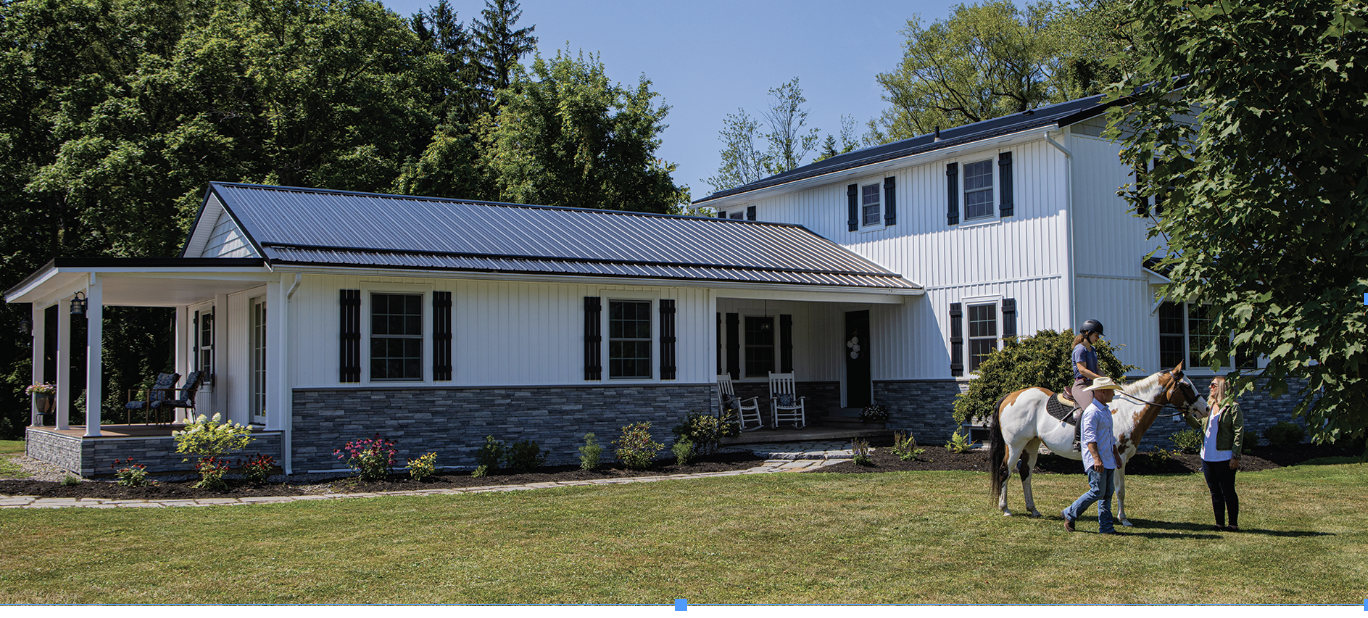 According to Kim, the home was in need of an update to increase its curb appeal. "We had a vision to give the house a Modern Farmhouse look to tie in with the equestrian center," she said. Bill was a bit skeptical at first and when the couple first pulled into the driveway, Bill remembers saying, "Oh man, what a dump, and Kim said wow it's beautiful. She could envision what it could be and all I saw was the amount of work it was going to take."
To achieve their dream, they contracted with Comfort Windows and Doors of Syracuse, one of Upstate New York's leading remodeling companies, to turn their classic home into a Modern Farmhouse. It's a style made popular over the past several years. Comfort Windows and Doors had previously expanded their indoor riding arena and upgraded the horse barns so they felt confident they could easily manage their home's exterior transformation.
For the new exterior, the Allans chose a white vertical siding for a board and batten look, along with upgrades to the windows and doors, deck and porch. "This is the classic white farmhouse with black windows and trim that you see on TV home shows," said Jason Passante, Corporate Marketing Director for Comfort Windows & Doors. "Kim had the vision for the farmhouse and we were able to meet it as the project developed."
Jim Brewster, Comfort's Product Specialist on the project, was also familiar with TandoStone, leading to the foundational cladding of TandoStone's Stacked Stone style in Glacier Bay color, extending it up 5 feet on the foundation to break up the siding. 
The Allan's Affinity Farm fulfills their equestrian dream that harkens back to its 1900s roots, but with modern materials that add durable beauty to ensure this Skaneateles jewel lasts well into the future.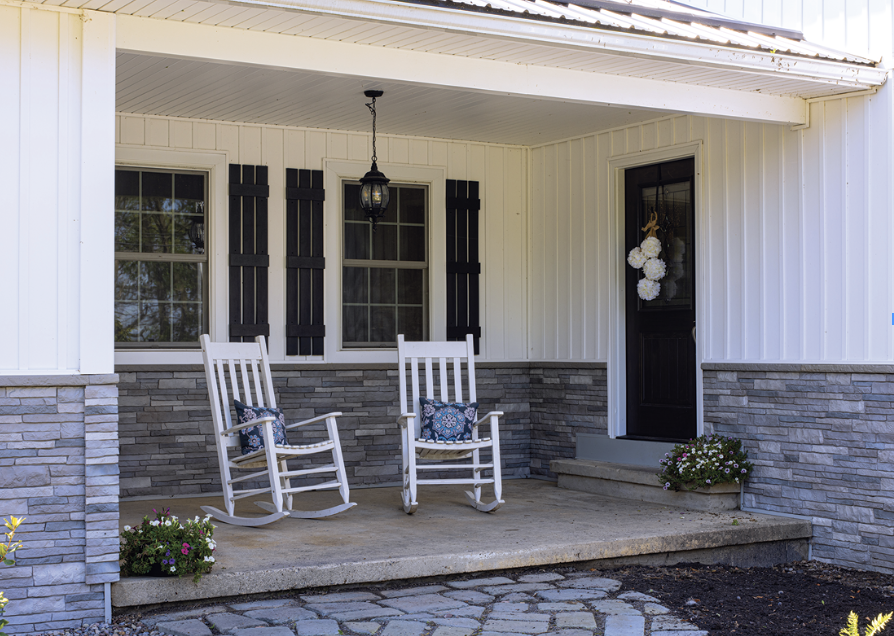 The Details:
Building: Affinity Farms Equestrian Training Facility, Skaneateles, N.Y.
Building Size: 80′ by 200′
Shingles: Alside Classics – Cape Cod Gray
Siding: Alside Glacier White Board & Batten
Cladding: Tando Composites TandoStone – Stacked Stone (Glacier Bay color)
Entry Door: Signet ProVia
Windows: Comfort Windows
& Doors handcrafted windows
Trim, Fascia: Alside Siding Products
RB