When trying to provide a definition for barndominium or barndo, you'll come across varying opinions about what comprises this new phenomenon. What criteria makes something a barndo?
What isn't in dispute is that you can call it a barndo if it does what this building does; it provides a living space for both people and horses.
Express Barns provided this building and Prism Builds LLC was the builder. The barn has a pull-through, well, septic, water, and power. There are mini-splits for heat and air conditioning. 
The people side of the structure features custom teak, marble, and granite countertops. There is custom shower and bath detailing. While the humans got the luxury, the horses got the space. The residential area is 1,080 sq. ft., while the horses received 1,728 sq. ft.
Contech Engineered Solutions provided the foundation system, a precast concrete foundation system called Express Foundations.
builder: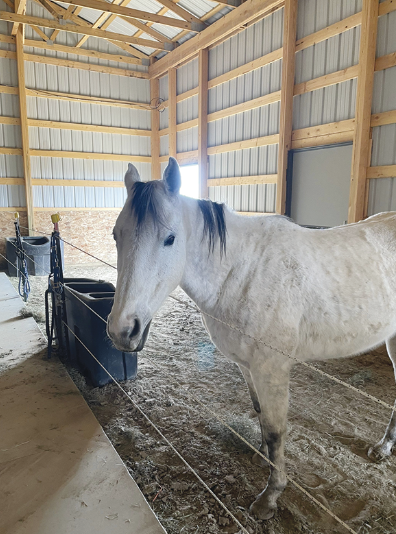 building manufacturer:
Express Barns
specs:
Living: 30′ x 36′ x 12′ (1,080 sq. ft.) Barn: 48' x 36′ x 16′ (1,728 sq. ft.)
Roof Pitch: 4/12
Doors:
Amarr, Next Edge, Masonite, Plyco
fasteners:
Atlas WoodTite® Metal to Wood #10 1.5″ and 2.0″ Panel Matched
foundation:
Contech Engineered Solutions Express system, 24′ diameter, 4″ wet pour, 52″ deep.
Insulation:
Solex, Owens-Corning, poly foam
posts:
Midwest Columns 3-ply 2×6 fingerjoint. Lower 5′ protected
by Post Protector.
roof panels:
Express 82k psi with Sherwin-Williams Weather XL 40-year coating.
misc:
Horse stalls and Dutch doors
by MWI.
Trusses:
Parker Truss and QSI,
36′ common
ventilation: 
FlexPro LP2 ridge vent
windows:
Plyco CTB500, Simonton,
Pro Shade