By RB Staff
Victory Community Church
Pete Aldridge, founder of Lighthouse Recovery Center in Washington, Indiana, envisioned a goal of constructing a modern structure to help accommodate a bigger congregation. The previous building was no longer big enough and was beginning to have other issues such as needing a new roof.
Aldridge contacted Graber Post Buildings and sat down with an architect and they began putting his dreams and visions on paper. Of course, this is only the beginning step, but after all the designs were approved this project was off to the races.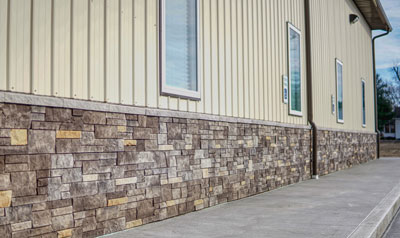 Material shortages played a bit of a challenge on the church build, as they have affected many projects in the last couple of years. However, with lots of teamwork and communication, they met the goal, completing the project by December 26, 2021. The first service was held in the new building that morning.
Cornerstone Bible Church
When the old asbestos diamond-shaped shingles began to fail on the Cornerstone Bible Church in Glendora, California, ATAS' CastleTop was chosen as a replacement. The shape of the .032 aluminum panels, which resembled the original shingles in appearance, was an important factor in their choice of a replacement roofing material. They also loved the idea of the longevity and durability of a metal roof, along with the fire resistance of the panels, a concern due to the Southern California location of the church.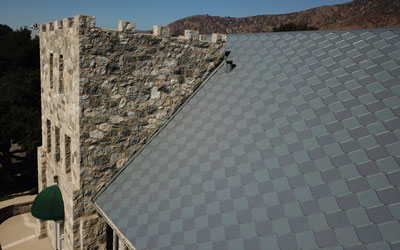 The metal shingles are more environmentally friendly compared to some other roofing materials, as the aluminum contains recycled content and can be recycled at the end of its long service life. Dustyn Howard, president of Howard & Sons, Inc. in Corona, California, stated that they removed the old asbestos shingles, and the CastleTop metal panels were installed over a solid wood deck. The panels and trims were purchased through RoofLine Supply and Delivery in Burbank, California.
CastleTop aluminum shingles are 15 3/4" x 15 3/4" in size and cover 13 1/2" x 13 1/2". They have an embossed texture with a 70% PVDF paint coating. A minimum roof slope of 3:12 is required for installation. Two colors, Rocky Grey and Charcoal Grey, were used together to create an aesthetically pleasing pattern on the roof. In addition to a long history of roofing applications, CastleTop shingles are commonly used as a wall cladding, to create unique and colorful facades.
The CastleTop shingles are an attractive complement to this church's natural stone walls. Prior to the building's opening in 1931, members of the church mined rock quarries in the mountains above the citrus farms of Glendora and brought down large stones, out of which, they built the Cornerstone Bible Church.
This beautiful project was the third-place winner in the 2019 ATAS Project of the Year competition. RB