By Linda Schmid
Almost two decades ago, Thermal Building Concepts (TBC) developed solutions for the insulation industry with their product, Thermal 3H+ insulation that addresses three forms of heat transfer. From that point on, it became their mission to solve performance issues and other problems within the industry.
Mark Aspenson started in the industry in 2006. He was so excited he started Thermal Building Concepts in 2009, specializing in finding solutions for residential homes, commercial and agricultural buildings, retrofits, under concrete, and complete building envelopes. Making an impact in an industry with any product, let alone the segmented insulation market, is a challenge. It began with Aspenson, owner and CEO, living on the road, averaging 4,000 miles a month and his team working with him. Face-to-face communications gave him insight into the issues customers were facing in real time, and spending countless hours on the road gave him time to think through these issues and develop solutions for them.
Fortunately, with that much drive time Aspenson got to think and find more solutions for the building industry with some other patent and patent pending products that also benefit the suppliers. He came up with a future patent pending franchise solution for them, which will lower product costs, give them access to exclusive products, and lower freight expenses also. This will give them greater opportunities in the near future.
When the cost of freight went up, transporting the product to areas 1200 miles away was so expensive, it was a deal-breaker. TBC solved this problem by having several manufacturers strategically placed to deal with suppliers' freight issues.
The most recent challenges faced by Thermal Building Concepts and the entire world have been the supply chain disruptions, transportation delays, and COVID-19; they have negatively affected most businesses and builders. The effects varied with different state's rules, regulations or mandates according to where that factory was located. Many people did not understand the level of disruption manufacturers were experiencing due to changing rules, sickness, material shortages, and diminishing labor pools.
One train of thought in the manufacturing industry was to ration products so that everybody would get some product, which in turn increased the turnaround time in many cases from three weeks to three months. TBC's solution was to shift some of the production to other smaller manufacturers with previous supplier relationships. The different facilities sourced their raw materials from different providers so individual plant delays were staggered and did not interrupt the ability to deliver the finished product. The timing also coincided with their slow season so the shift in production benefited both Thermal Building Concepts and the manufacturers.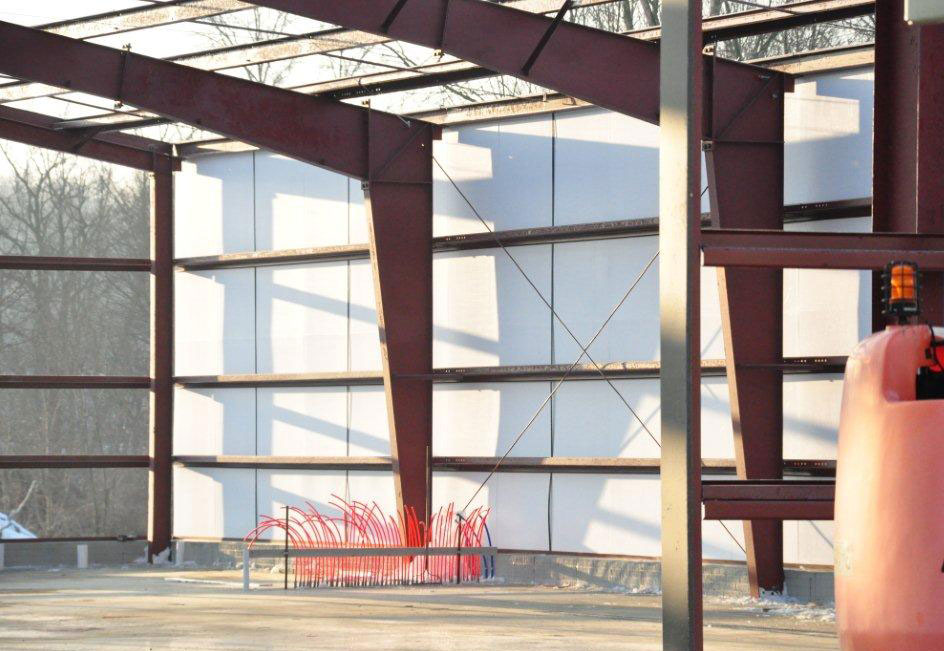 The diversification of production also partially alleviated the delivery issues. Because the geographical locations varied, shipping disruptions were also staggered, providing a constant supply of product coming in to ship.
The trucking shortage and delivery to the builder remain an issue. Increased regulations made freight operations difficult. The inability to find drivers and workers to load trucks also created delays. This was compounded by freight quotes, which are usually valid for 30 days. The delays would sometimes be longer than the 30 days specified in the quotes, making them invalid, so budgeting became more challenging for all parties. Occasionally, suppliers blame or get frustrated with freight companies, which may be unfair. Some of the hardest working people in the country, the trucking in freight industry had to deal with all kinds of new regulations and delivering to companies with no staff to help unload. Truckers were not motivated to continue driving, and who could blame them?
TBC's response to these challenges was to reach out to smaller freight companies and to independent truckers directly. Additional regulation changes hindered the large transport companies, but did not affect independent haulers to the same extent. TBC found ways to contact independent freight companies, partially filling the gap. Even though delivery times were slower than previously, they were better than the competition's times.
Aspenson and TBC have used problem-solving skills developed over 20 years to mitigate the new challenges presented to the company by the global pandemic. They are amazed at the sheer number of issues the construction industry has faced over the last couple of years and how strong and resilient the industry is as a result. They're grateful for the opportunities the industry has provided and they thank family, staff, loyal customers, and Rural Builder magazine for the opportunity to share good news with the building industry.
Aspenson is a wrestler and often reflects on a saying of wrestling champ Dan Gable, "After wrestling, everything else in life is easy." One of the keys in wrestling, life, and business is there is always a way to succeed, but it is not always the easiest or most obvious path. One must be creative to find solutions and be diligent in the pursuit. It is up to us to find ways to succeed despite the obstacles, and keep moving forward to achieve our dreams.
About Thermal Building Concepts: TBC is committed to saving energy, and through their extensive network of affiliates, their experience in the building and insulation industry, and their innovative insulation (one of the greenest insulation products out there) they are making the world more efficient, one building at a time. RB
www.thermalbuildingconcepts.com