The Department of Transportation Could be a good source of job opportunities, based on all of the structures they require for salt and sand storage. The Rural Builder staff decided to check it out. We contacted the U.S. DOT and discovered that these projects are handled at the state level.
At the state level, each DOT handles these projects differently, but with a lot of similarities. We will be sharing what some of them have for storage structures, what they are looking for, and how to proceed. Here are examples from a few states.
Vermont Agency of Transportation Storage Buildings
Vermont's newly built salt sheds are typically 40' x 84' with a concrete foundation and concrete walls that top out at 14' with upper wood frame walls. The roof is a wood truss system with galvanized metal roofing. Older sheds from the 1970s were concrete with galvanized Quonset hut style metal roofs.
Shed sizes can vary from 40' x 64' to 99' x 84'. Over the past five years, 20' x 84' lean-to structures have been attached to salt sheds for equipment storage, protecting them from Vermont winters.
Brad McAvoy and Timothy French of the Vermont Agency of Transportation Facilities Bureau say that if a building can meet the structural requirements and snow load capacity specified, they are open to evaluating alternative designs.
As their older sheds age, scaling is occurring on the concrete walls, which can potentially compromise the structural integrity of the building. Therefore, the agency is especially open to more durable and long-lasting options.
Due to harsh weather conditions, various strategies have been employed to permit construction. Crushed stone has been used under the footings due to wet or improperly compacted ground, thereby providing a solid foundation. Blankets and heated structures have been used to cocoon concrete slabs for curing.
Visit this website to get all the information you need to become an approved vendor: vtrans.vermont.gov/contract-admin/bids
-requests.
When a new building is needed, a consultant is hired to survey the site and design the building to specifications within the parameters of building codes. Then the bidding process is instigated. The bid documents are posted on these websites:
• www.bgs.state.vt.us/pca/bids/bids.php
• bgs.vermont.gov/purchasing/bids
The plans, specifications, and time-sensitive proposal details will all be included.
When repairs are needed, the contractors who have been awarded retainers, done on a year-to-year basis, will complete the work. If they cannot provide the service, the work is put out to bid in the same manner as a new building bid.
Contractors are encouraged to ask questions about building projects before bidding. One of the greatest challenges the AOT experiences with these projects is processing change orders after the project has begun, due to the contractor missing or overlooking something.
Minnesota DOT Storage Buildings
The Minnesota Department of Transportation has a variety of buildings, from wood framed shelters to buildings constructed with steel joists and steel columns. The buildings are approaching their end of lifecycle due to the corrosive nature of the salt being stored. Issues have included wood rotting and steel rusting due to lack of galvanizing. Pat Jeffrey, MnDOT's structural group lead, says that now they find that those buildings are cost-prohibitive, and they deal mainly with open web truss structures with fabric covers or pre-engineered sheds with fabric exteriors.
The buildings were projected to have 20-25 years of longevity, but with costs going up, the DOT is doing more preventative maintenance to extend longevity. They are also always on the look-out for different, easier-to-construct, more cost-effective ways to build these salt sheds.
Building sizes vary; smaller buildings hold 750 tons of salt, while larger buildings in metro areas are built to hold 10,000 tons. They are typically three-sided structures, orienting the open side to face south or east to avoid exposure to the prevailing winds.
Required specifications will have various height and width requirements including minimum heights at the side walls so that when tandem trucks are backed in, they don't hit the frame. A minimum height is required at the center of the building for salt trucks also.
Another spec, the snow load, is determined by the location within the state. For example, 50 lb. ground snow loads may be needed in the south and perhaps 60 lb. ground snow loads in the north.
Special considerations for these buildings can include a liner under the asphalt to protect salt from leaching into groundwater. Typically they are built with spread footings based on information from a geo-technical report.
Becoming an approved vendor is pretty simple; the DOT wants a variety of builders to bid. Contact [email protected]. The conversation will be about establishing whether you can meet their specifications. It can take from two days to three weeks, depending on what is going on. Once approved, you can find projects to bid on this website:
www.mmd.admin.state.mn.us/solicitations.htm
The state of Minnesota requires prevailing wages for carpenters and other job titles. The Department of Labor and Industry will review the general contractors' architectural plans to ensure they meet code.
Nevada DOT Storage Buildings
Extruded aluminum primary structural members wrapped in a membrane with a PVF outer layer over a fabric scrim is the common structure used by the Nevada DOT, according to Ross Baker, Assistant Chief Maintenance & Asset Management Engineer. They have also built cast-in-place concrete buildings with aluminum roofing panels over galvanized steel roof structures and they are planning to build a couple more at various locations. As time goes on, the plan is to cover more of their sand and salt stockpiles, and they are open to other types of construction; whatever design and material works best at the location.
Sizes depend upon the amount of salt, sand, or both to be stored at a given location; some sheds will store several hundred tons and others several thousand tons.
The loads the structures must withstand are dictated by building code and local code revisions. In Nevada, most local code revisions are structural in nature due to "special wind regions" and "special snow regions."
Stockpile canopies require anti-corrosive specifications. Even in the dry Nevada air, the salt stored is highly harmful to unprotected steel.
Salt storage is located wherever maintenance crews need them, so the geology, topology, local climate, type of site — manned or un-manned — are all factors that must be factored in when deciding on the type of structure and footing required.
Builders need to be pre-qualified. A "design-bid-build" method is used. Professional design consultants create architectural/engineering plans, which are submitted to the proper authorities to obtain the necessary permits. Then the project is advertised for bid from licensed contractors. Access project plans, specs, and permits at dot.nv.gov in order to bid.
Texas DOT Storage Buildings
Tanya Brown of the Texas DOT said that generally they build Brine Making Sheds (where salt is added to water for spreading on roads), Fabric Covered Salt Sheds, Wood Salt Sheds, and Concrete/Metal Sheds with concrete walls and metal roofs.
Brine Making Sheds, and some Salt Sheds, are typically concrete walled with wood framing for upper walls, trusses, and roof with metal exterior. The fabric-covered salt sheds require the creation of a fabric covered roof over cast-in-place concrete walls with one fabric-covered end wall.
These buildings may be on various sites, from right-of-ways to state properties.
There is no "approved builders list." When bidding on a job, the contractor must base their bid on the specifications in the bid solicitation. After winning the bid and when the contractor is providing their submittals to TxDOT, the contractor could submit a like-kind or equivalent material for approval as a substitute to the usual salt shed building types.
Projects up for bid are advertised in three locations:
• www.txdot.gov/business/plans-online-bid-lettings.html
The proposal documents can be downloaded from any one of these sites. They should be submitted along with supporting documents no later than noon on the advertised letting date. If they are received after noon CST, they are automatically rejected.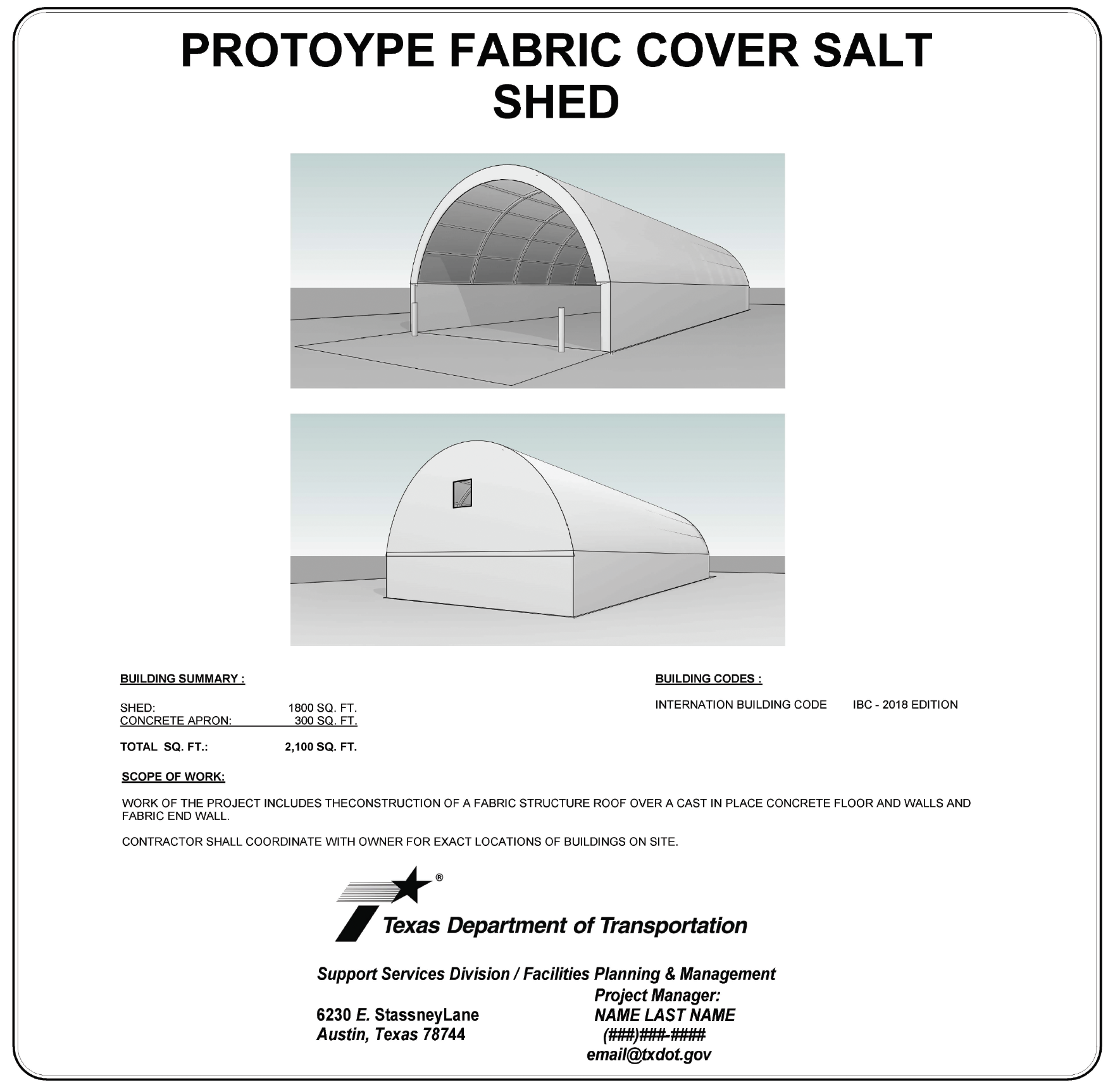 Maryland DOT State Highway Administration (MDOT SHA) Storage Buildings
According to Greg Keenan, Deputy Director of Facility Management, the Maryland DOT State Highway Administration (MDOT SHA) uses both barns and domes to store road salt. Barns are timber construction with a truss roof structure and metal or shingled roofing. Domes have prefabricated wood panels erected on concrete rings of varying height and shingled roofs. The dome's concrete ring can vary from 1′- 8′ high. MDOT SHA is also pursuing the use of tension fabric storage buildings with concrete side walls and aluminum framing.
Storage barns get as large as 112′ x 96′; domes average 100′ diameter rings. The ring height determines storage capacity. Salt structure barns can hold up to 10,0000 tons of salt. Domes can range from 1,000 tons to 6,700 tons.
Prior to construction, soil boring and subsurface investigation is conducted as well as surveys for storm water management and proximity to sensitive resources.
Contractors are not pre-qualified by MDOT SHA. A Bidder's List for each specific solicitation can be found under the following link: www.bidx.com/maryland/main. If you are bidding on a project with a value of $100,000 or more, you must submit bid security of 5% of the total bid. If you win the bid, you must provide a Performance and Payment Bond for 100% of the bid amount.
Information on how to bid on various MDOT SHA projects can be found in the "Contractors Information Center" on MDOT SHA's website: roads.maryland.gov/pages/home.aspx.
If the state (or states) you work in is not covered here, check out the state Department of Transportation website and discover what opportunities may be waiting for your bid. RB