By Karen Knapstein
Developments in metal finishing are continually changing the looks that building designers and architects can achieve. In the not-so-distant past, post-frame buildings were instantly recognizable by the limited array of colors available on metal panels.
The benefits of the new finishes include an ever-changing palette of colors and textures at the disposal of architects and design/build firms.
Wrinkles Are A Good Thing
Wrinkle finish technology has been around for quite some time. Beckers is one of the earliest innovators in textured coatings. In the late 1970s, safety-conscious Sweden implemented new legislation defining minimum friction levels to limit how slick coil coated roofing materials could be; coil coatings had to pass a special test to gain certification. One solution was to reduce gloss with flattening agents. At the same time, a small volume of "wrinkle finish" paint for an indoor application had been developed by one of Becker Specialty Corporation's partners in the United States. Granges Aluminum conducted a trial with the American product at one of its production lines. The coating exhibited excellent non-slip properties.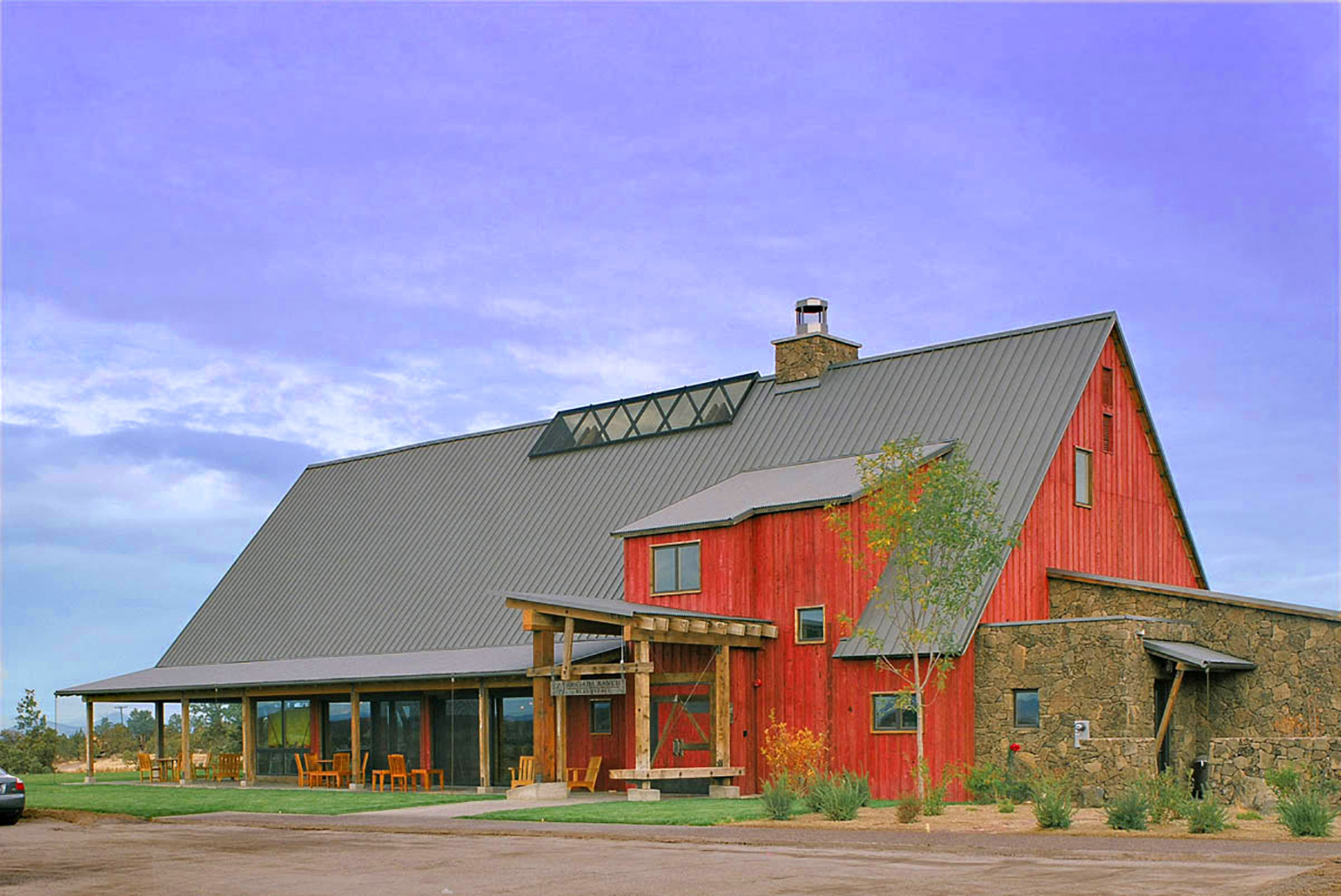 In 1981 a customer in Europe introduced this "non-slip" product as a standard product for non-reflective sidings. That same year, the façade of Becker's own Marsta factory in Sweden became an impressive reference application for what is now Beckry®Tex.
By the mid 1980s BeckryTex was established and popular in the Nordic countries, and Nordic countries were exporting considerable volumes of BeckryTex coated sheet to Poland, where it became a fashionable and popular roofing material.
BeckryTex coated coil continues to be one of the preferred materials for residential roofing in Central and Eastern Europe. In late 2011 BeckryTex was introduced to the North American market and has grown tremendously as a roofing option, also expanding into facade and interior applications. BeckryTex "offers an exciting alternative for cladding and interior finishes. We are convinced that designers will be eager to exploit the obvious aesthetic and commercial potential of these new textured products in increasingly demanding markets," reads the product description.
[By the way, the company's BeckryTech Ink (Beckry®Ink) makes special effect finishes such as wood grain, granite, stone and marble possible.]
As finishes evolve, there are more and more wrinkle finishes appearing in exterior applications. While the typical use is in roofing, the use of wrinkle finishes on facades is increasing.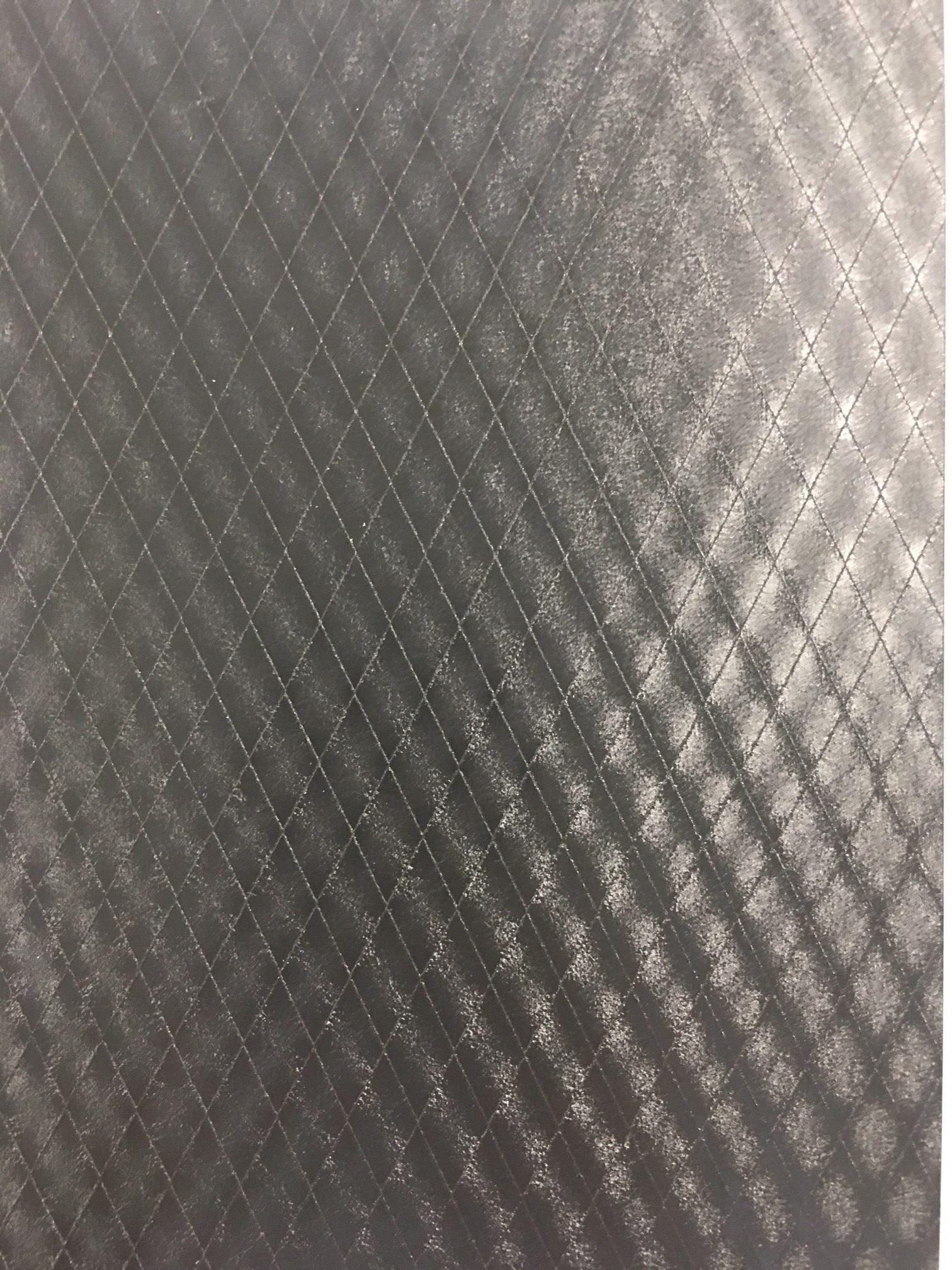 With CERAM-A-STAR Expressions — which global paints and coatings manufacturer AkzoNobel introduced at METALCON in 2017 — customers can create designs with definition and dimension. Patterns include authentic-looking wood grain, slate, and granite patterns. This aesthetic versatility makes Expressions an excellent choice for interior and exterior applications, including siding, roofing, entry doors, and architectural accents.
The material literature explains: "The unique surface structure of a wrinkle is created by smart variations in the chemical reaction of this coating which gives low gloss at typical observer angles, and the coated substrate a 'natural material' kind of look and feel, different from regular smooth or textured coil coatings.
"While this structure is formed during curing of the applied coating, several factors can influence the intenseness of this phenomenon. AkzoNobel succeeded in close cooperation with different coil coaters to generate a stable and repeatable system. The most popular Wrinkle structure is coarse but a finer grade is available in the same quality," says the product description.
"The growth in interest and popularity is the aesthetics," said Scott Hanna, Sales Manager for AkzoNobel's coil coatings business. There's a contrast of colors and textures. Hanna said many people like the way it feels. "They say it feels like leather. A lot of people like to touch it; it has a warmth to it, as opposed to smooth, cold metal."
Asphalt shingles have dominated residential roofing for a long time. Wrinkle finish comes in with a textured finish that can compete with the visual texture of asphalt, but it has other benefits, too. "The beauty of a wrinkle finish on prepainted aluminum or steel substrate is you have functionality, too. It keeps attic spaces cool, and, being 100% recyclable, it's sustainable."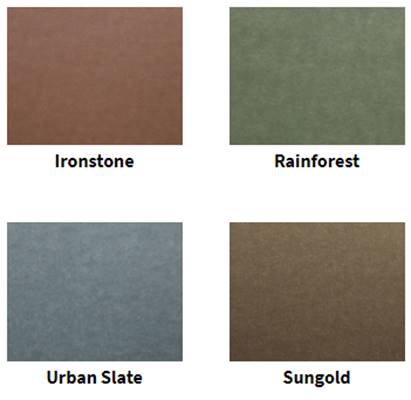 Prints and textures have been a boost for the whole prepaint industry. "Having all sorts of different styling options gives our industry additional avenues to promote and sell prepainted product versus other building alternatives like slate, asphalt shingles, clay tile, and wood shingles," said Hanna.
Fresh Finishes, Fresh Looks
At METALCON 2019, ATAS International released its new matte finish line of metal coatings. Lee Ann Slattery, Sales Support Manager at ATAS International, said, "There's been a trend toward using more natural metals, which are usually a lot higher in price. With a painted finish in a matte appearance, you can get a finish that mimics the natural metal without paying that high price."
"The new low-gloss finish offers a more subdued aesthetic, like that which is found with natural metals. Matte Black has been a popular color choice for many building components recently, and that color leads the new matte palette, which also includes Thunder Grey, Anchor Grey, Ash Grey, Char Brown, and Almond. The new matte colors will be stocked in .032 and .040 aluminum and 24-gauge steel; other gauges are available upon special request," the company said in its news announcement.
The matte coatings join the company's catalog of more than 35 standard gloss colors. The new matte finishes are achieved using a 70% PVDF coating — the same coating used with all the ATAS painted colors. The matte colors have a gloss level of only 10 to 20 degrees, as compared to a 30 to 40 degree gloss level with the standard colors. Therefore, the same quality, longevity, and surface color performance can be expected. The coatings are designed to resist fading, chalking, and abrasion, and meet the requirement of AAMA 2605-13 and AAMA 620-02. "The glossy panels can be used for a dramatic effect in a specific area, creating an instant impact against the rest of the wall, which remains visually softer in the matte colors."
This new color offering is one more option in a multitude of finishes, including Oxide Series colors and laminates in wood grain patterns. The company's Oxide Series has two color options available: Copper Brown and Tarnished Red. The finishes are formulated to mimic the look of pre-weathered steel. The rust-like appearance has the aesthetic appeal of aged metal, but it has the advantages of brand new metal cladding with a 70% PVDF finish. "With the Oxide Series painted metal finish," Slattery said, "you get a rusted appearance without the risk of any rust staining surrounding surfaces. This product looks like weathered steel, but the finish maintains a consistent look. It won't change appearance like a natural metal that will weather and change over time."
The company's wood grain laminate is actually a laminate that is applied to metal in a continual coating process. The wood-grain laminates are UV stable for exterior wall applications, and are available in Cherry, Oak, Dark Teak, and Medium Teak. "The advantage of using a wood grain laminate product versus real wood is it's typically a lot lighter," Slattery said. "It's easier to handle from a contractor's point of view. It's used a lot in ceilings and soffit. When it's installed on a ceiling, it's far enough away that it looks like real wood." It is also commonly used as an accent band in wall panel applications.
Stone To 'Soften' Metal
Boral Building Products' Versetta Stone panels are one option that builders can use to quickly achieve the look of stone. The product looks great with metal siding and is popular with builders. It's a mortarless, panelized product that creates the natural look of stone with a simple installation; it goes up quick and easy.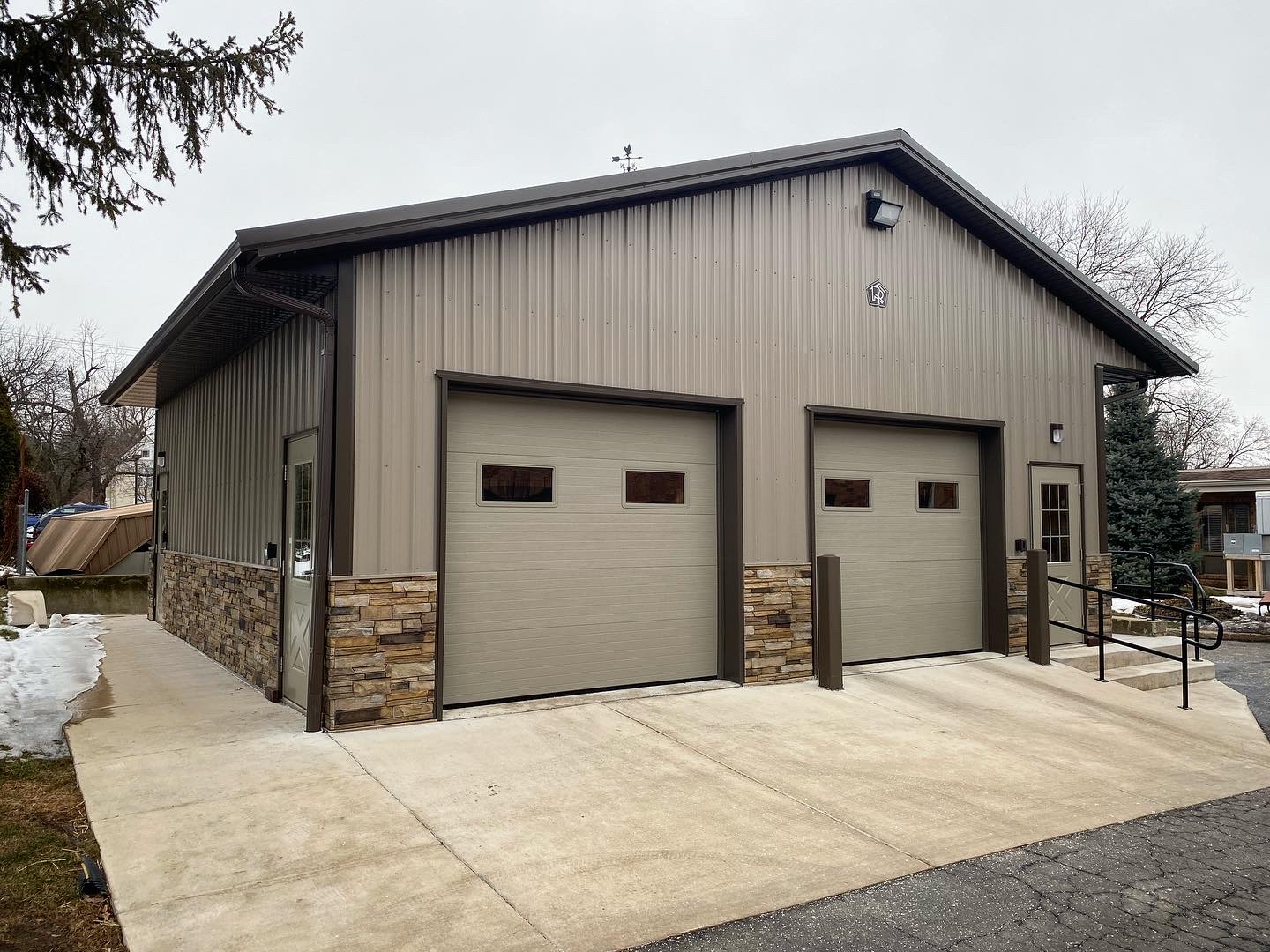 Versetta Stone comes in three profiles: Ledgestone, a traditional dry-stack look; Tight-Cut, which features the look of cut-and-fitted stone; and modern Carved Block, offering the look of split-face stone. Braden McClements, Technical Installation Manager at Boral Building Products, said stone takes quite a bit of time to lay in the traditional manner. "Versetta is much faster. It's mechanically fastened so any sider or contractor can do it."
McClements explained this product is used more in rural areas because there's sometimes a lack of mason tradespeople. Masons have to have an eye for design, he said. "If you don't have that skill, it's going to look terrible. Masonry is an artistic-type trade. With Versetta, carpenters can pull a panel, install it, and go. It looks great every time." Much like a traditional siding panel, Versetta Stone siding features an integrated nailing flange so it can simply be nailed or screwed into the wall. Nearly any contractor will have the ability to install it.
Kyle Stumpenhorst of RR Buildings is very familiar with the product. "The beauty of installing Versetta Stone is not just how good it looks when done, but how quickly and easily it installs!" he said. "Versetta Stone has the ability to completely change the look of our post frame projects, and give clients something next level without breaking budgets."  
These are just a few of the products manufacturers have developed to soften the appearance of metal. The options appear endless as manufacturers continue to explore new textures and prints for making metal more appealing to a wider range of consumers. RB
Sharon Thatcher contributed to this article.