website: www.plyco.com phone: 800-558-5895 fax: 800-257-5926 40 Gold Keys Won
Superior Performance, Energy Efficient Entry Door
Building better performance products, that's something Plyco has been doing for over 60 years. From doors and windows to venting solutions and slide doors, Plyco provides a wide variety of products for any project.
One of Plyco's best achievements is the Series 92 heavy-duty thermal break door. The performance door features a full thermal break in the door frame and comes standard as pre-hung for ease of installation. This energy-saving, easily maintained steel door is the perfect option for any commercial, agriculture or residential application that needs to benefit from industry leading U value of .24 (flush) and .28 (low-E ½ glass). This U value references the complete opening thermal performance.
The 24-gauge hot dipped galvanized steel 1¾" panel boasts fully-rolled edges and three 4½" x 4½" stainless steel hinges. Closer reinforcements and standard edge prep for deadbolt are included in the standard model.
The star of the Series 92 door is the thermally-broken steel/aluminum frame with a superior kerf seal. This adds structural strength and has versatility being available in 3 frame depths (4½", 6½" and 8¼"). The pre-finished, painted steel/aluminum jamb with full surround features the in-line thermal break and includes a heavy-duty weather strip for a weather resistant seal.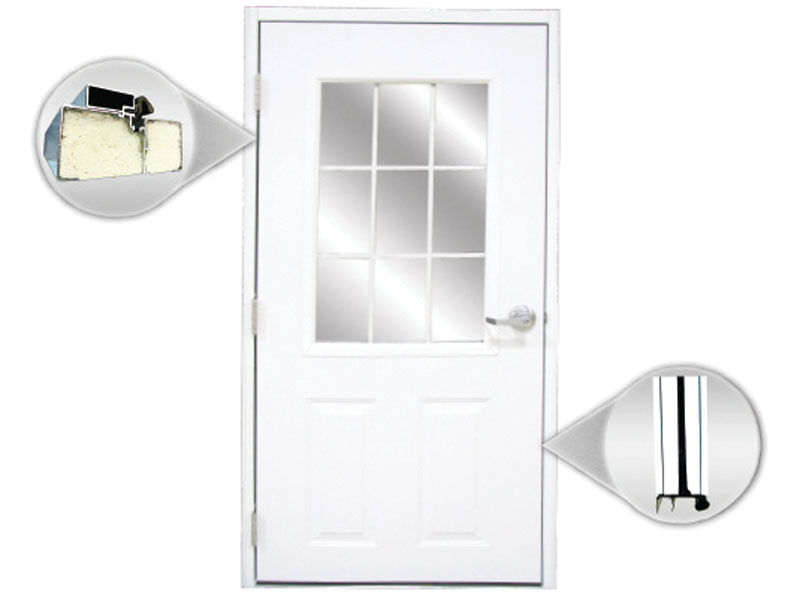 Recommended applications include:
• Post Frame
• Metal Buildings
• Agriculture Business
• Agriculture Confinement
• Out Buildings
• General Construction
• Commercial
Series 92 door passes strenuous, industry leading performance tests that include:
• Air infiltration
• Water Penetration
• Physical Endurance
• Wind-Storm Resistance
• Force Entry Resistance
With four threshold options including ADA inswing and outswing and performance inswing and outswing, the Plyco Series 92 performance door is truly the best-in-class entry door your project deserves. RB