By Linda Schmid
It is estimated that 600 million tons of construction and demolition (C&D) debris was generated in the United States in 2018, more than twice the amount of municipal waste. Of that 600 million, about 144,000 went into landfills according to the EPA. Large amounts of waste are to be expected from C&D, but is the amount that is simply thrown away necessary?
Cutting Down
on Steel Waste
Travis Lane, the General Manager of 3GM Steel, a company that supplies steel coils to metal roofing and building manufacturers, has received feedback from their customer base that they find that some steel waste is inevitable, but not much. Small companies just starting out may have a fair amount, but over time they learn how to manage waste, and they save money for their efforts. In general they find they have less than one percent waste. 
One cause of waste is that the outer wrap on the metal coils they use is exposed to elements and becomes damaged, so they run the wrap off and sell that section of coil as a lower grade metal. This means that what might have been thrown out as trash is instead sold at a lower price to someone who doesn't require perfection for a project. "There has always been a market for 'blemished' steel, so even before the supply shortages came along, selling secondary steel has been part of their activities."
Steel waste is also avoided through ever advancing technology. Lane said, "For example, trim profiles can have mistakes, but the new slicers bring more accuracy in cutting. The more automated things are, the less human error you have and the less waste is produced."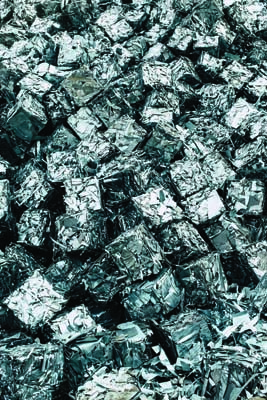 Recycling Steel
Recycling is, of course, an important part of reducing waste. Lane relates that another way waste is created is in the changing of the rolls on the roll forming machine. There can be variations of widths, but manufacturers have minimized landfill trash by taking those pieces of coil that are the wrong width and selling them to the scrap yard.
"Steel is the most recyclable material on earth," Lane said. "Steel's chemical composition of its core properties (iron and carbon), make it easy to melt and recast without the loss of strength, durability, or quality. Recycled steel goes to a processing plant where it's separated from other metals and then re-melted and recast for a new purpose. In theory, the steel going up to build your new barndominium in Tennessee could have once been used to build a skyscraper in New York. Steel is favored as a recyclable material because of its strength and longevity of each use–steel products often stay in use for decades."
Quality Products
= Less Waste
Lane's final word regarding minimizing waste is that if you manufacture/use quality material, the products last a very long time. Metal coils last longer; some even have lifetime guarantees. "The expected lifespan of a metal roof is 40-70 years, compared to 12-20 years for traditional asphalt shingle roofs, which often end up in landfills. Overall, a metal roof can be a significant investment for a homeowner, but it represents a high quality option that also reduces waste associated with home building, since you're not replacing it as often, and when it is replaced, it is recycled."
Besides making less trash, you are doing yourself a favor, he said. If you put on a roof, and five years down the road it has problems, you are going to have unhappy customers. Over the long-term, quality materials build up your brand, and if enough people have a good experience it will strengthen the industry overall.
Cardboard &
Other C&D Waste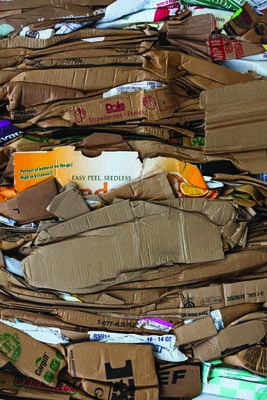 Scott Foley, President of Ultimate Construction is another firm recycler. However, he finds that it isn't really a simple thing. "You have to have enough containers to sort everything and you need space to store it until you save up enough recyclables to make it worth taking it in." 
Cardboard can be one of the more difficult items to recycle. Foley bales it and puts it in local recycling bins, but there is no return on that. Renting dumpsters can be expensive, according to Foley, but so can labor costs for sorting materials if it's inconvenient to sort on site. "Vinyl siding is another problem child; nobody will take it," he said.
Ease or difficulty of recycling varies according to the services offered in different areas of the country, also. "Oklahoma, for one state, doesn't recycle," he said.
Foley, however, is determined not to add to the landfill if it can be helped. "I have grandchildren," he said. "I don't  want them to have no decent space left on earth. If everyone is just a little more conscious of what they are throwing away, we can improve things."
One thing Ultimate Construction has going for it is that they build with structural insulated panels (SIPs), which are pre-measured and pre-cut to fit together perfectly on site. "With SIPs you don't have near the waste you would have on stick-built projects," he said. (See page 14 for more information about SIPs.)
However, there are still many things that can be recycled, and Foley recycles them. Some items go to Habitat ReStore, and Foley figures that this year alone he has saved $3,500 on recycling the cut ends of steel sheets. Some big companies make a lot of money on recycling, he says, but with some creativity everyone can save some money. RB
To find out what C&D recycling assistance is available in your area, visit https://cdrecycling.org/directory. The EPA's resources website can also be helpful: https://www.epa.gov/smm/organizations-working-reduce-disposal-construction-and-demolition-cd-materials.