How did two applicants from a town with a population of about 12,000 people come to receive the mikeroweWORKS Foundation scholarship in one year? Victoria Knight was one of those scholarship winners. She went through the Southwest Michigan College program on Green Technology because she liked working with her hands and learning eco-friendly practices. Carlyn McLelland, a scholarship winner previously covered in this article, was the other winner.
At the time, McLelland and Knight said to each other, "If you win, cool. If I win, cool." They were so surprised to find that they both won.
The two applicants looked up to Mike Rowe. Knight said that Rowe reminded her of her dad. "Dad was often gone, working, hauling semis. It was dirty work." So she watched Mike Rowe's show, "Dirty Jobs" and she felt closer to her dad.
Knight said that the application process for the scholarship  included a video submission. Her video was about the remodeling job she did on her Great Grandma's house. "I was putting love back into it," she said. The project was special for her family. Her uncle now lives in the remodeled house.
Of meeting Rowe, Knight said, "If I had a choice of meeting anyone famous, he is the person I would pick. He was so humble and down-to-earth. It was incredible!"
It isn't surprising that Knight was awarded a scholarship; she showed great enterprise and leadership skills, even in college. This ambitious young woman started her business, H3 Home Designs while still a student and proceeded to solicit for and set up scholarship opportunities for her classmates.
So what is this Green Technology course that drew Knight in to to learn about the construction trade? She said she learned about solar panels, energy saving, widening cavities in the build for better airflow and greater efficiency. The program also covered more sustainable products for new builds or remodels, such as cork and bamboo flooring and windows with better R values.
Knight feels that learning about sustainable products and components that have longevity would be good for all builders, but as is so often the case, people have done things a certain way for so long that there can be pushback when you try to show them another way.
That hasn't stopped Knight from trying to teach people good things and doing good things in the world. For instance she worked with Habitat for Humanity for a while. Currently she is organizing a group called Niles Neighbors to help people who have been cited for chipped paint or siding or other repairs that many of these homeowners are unable to accomplish because they are elderly or disabled.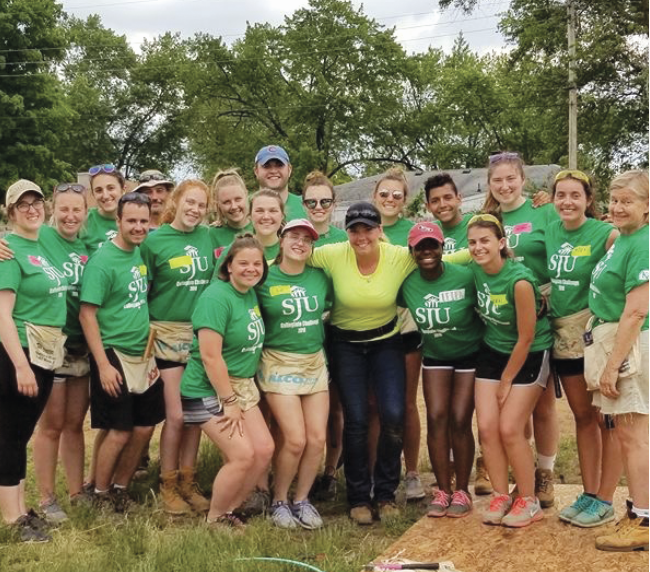 H3 Designs, the company that Knight began while still in college, will be donating a lot of products, volunteers will provide the manpower, and Knight will provide the know-how and educate the volunteers while they work.
"I always allow people to ask me questions while I work," she said. She teaches people about the task at hand, and she talks about energy efficiency and how-tos on subjects like hiring a good contractor.
This willingness to give her time to help people and educate them is inspiring, especially when you consider that H3 Home Designs consists of one employee: Victoria Knight.
"Marketing, estimations, labor…it's all me," she said. "Running a business is not for everyone," she continued, "but there are so many opportunities and it depends on a person's drive and their willingness to take a risk." She believes the makings of a business owner is a combination of nature and nurture. "It's more personality than training, but it's also the people who surround you, for instance, parents, teachers…and Mike Rowe!"
Knight's final word on her work: "I love it; I absolutely love it!"
RB