The purpose of the building is to house horses as well as serve as an office space for the owners, plus it's a getaway in the mountains. Given the location in the hills of Central Vermont, the geography and weather were a main hurdle throughout the construction process. This caused a few delays in construction. Overall, it was a smooth process, and the finished look was well worth the wait!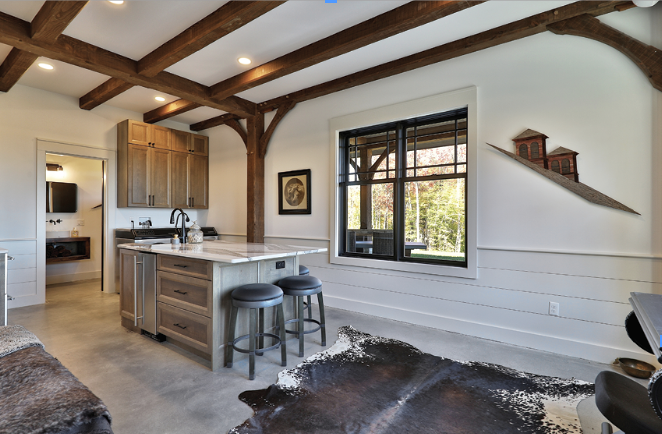 Classic Equine Equipment provided much of the materials, including the barn end doors with 2″x6″ galvanized steel tubing, decorative wood fill pattern, and quad glass top. Its equipment custom loft door utilizes 2″x4″ galvanized steel tubing to match the lower barn end door. There are CEE Dutch doors with 2″x4″ galvanized steel tubing with matching decorative wood fill pattern, and stall doors were done in IPE natural wood. Barn doors were done by Montana Timber Products (Douglas Fir Aquafir).
The concrete foundation has a stone wainscot, with radiant heat in bathroom and office. There's a covered porch on the office side with stone wainscot posts and a covered overhang on the stall side. This wouldn't be considered residential or a barndo because it has no sleeping quarters.
As with any well-planned horse barn, there are amenities like a rubber aisle pavers, drop-in hay access in the loft to each stall, a wash area with an overhead wand, and a storage area with overhead door for easy outside access to offload grain, supplies, materials, etc. Accent lighting throughout interior and exterior was by Northeast Lantern, with custom wagon wheel light by Conant Metal & Light.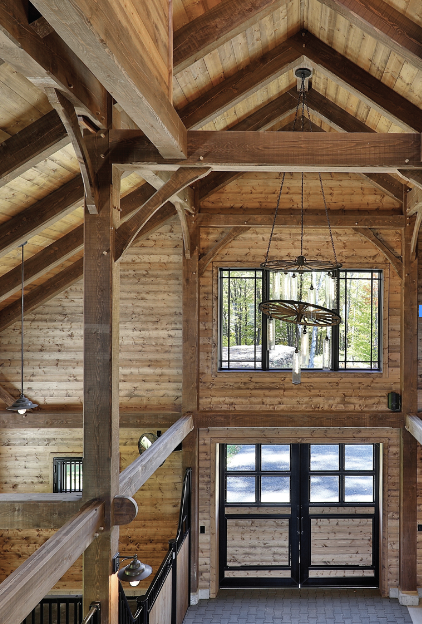 location:
Central Vermont
builders:
Savelberg Construction &
Mad River Post & Beam
Size:
36′ x 52′
roof pitch:
8:12 with 4:12 overhang
doors:
Classic Equine Equipment. Includes barn end doors, custom loft door, 4×8 Dutch doors, stall doors.
Barn doors & siding:
Montana Timber Products (Douglas Fir Aquafir).
windows:
Marvin – Elevate Collection.
roof panels:
Englert Metal standing seam (matte black)
accent lighting:
Northeast Lantern
wagon wheel light:
Conant Metal & Light
interior stain:
Horizontal reverse tongue-and-groove stained with Heritage Natural Finishes.
weathervane:
Weathervanes of Maine