Jake and Mary Worstell bought a fixer-upper home in Carmel, New York, nearly 10 years ago after spending their early married life in Staten Island, New York, where Jake served as a firefighter for FDNY.
After their second child was born, the couple decided to relocate to a more rural part of the state just 50 miles north of the city. With some scheduling finesse, Jake was able to continue his career with the FDNY while establishing a successful Hudson Valley contracting business, J-Pro Construction.
Having worked as a carpenter from a young age, Jake quickly earned a stellar reputation for full-service renovation focusing on kitchen, bathroom, and deck restoration. Keeping up on new advancements in building products, the contractor recently transformed the exterior of his own home using two composite products from Tando.
"We realized a few years ago that after remodeling for customers, it was time for our own renovation," said Worstell. "When we purchased the fixer upper in 2013, it was over 40 years old and hadn't been updated at all. After renovating the interior last year, it was time to tackle the outside. We chose Beach House Shake, a composite shingle, for the exterior walls and TandoStone, a composite stone, to cover the foundation wall."
Beach House Shake is an authentic composite shingle with the classic beauty of natural cedar. It features realistic wood grain textures and saw cuts in a traditional 5-inch shingle. It is designed to make the installation process user-friendly and time efficient.
For the TandoStone, the Worstells chose Creek Ledgestone in Bucks County Gray. This popular design features various stone sizes with natural grout lines. The natural variation of each stone created an attractive aesthetic for the home's foundation. To create a clean line between the shake and the foundation, Jake used Tando's Architectural Sill for a sleek transition.
The previous siding was not removed but rather covered by TYPAR house wrap and Polar Industries WeatherAll XL continuous insulation.
location:
Hudson Valley, New York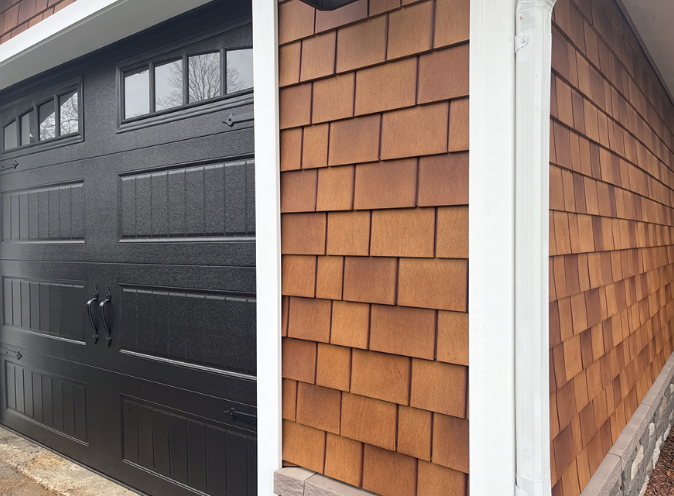 Builder:
J-Pro Construction LLC
Siding & Cladding:
Tando Composite's Beach House Shake in Pacifica style
(fresh red cedar look)
TandoStone foundation cladding
Tando Architectural Sill
House Wrap:
TYPAR (applied to previously
existing sheathing)
Polar Industries WeatherAll XL
(3/8" insulation)
Window Trim: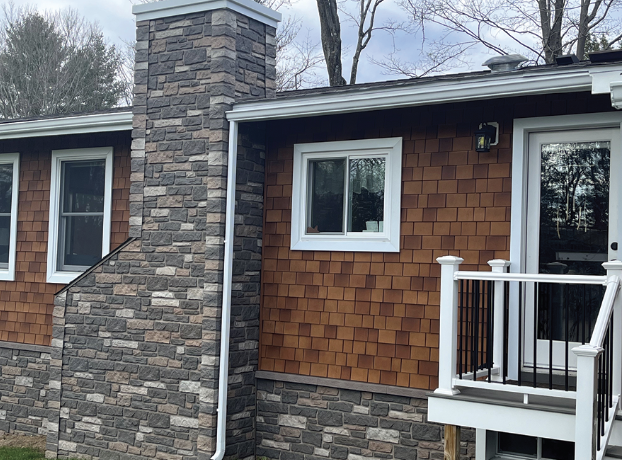 Berger Bros. vinyl aluminum
coated coil.
Foundation Furring:
ProWood treated plywood
Corner Posts:
PlyGem Mastic
Trim:
PVC trim for doors, front porch columns, and beams: Royal Moldings PVC, Veranda brand PVC
Trim Fasteners:
Cortex screws
Garage Door:
Garage Door Supply House – Hillcrest
Handrails:
Veranda brand