This custom-built barn home has three bedrooms and 2.5 baths. It features a living room, kitchen, separate dining room, full utility, and a bonus room/play area above the garage. 

The front porch is an open rafter concept with stained cedar. The home's 4′ x 6′ rafters and 6′ x 6′ post beams were attached peg-style, and were stained by the customer prior to installation.
A 42′ x 67′ enclosed residential/shop building has 14-foot ceilings. Custom-made, factory-engineered trusses above the garage area for the upstairs playroom offset to the side 25 feet. There are common trusses through the remaining 42 feet. The customer finished out the barn home interior.
Posts are 5'x5′ CCA treated, set on 10′ centers. Trusses are set on 5′ centers. The windows from Krestmark are Low-E and Argon gas. The building is fully insulated via products from SolarGuard.
Not pictured is a 30′ red accent wall in the interior. 
location:
Henryetta, Oklahoma
size:
42′ x 67′ x 14′
roof pitch: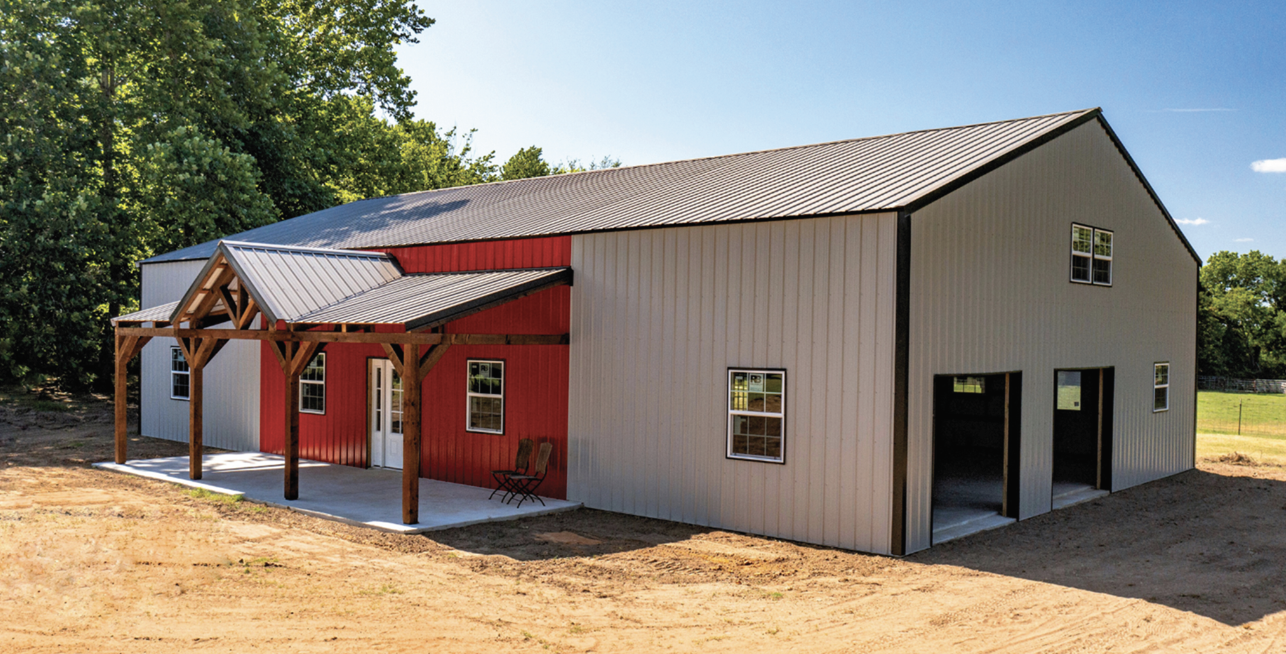 4:12
builder:
lumber:
Burrows Post Frame Supply, 5′ x 5′ CCA treated wooden post are set on 10-foot centers
trusses:
Burrows Post Frame Supply set on 5-foot centers
metal and trim:
Burrows Post Frame Supply Quadra Loc Plus 26g Painted Rustic Red and Light Stone with Burnished Slate trim
door: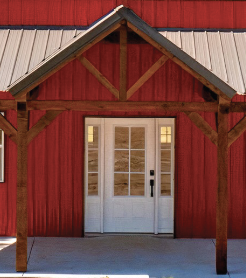 Plyco Series 20
windows:
WeatherBarr fixed window, Krestmark series 400 vinyl single-hung insulated glass
INSULATION:
SolarGuard
windows:
WeatherBarr fixed window, Krestmark series 400 vinyl single-hung insulated glass