By Linda Schmid
Agricultural equipment storage is pretty important. As Warren Bott, Vice President of Sales and Marketing at WorldWide Steel Buildings said, "Combines can cost a few million dollars; they're worth putting inside." Of course, even if it wasn't quite that expensive, it's well worth protecting the equipment farmers rely on.
Bott says that most of their big ag projects involve buildings that are 75'-100' wide; they're bigger than they were a few years back because the machinery is getting bigger.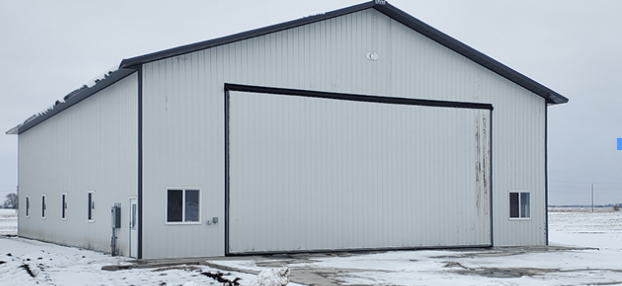 Joe Cover, owner of Cover's Construction (see page 17), builds a lot of pole barns. Most recently the company built a 72' x 144' x 18' building with a 40' x 18' hydraulic door for farming equipment storage. The challenges with these bigger buildings are that they take more manpower and time, though the time depends largely on the complexity, Cover notes. He estimates that an 80' x 153' building with overhangs could take from 2 to 4 weeks.
The wide, free span trusses are another challenge. It takes extra care to get them positioned and set. Cover's crew uses a telehandler to lift them and sometimes they have to rig temporary bracing or use a spreader bar if the trusses are too long.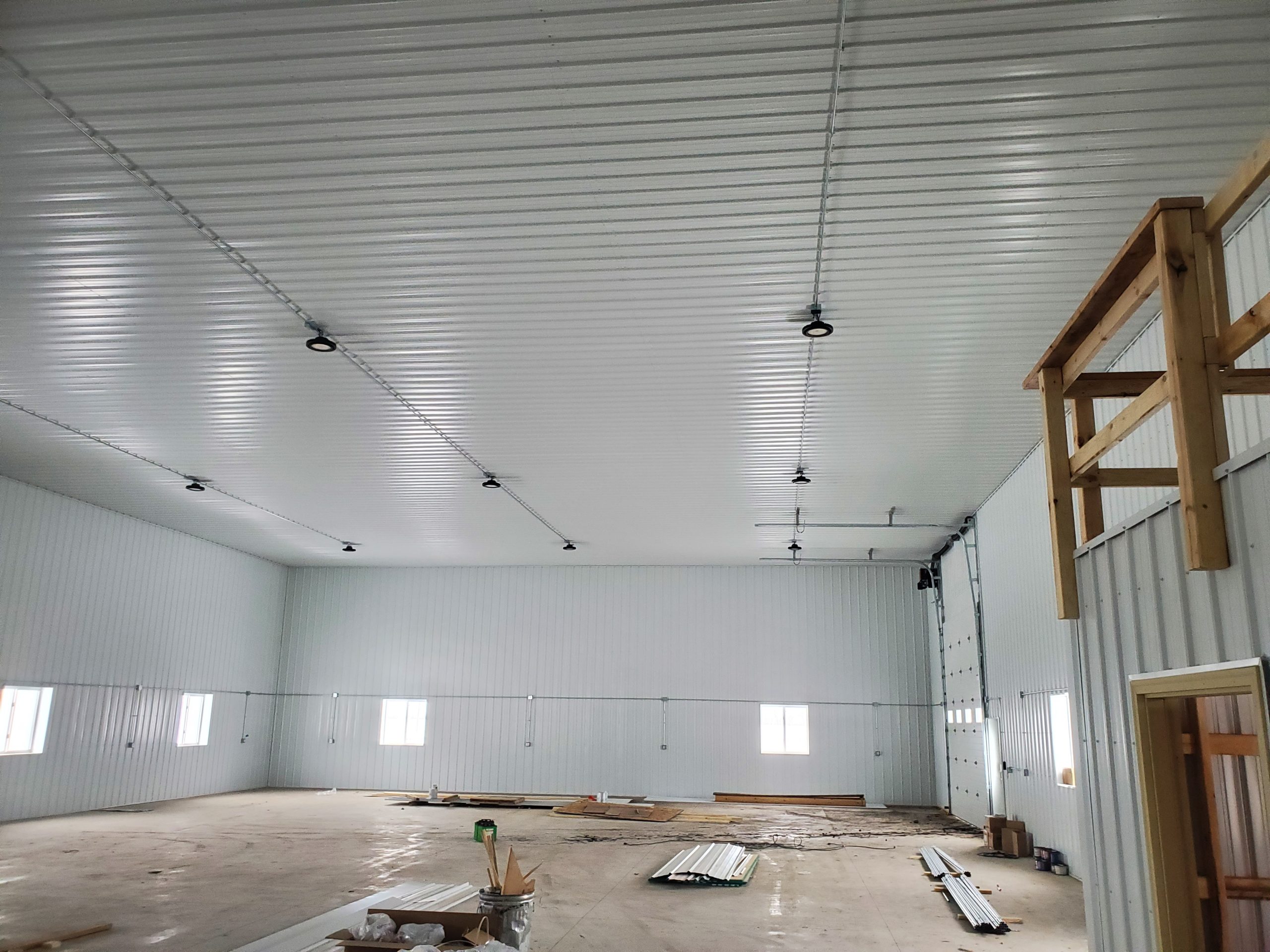 Building Size
If you are looking for the "sweet spot" for a storage building size, Cover recommends 60' wide buildings. He says over that you run into the "big building challenges" which can mean more building time and more dollars spent. Noah Oberholtzer of Hixwood says it is optimum to keep buildings at 64' and under; their most popular sizes are 60' and 64' wide. He also advises that making a builder longer rather than wider is the way to go, saying that a customer would be better off building a 64' x 120' rather than 72' x 100' because even though it's bigger, it's more cost effective.
"Of course if you need a 72' x 100' for your equipment, that's what you build," Oberholtzer added.
Processes
It used to be common for farmers to build their own buildings; now they more often find a contractor, according to Bott. The process, he said is that the customer indicates what they want, his team does the preliminary plan, the customer approves it, and then the engineer reviews and approves the plan, and the building is delivered to the site.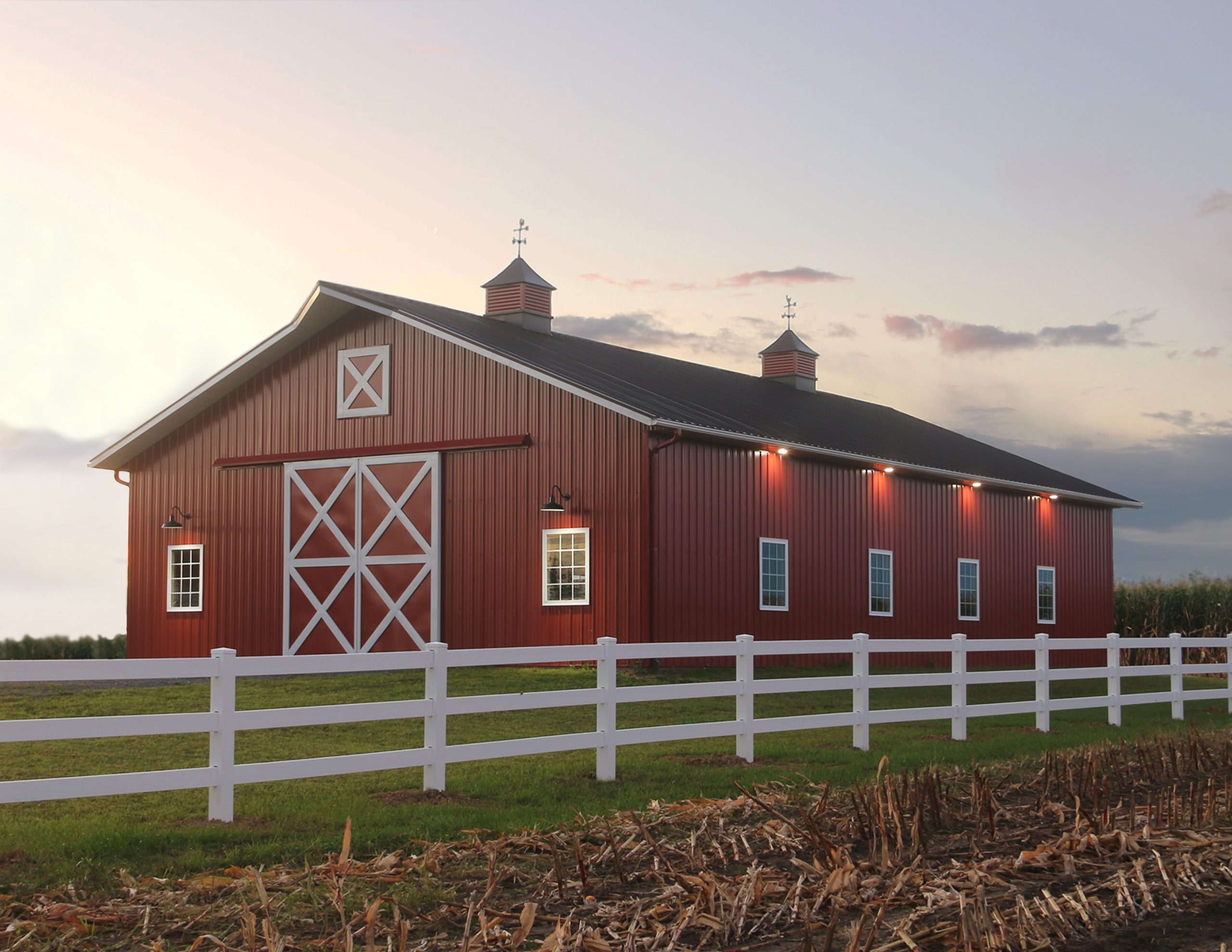 Oberholtzer said that his main job at Hixwood is to see what the farmer wants and help them plan and design the building that will work best for them. He starts with a scratch pad and once he has the fundamentals, it goes into SmartBuild for design and price.
The Building Site
The site for an ag equipment storage building should be level and everything will be easier if you're not building on rock, Bott said. Oberholtzer adds that it should be well-drained and have good access for the equipment. Oberholtzer says farmers have usually thought about that.
Gravel floors are the norm, though if the customer asks for a concrete foundation, the building will usually have a ladder frame which they may later insulate. Then the storage shed may become a shop where equipment can be repaired and maintained as well as stored.
Trusses
Usually trusses are set 4' on center in these buildings, Oberholtzer said. They need to meet snow loading codes, and they require bracing because the larger spans can catch a lot of wind. Wind bracing is accomplished with cross bracing and bracing in trusses. Cross bracing in walls can be done with 2' x 4's or steel strapping. Knee bracing can also be used, and angle braces are helpful at the corners, though they can eat up a couple feet of wall space.
Important Considerations
Overhangs are important to keep rain and snow away from the foundation, and they are aesthetically pleasing. Because storage buildings often do not have electricity, Oberholtzer also suggests using daylighting high up on the wall instead of windows so that people cannot see the equipment inside. If the building is insulated, then insulated skylights like Daystar could work.
For ease of access to equipment in a big building, anything over 120' long, you may want to advise your client to add another big door in the middle of one side. Oberholtzer advises that split sliders with tracks going both ways look nice, and it's easier to push half the door at once. Anything over a 24' split needs steel frame, he added.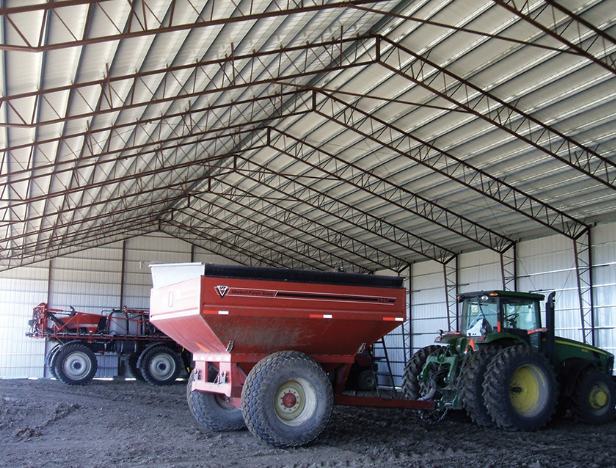 One of the problems most cited with equipment storage is condensation. Cover says this can be avoided by using panels with Dr!pstop applied, spraying foam under the steel, or creating an attic space in the building with good ventilation. You can also choose to use house-wrap, but that can take more time. Basically, insulating the exterior of the building will keep condensation from forming.
Big Doors
Bott sees changes in the types of doors being installed. His customers are choosing more bi-fold doors. These are higher tech, automatic hydraulic doors that run $10,000 and up, he said. The doorways are getting bigger due to the size of today's machines.
He noted that people can underestimate the door size they need for these big buildings. "While a 16' door may accommodate what they have now, what about the equipment they may have in 5 years?"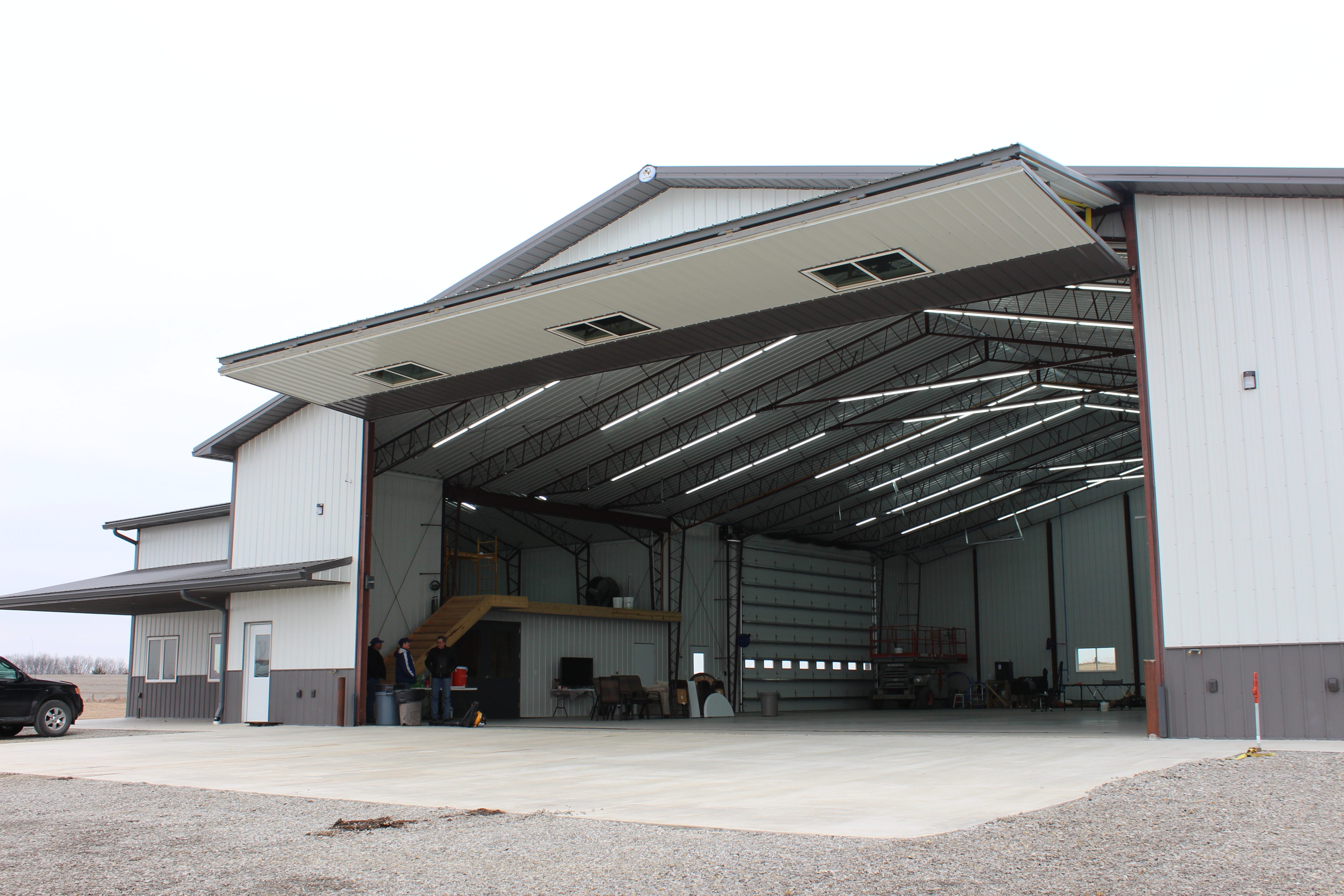 Sometimes people haven't measured the equipment they already have, Bott continued, so it's best to ask them for measurements before you put in a 12' door for 13' wide equipment.
Customers will often come back and say that they didn't build their machine shed big enough, and they are usually referring to the height of the doorway, according to Oberholtzer. Of course, it can only go so high, he says. Overhead doors need two feet of header space and it's the same for a sliding door on the eave side of the building. On the ends, a sliding door can go nearly to the height of the building
Planning Can Save on Disappointment
Cover hears the complaint: "It's not big enough," but customers are usually referring to the amount of storage space inside the building. "Everyone thinks they will have all kinds of room, but these buildings fill fast," Cover said.
Cover recommends resolving this problem by introducing your clients to a computer program that helps create the building layout, then lets you drop "virtual items" in the layout to see how it all fits. Another solution is to measure the equipment you want to house, do the math, and maybe leave a little space for new items. It also helps to have the customer look at a lot of buildings and note what they do and do not like to make designing the building easier, Cover added.
Bott's final piece of advice: make sure you are dealing with companies that will stand behind their buildings. RB