Named after Grandma Rosie (Rose Ann), Legacy Rose Farm is located on a beautiful piece of land surrounded by tall trees and fields in Winnebago County, Wisconsin. "When we saw the land, we knew it was a sign," explained Brittany. "We decided to sell our home and build our girls their dream barn and riding arena, and a new family home."

Working closely with construction company Pinno Buildings out of Rosendale, Wisconsin, Brittany's brother personally designed the new riding facility. He owns a large horse farm just one mile down the road and has always been into horses, sharing his passion with Brittany's three girls since before they even started grade school.
"To be very honest, my brother spent a full year designing every square inch of our land including where to put the pastures, paddocks, horse shelters, well pumps, hayfield, outdoor riding arena, parking, and even our home," Brittany said. "He was onsite working right alongside all the construction workers making sure every detail was met. It was pretty incredible. We could not have done this huge venture without him!"
A lot of thought was put into the design of Legacy Rose Farm's new riding facility — everything from size and style to which building materials were used. Essential features such as bigger stalls, wider aisleways, a dedicated wash area, ample storage, proper flooring, adequate ventilation, and plenty of natural light were all taken into consideration.
"Our horses mean everything to our farm! We may spoil them a lot, but it's easy to forget what they really do for us and our students! They give you so much more in return when they are taken care of, appreciated, and treated like family."
Perfect for covering the walls and ceiling of the horse wash stalls, EZ Liner™ PVC Interlocking liner panels offer a smooth finish that is easy-to-clean, low maintenance, and abuse resistant. "We needed something that was not only durable and waterproof but also easy to clean up. There's no shortage of horse poop, hair, or dirt." Brittany laughed and went on to say: "These panels make cleaning our horses extra easy. We simply spray off the walls when we're done for the day."
Installed under the overhang at the top of the barns side walls, translucent corrugated polycarbonate eavelights from AmeriLux let plenty of daylight in. Not only does it make the arena a more enjoyable riding space; it enhances the horse's overall well-being and health. This low-cost feature also reduces the need for artificial lighting, saving energy and money.
location:
Neenah, Wisconsin
builder & building package: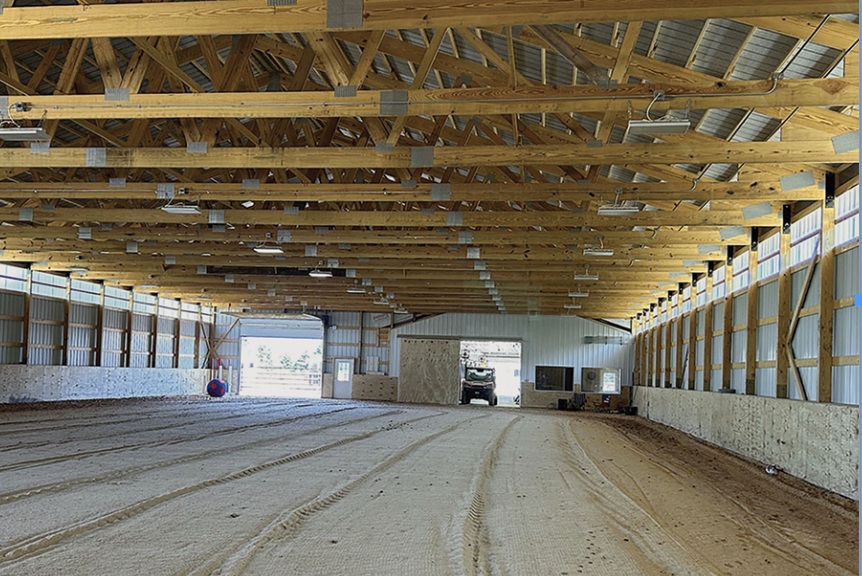 Pinno Buildings
horse stalls:
AmeriLux EZ Liner PVC
daylighting:
AmeriLux Polycarbonate
sidING & roof steel :
McElroy Metal 29 ga. Kynar
Walk Doors: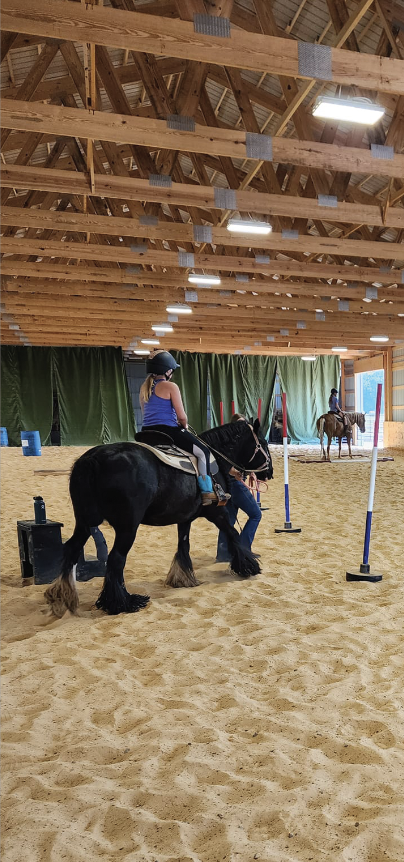 Plyco 20 Series
Insulation:
Knauf R-19 batt walls
with R-38 blown
Trusses: 
Custom
70' SLC ClearSpan trusses for arena
33' RLC ClearSpan trusses for
stall barn
Poles :
Timbertech glu-lam columns
Interior finish :
McElroy Steel with tongue and groove for stalls T-11 for tack rooms
Cupolas :
Harvard products 3'x3' louvered