The size of grain bins are growing to meet the demand of commercial markets. In 2010, Brock Grain Systems [brockgrain.com] of Milford, Indiana, could boast it had built America's largest free-standing corrugated steel grain bin. The bin that held the record more than a decade ago was built for Frontier Cooperative in David City, Nebraska; it measured 156 feet in diameter with an eave height of 70 feet and an overall height of 112 feet; it held up to 1.34 million bushels.
While that is still a huge bin, it's no longer even close to being the largest.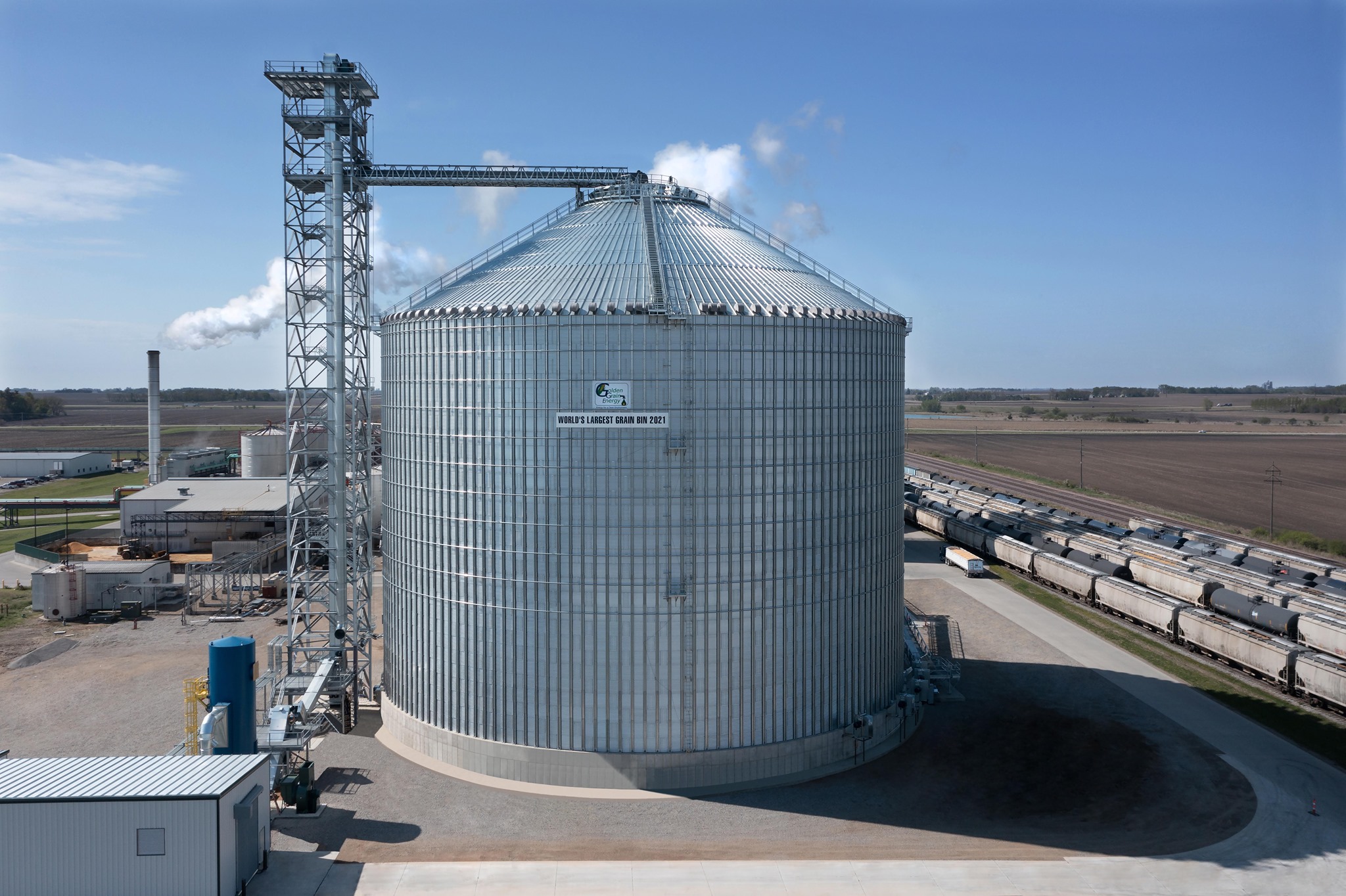 Sukup Manufacturing Co. [www.sukup.com], Sheffield, Iowa, is the world's largest family-owned and operated manufacturer of steel grain storage, grain drying and handling equipment, and steel buildings. The company has designed and built many bins that have surpassed the 1.34-million-bushel mark.
World's Biggest Bin
June marked the completion of a 2.2 million bushel grain bin – the world's largest free-span grain bin, nicknamed "Binzilla" – which Sukup designed for Golden Grain Energy in Mason City, Iowa. (Golden Grain Energy manufactures fuel-grade ethanol, distillers-corn oil (DCO), and distillers' grains.)
The 30-ring-tall bin stands at a height of 110 feet at the eave, and 155 feet 7 inches at the peak, and measures 165 feet in diameter. This bin is 9 feet larger in diameter and 44 inches taller (1 ring) than the previous record-holder, which held 2 million bushels and was also designed by Sukup Manufacturing. The foundation took 8 hours to pour and 700 yards of concrete. To give a better idea of volume, it takes about 2,500 grain semi trucks to fill this tank. It's so wide, it could accommodate parking a Boeing 767 airliner inside.
Completion of the project took less than a year. Ground was broken in mid-September 2020, and construction was finished in late May. The project was facilitated through Sukup partner Buresh Building Systems Inc., Hampton, Iowa, and the project manager was McGough Construction of St. Paul, Minnesota.
The new system increased the company's grain storage from approximately 1.275 million bushels to almost 3.5 million bushels. The addition of the bin increased the company's storage capacity to approximately 30 days of storage from about 10 days of storage. The system has also increased GGE's receiving capacity from 40,000 bushels per hour to 65,000 bushels per hour.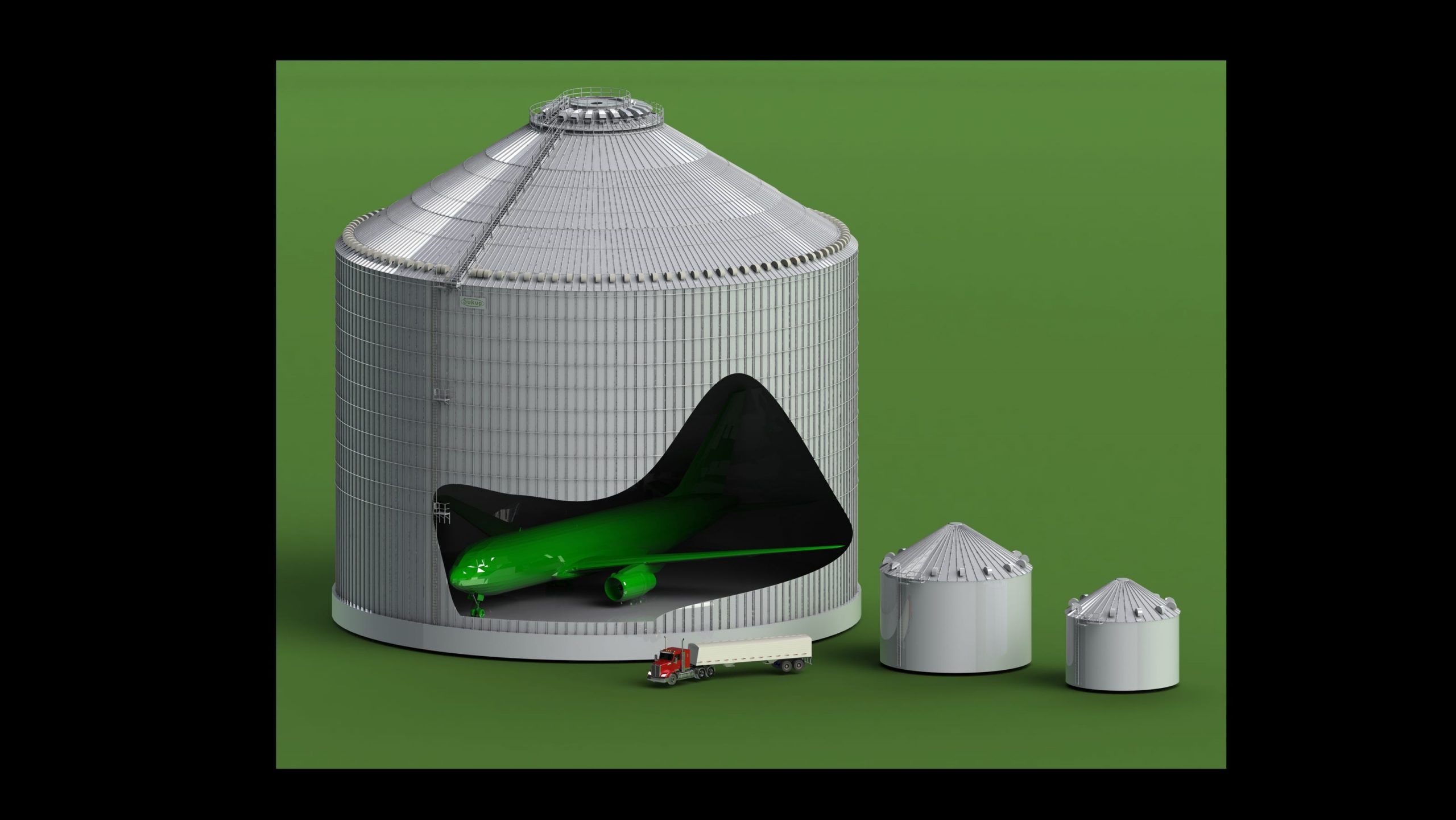 Pushing the Boundaries of Innovation
Steve Sukup, President and CEO of Sukup Manufacturing, pointed out the company's tradition of innovation. "Sukup constantly strives to push the boundaries of innovation, while maintaining the excellent customer service and high quality that the agriculture industry has come to expect of us as a family-owned company," said Sukup. "We are thrilled to again have achieved the milestone of designing and manufacturing the largest freestanding grain bin in the world."
Of course, the benefit of the large, commercial bin doesn't come from the bragging rights, although "Binzilla" is a memorable name. One of the true benefits is the return on the investment. "Our customers often tell us that adding storage gives them one of the quickest returns on an investment in their facilities," said Brent Hansen, who manages commercial accounts for Sukup. "Storing grain in Sukup bins keeps it in better condition versus a temporary pile, and it's safer, easier, and cost effective to reclaim the grain back into their processing facility. We always try to listen to our customers' needs, which includes watching the bottom line!"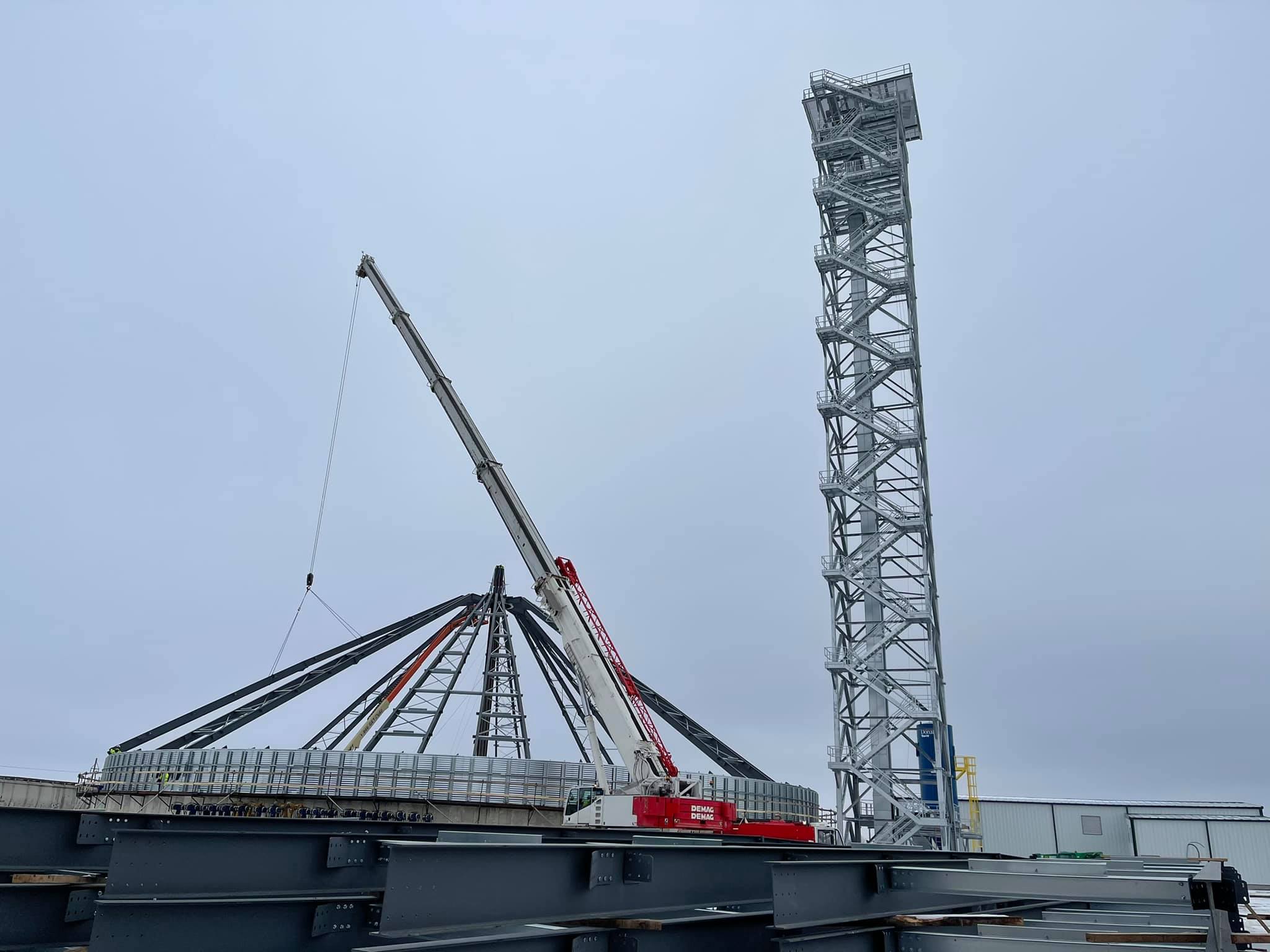 Sukup Manufacturing Co.'s product line includes on-farm and commercial grain bins; portable, mixed-flow and tower dryers; centrifugal and axial fans and heaters; stirring machines; bin unloading equipment and bin floors and supports.
Only time will tell how long "Binzilla" can claim the title of "World's Largest Grain Bin." As Sukup, Brock, and other grain bin manufacturers continue to innovate to meet customer needs and demands, freestanding steel bins will continue to reach new heights and set new records. RB