This pole barn home was built in Brutus, Michigan, with a foundation of column-in-ground with 4-inch poured concrete. One of its wings measures 36′ x 48′; a second wing measures 40′ x 60′.
The owner was able to combine a living space with any possible options:
• A multi-use toy shed
• Workshop
• Extra-large garage for boats or RVs, or so much more.
The unique type of building allows for greater floor plan flexibility, more expansive interiors, and easier construction of extra-high walls.
Because post-frame building homes typically have columns placed 8 to 10 feet apart, instead of the conventional 1½ to 2 feet with stick-frame stud wall systems, the homeowner enjoys the fact that its reduced obstruction in the walls means more room for insulation and less chance for cold to travel through the wall.
location:
Brutus, Michigan
building manufacturer:
builder:
Lynnman Construction, Inc.
size: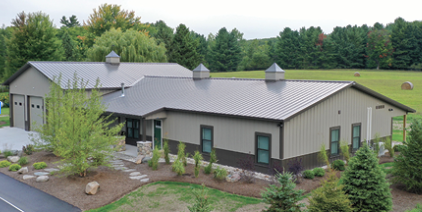 Wing 1: 36′ x 48′
Wing 2: 40′ x 60′
foundation:
Column-in-ground with 4″ poured concrete
Insulation:
Dripstop®, also blown fiberglass (ceiling and walls)
posts:
Wick Buildings columns 3-Ply 2″x8″ treated columns
roof panels:
Wick Buildings steel in Burnished Slate
exterior panels:
Wick Buildings steel in Beige with Burnished Slate wainscoting
windows:
Andersen Windows